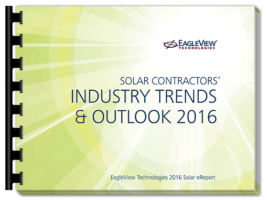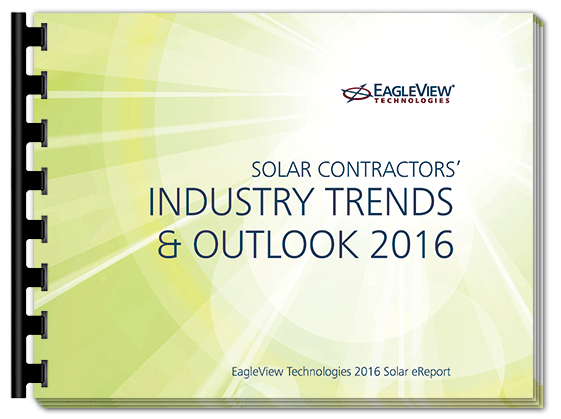 eReport: What All Solar Industry Professionals Should Know
August 24, 2016
Solar power is the most sought-after clean energy on the market, but its popularity means more competition among contractors. Is your business doing enough to reduce costs, save time, and complete more projects?
With the solar industry projected to grow by $40 billion in the next four years, solar panel installation companies are about to experience a boom in business. Approximately one million homes in the United States alone rely on solar power, and as the cost of solar photovoltaic systems goes down, that number can only increase.
But not all solar professionals are equal in this burgeoning industry. Roughly three-quarters of the residential and commercial solar contractors EagleView surveyed want to invest in new technology this year. What that figure doesn't tell you, though, is that some contractors have distinct advantages over others that let them see more customers and, ultimately, win more bids.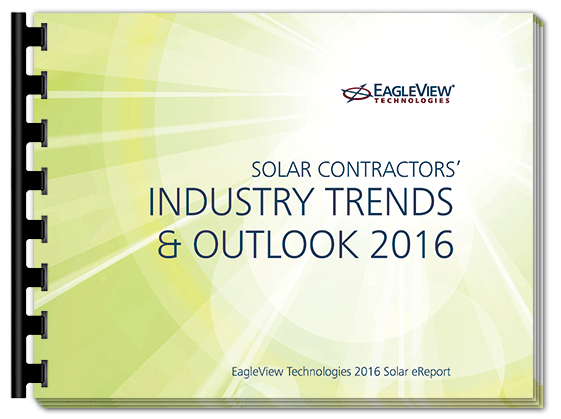 What do solar contractors need to know?
EagleView's Solar Contractors' Industry Trends & Outlook 2016 report combines our previous reports on the industry and takes a comprehensive look at the geographic trends and business practices for solar installation companies. To name just a few of the topics we cover, our eReport will answer the following questions:
Where are the most solar installations taking place?
How much time do site surveys take?
What is the average cost of a site survey?
How many redesigns will most contractors complete before installing a solar PV system?
Which technology investments are residential and commercial companies making?
What percentage of companies have lost business due to redesigns?
What risks are residential and commercial solar contractors facing?
Most of the companies we surveyed are small businesses with limited time and money. Only 13% of residential companies and 16% of commercial companies we surveyed perform 50 or more installations per month. The majority – 63% residential and 71% commercial – complete just 10 or fewer installations each month. For companies that size, losing a customer isn't just a setback — it could put them out of business! That means that mistakes are costly:
Site surveys, in particular, require a significant amount of resources for a solar business. They can cost anywhere from $50 to more than $500 each, and for many businesses, a single site survey can take more than two hours to complete.
Solar PV system redesigns also present obstacles for many solar installation businesses. Redesigns can cost anywhere from $100 to $500 or more for a single project, and they can cause delays of up to four weeks or more.
The additional costs and time lead to one serious consequence: lost sales. Nearly seven out of 10 companies will redesign a system once or twice before installation, so the risks are high for smaller business in particular.
A new solar energy project is installed every two minutes, and in order to meet that demand, more companies are popping up in the solar industry. Businesses of any size that want to stay ahead should be aware of the challenges others in the solar market face.
Whether you want to avoid making the same mistakes as other solar installation companies or you want a comprehensive look at the current state of solar, this eReport is for you. The Solar Contractors' Industry Trends & Outlook 2016 report contains nearly 50 pages of insight into the solar installation market.
Shed some light on where your business stands and download your free copy today!