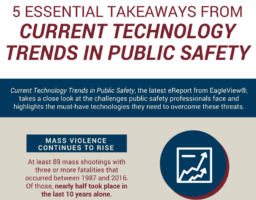 Public Safety Technology: 5 Essential Takeaways
April 4, 2017
EagleView® recently released its Current Technology Trends in Public Safety eReport. The report explores the challenges emergency response personnel face and the public safety technology solutions that serve civilians and first responders alike. These issues affect law enforcement officers, firefighters, emergency medical personnel, and E9-1-1 communicators as well as the decision makers in all public safety agencies.
See what our report reveals about public safety technology in the preview below:
Mass Violence Continues to Rise
Recent decades have seen a sharp rise in fatal mass shootings with three or more fatalities per event. Between 1987 and 2016, 89 such shootings took place. Of those, nearly half (43) have occurred since 2007.
For a broader perspective, the crowd-sourced Mass Shooting Tracker records the number of shootings with four or more fatalities or injuries. In 2016 there were 385 of these incidents. That's over 50 more shootings than there were in 2015 and over 100 more than in 2013 and 2014 each.
Timely Responses Save Lives
In critical situations, a fast response can save lives. Data from the Bureau of Justice Statistics reveals that the average response time for law enforcement hovers around 11 minutes.
Additionally, a report from the Federal Communications Commission indicates that response times reduced by a single minute would save an additional 10,120 lives annually. Advances in E9-1-1 computer-aided dispatch (CAD) systems, including Next Generation 9-1-1 capabilities for mobile phone triangulation, enable response crews to reach a scene sooner.
On-the-Job Risks Are High… and Deadly
Collectively, law enforcement officers, emergency medical personnel, and firefighters report approximately 100,000 job-related injuries per year.
The risks in law enforcement are especially deadly. More than one-third of officers responding on their own to active shooters have been shot. Officers are also most likely to suffer on-the-job fatalities, with 150 deaths in the line of duty each year. In other words, emergency response teams need to know the risks for civilians as well as for themselves when they enter a scene.
Location Data Provides Valuable Insight
Location intelligence can make it easier to respond to incidents and keep personnel safe when they arrive on the scene. As CAD and NexGen9-1-1 systems become more sophisticated, E9-1-1 communicators can relay comprehensive location data to those in the field.
Advances in geographic information systems (GIS), including the use of oblique aerial imagery, assist in keeping first responders safe and helping them reach those in need faster.
New Views Offer Additional Perspective
Today, there are more ways than ever for public safety communicators and responders to see their jurisdictions.
Three-dimensional models and interior building maps give E9-1-1 dispatchers a clear look at a scene, so they can communicate risks and hazards to first responders. Interior maps and 3D models also serve public safety agencies when they conduct training exercises, safety inspections, and post-event analyses.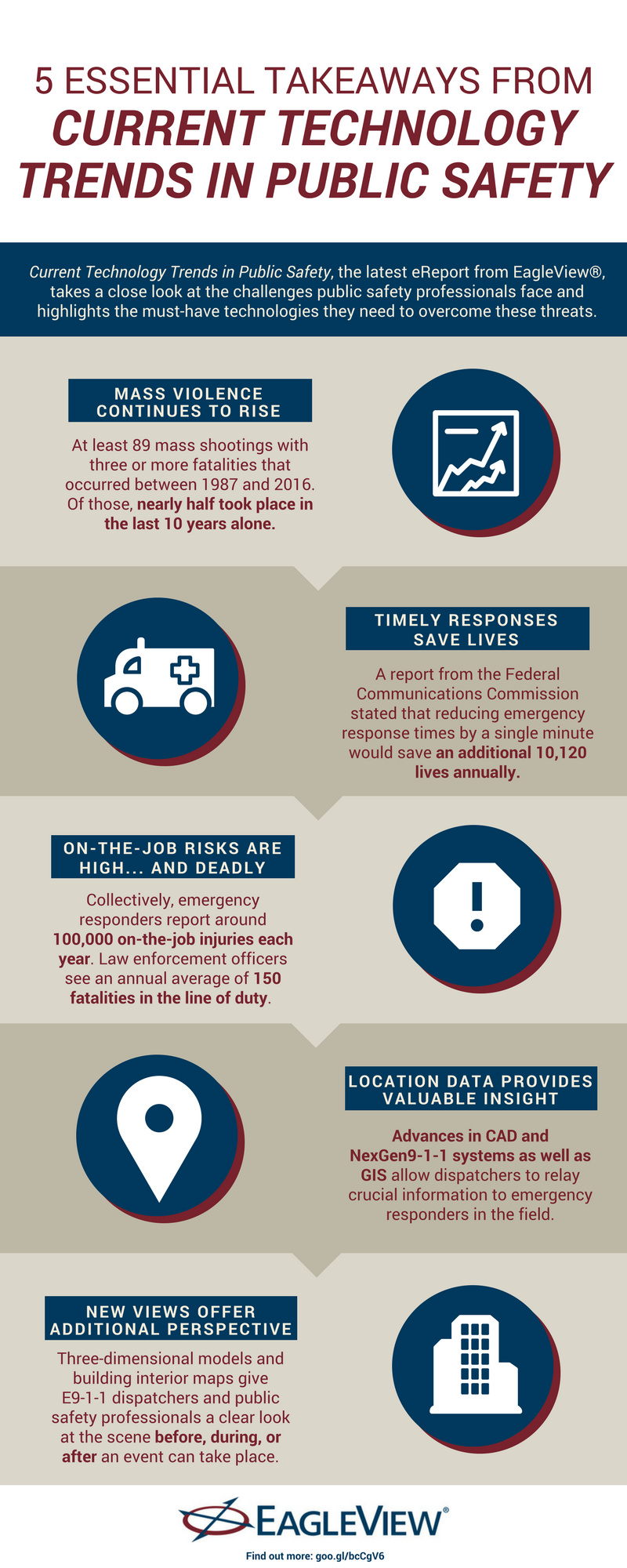 Wondering about the use cases for cutting edge public safety technology? Download a copy of Current Technology Trends in Public Safety today!