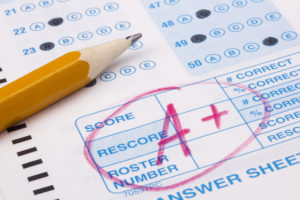 Could You Earn an 'A' in Construction Safety?
May 10, 2017
Updated May 2018
The Occupational Safety and Health Administration (OSHA), part of the U.S. Department of Labor, has announced its fourth annual National Fall Prevention Safety Stand-Down from May 8 through 12. This week, OSHA is encouraging companies and workers to pause the workday and take the time to discuss safety on the job.
OSHA advises employers to communicate on fall prevention, hazard recognition, and company safety policies at some point each day this week. Falls are the most frequent cause of death in the construction industry. In 2015, 364 of the 937 total construction deaths resulted from a fall.
Residential roofers are prone to risk due to the nature of their work. Climbing onto a steep roof – even one low to the ground – without the necessary personal fall arrest system can lead to a serious injury or a fatality. By providing highly accurate roof measurement reports to contractors, EagleView® helps reduce the risks present in the roofing industry.
To learn more about the facts surrounding preventable falls, check out this video from OSHA or see their fall prevention campaign.
Think you know all the facts about construction workplace safety? Take the quiz below and find out your construction safety grade:
Did you make the grade? Don't forget to share this quiz on social media and make time to talk about on-the-job safety at work.
Want to reduce on-the-job risks in the bidding stage of a roofing job? Order an EagleView report to get property measurements and imagery, so you can spend less time on the roof and complete more bids.