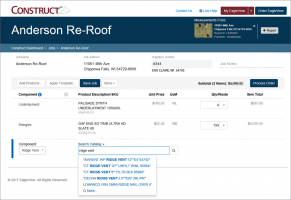 How to CONSTRUCT™ Faster Growth for Your Roofing Business
May 3, 2017
Many roofing professionals know EagleView® for the most reliably accurate roof measurement reports. With measurements based on high-quality Pictometry® imagery, EagleView reports save roofers time measuring in the field, allowing them to deliver more accurate measurements and improve margins during the bidding process. When roofing contractors spend less time measuring, they are able to bid more jobs faster.
What may be new to roofing contractors, however, is that EagleView now offers a new value-add tool to order roofing materials based on the trusted measurements in EagleView reports.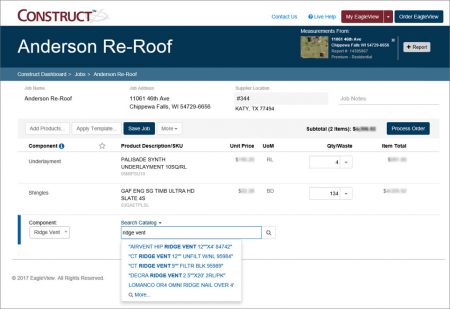 The new EagleView CONSTRUCT™ tool, available through leading national roofing supply distributors, integrates directly with each suppliers' inventory systems. With CONSTRUCT, contractors no longer need to work around store hours and can place orders 24/7. Since most roofers bid with the same materials in their roofing systems for approximately 80% of their jobs, CONSTRUCT helps users create templates for their most popular materials, to repeat orders again and again in just minutes.
For distributors, CONSTRUCT adds extra value services to their branch customers to help support growing their businesses. This, in turn, adds the incentive to bring in additional revenue since they can take orders off hours.
Bids, Orders, and Online Materials: BOOM
Once the contractor registers, EagleView CONSTRUCT connects with that roofer's existing billing account at their preferred branch – at no cost to contractors. The material lists in CONSTRUCT reflect real-time pricing at the time of the bid.
Here are the three ways CONSTRUCT speeds the production workflow:
The contractor orders an EagleView PremiumReport™ or input manual measurements into CONSTRUCT.
CONSTRUCT automatically converts those measurements when the user selects materials, so the bid is more accurate at the start. This process reduces shortages and wastage per square on every job.
Once the contractor wins the job, the material list is ready since it was used for the bid. From there, contractors can submit the pre-built order directly to the branch at any time of day.

BOOM! Saved time and improved profitability win even more jobs and help contractors grow their business.
What others are saying
Contractors and distributors who are leveraging the EagleView CONSTRUCT tool are noticing the improvements it makes to their workflow. Two highly-respected roofing industry professionals recently wrote about their experience with CONSTRUCT in RoofingMagazine.com.
Kathy Hendricks, Executive Director of Customer Connectivity at ABC Supply, explained the benefits of CONSTRUCT from the supplier perspective. ABC Supply offers contractors EagleView CONSTRUCT under the ABC Connect program.
ABC Connect helps contractors create estimates and place orders quickly and easily, so they can run their projects more efficiently.

Contractors rarely have traditional 9-to-5 workdays, so it's important to have the ability to place orders anytime, anywhere. The ABC Connect program makes ordering building materials seamless, so contractors can place orders online, 24/7. The system also ensures the accuracy contractors need by flagging issues before they impact a job and sending a confirmation notification when materials arrive at a job site.
Brian Schaible, the operations general manager at Indianapolis-based Hoosier Contractors LLC, wrote that technology has several advantages for contractors looking to grow their businesses:
Here's how it works: 

I can take aerial measurements— within 98 percent accuracy—of a roof without getting up there to take manual measurements.
The software uses the roof measurements and my distributor's real-time pricing and products to create a materials list.
I turn my materials list into an order I electronically submit to my distributor from anywhere.

After working with hundreds of orders since implementing this program in September 2015, I've experienced a 20 percent decrease in the time required to process orders for building materials and have seen more efficiency and accuracy in my projects.
See how EagleView CONSTRUCT can change your workflow
Request more information
Read more about how CONSTRUCT works and schedule a free demo today!