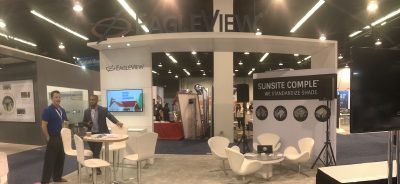 A New Way to Determine Solar Availability—Without a Site Visit
October 8, 2018
Last week, EagleView exhibited at Solar Power International 2018. More than 20,000 people from all over the globe attend this fast-growing solar energy show.
After last year's focus on the U.S. federal government's solar tariffs, this year marked "a period of stasis" for the solar industry, according to Greentech Media. Energy storage, electric vehicles, and home automation were other trending topics in the world of renewable energy at SPI 2018. Overall, GTM reports, the industry is stable and continues to make progress with innovative new solutions for solar professionals.
At SPI, EagleView unveiled its newest offering for the solar market: SunSite Complete™. SunSite Complete brings solar professionals the fast, accurate way to determine solar availability—all before they set foot on a property.
How does SunSite Complete benefit the solar industry? The data that SunSite Complete delivers can streamline workflows from proposal to system design. More importantly, this information can eliminate the need for an onsite visit.
The Hidden Costs of Inefficient Solar Projects
Earlier this year, EagleView surveyed professionals in the solar industry to find out the true cost of every solar project. A full 75% of survey respondents reported spending a minimum of $250 on each site survey they complete. Yet these processes are fraught with cost and time inefficiencies.
Solar installers must travel long distances and frequently encounter issues with vehicles and personnel. Once they do arrive at the site, they may be unable to access the roof. Outdated data collection methods, such as taking manual measurements and recording them on paper, lead to inaccurate information that can delay the project's timeline.
Additionally, solar installers tend to be small businesses with few staff members. Performing a site survey to gather an estimate for a project may not even result from a sale. That's time and money lost on someone who may not buy from that installer.
If a client agrees to the estimated cost, inaccurate site data and measurements result in change orders further into the project. According to the survey, these changes orders can cost upwards of $500 or more on just one job. Nearly 70% of solar businesses surveyed indicated that they have lost business due to these change orders.
Accurate Data Every Step of the Way
How can solar installers be more efficient on every project? One way is to reduce or eliminate site visits could. Cutting out this step can save potentially thousands of dollars or more over the course of the year for a single business.
SunSite Complete enables solar professionals to do just that. This innovative new solution standardizes shade by identifying a property's solar availability. The data in SunSite Complete can be delivered as a detailed shade report as well as integrated directly into preferred design software for a seamless workflow.
The high-resolution imagery included with SunSite Complete enables sales, design, and production personnel to view the property from any location. SunSite Complete reports and data sets also include detailed roof measurement for area, pitch, azimuth, and tilt as well as any obstructions around the roof.
With SunSite Complete, solar professionals can improve productivity at every stage of a solar project's life cycle:
Powerful information at project proposal
Accuracy in system design
Efficiency in system production
True ROI revealed during financing
What Can SunSite Complete Do for You?
The shade analysis component of SunSite Complete is the first of its kind on the market. Learn more about the difference that SunSite Complete can make for your solar projects: