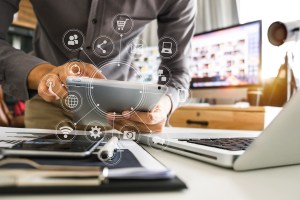 3 Ways Modernizing Your Sales Process Can Set You Apart From Your Roofing Competitors
June 27, 2019
This year, we attended the Western Roofing Expo (WRE) in Las Vegas with one thing in mind: helping contractors build competitive edge through technology. With competition booming, it's time for you to scale your business accordingly.
As part of the expo, we took to the demo stage to explain why technology and accuracy will change not only the bidding process from end-to-end, but improve the entire customer experience as well.
What does a modernized sales process look like for contractors?
In short, it means using technology to create more efficient and timely business processes. In fact, many contractors are already using tech, whether it be in the bidding process or in the tools they use. However, the question lies with whether or not the tech being used to its full potential. Time is valuable and using technology to the fullest can be what any business owner needs to focus on the projects at-hand rather than on tedious details.
What areas of your business can tech have the highest impact in?
1. Onboarding and scaling teams
With limited resources, it's important to allocate staff accordingly. For example, onboarding sales reps even with minimal experience is quicker and more effective with easy-to-operate sales presentation tools at their disposal.
Similarly, estimating can be done by a less experienced professional or office staff when relying on technology to get it done.
2. Developing an efficient sales presentation
Sales presentations are not an area to cut corners on, but can be time consuming to complete. A winning presentation will look polished, be complete in a timely fashion, and be priced to win. If you're using the right technology, that can all be done for you and in much less time, allowing you to meet with the homeowner and place your bid quicker.
3. Improving customer satisfaction
Having technology that you can rely on can positively impact your customers. A quicker bid means the project can start even soon and in addition, accurate bids make it easier to adhere to the projected length of the project itself—no waiting for a second order of materials.
How can technology be implemented today?
Have the EagleView App on your phone. Download it on iOS or Android to access sales presentation features, automatic quoting and more.
Next time you order EagleView measurements, explore the property in the EagleView app and ask yourself, "Do I have everything I need right now to conduct a sales meeting?" We think your answer will be, "yes!"
If you're already using technology, you should expect the most from it. With the right tools on your side, you'll be able to answer any and all questions the homeowner will throw at you, leaving them happy and you standing out from the competition.