March 3, 2015
Streamlined Ordering is Here!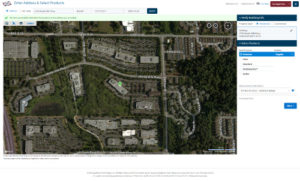 It's now faster and easier than ever to order EagleView Reports! The new, streamlined process features an updated interface with a larger map and it allows users to order an EagleView report in just two easy steps.  For those needing more than one building measured, such as for a complex or for canvassing neighborhoods, the ability to select multiple properties on the map has been added.
"We are very excited about giving contractors the ability to order QuickSquares™ or WallsLite™ Reports for canvassing an entire street or neighborhood in just one order," explained Rishi Daga, EagleView executive vice president of commercial sales. "For our customers who frequently have jobs involving apartment complexes or corporate business parks, being able to select the properties and create their own site map will save a lot of time in the ordering process."
The updates were implemented based on feedback from customers.  Additionally this update includes a new order preferences section in MyEagleView where users can update and set their default order preferences.