Oil & Gas Utilities
There's a better way to manage the risk and integrity of your pipelines
Oil & Gas Pipeline Integrity Management
Manage pipeline assets and analyze data in crucial environments
Through the power of high-resolution imagery, we deliver precise data and intelligence to support the strongest integrity management programs for the oil and gas industry.
With our imagery-derived data, you can be sure that you are arming yourself with recent, accurate, and clear information regarding the state of your oil and gas pipelines as well as the surrounding high consequence areas.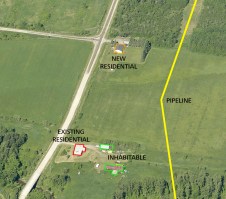 Our solutions will reduce your dependence on field operations to perform mapping tasks that can easily be accomplished at your desktop.
Reallocate your "boots on the ground" to the areas of pipeline that need physical inspections to maintain high levels of integrity.
With our vast library of imagery, you have the ability to track trends and change over time along your corridors to enable a more proactive approach to your environmental and integrity programs. Our data integrates with leading GIS software, including the Esri ArcGIS suite, to support and enrich your workflow. It can also be viewed standalone in our CONNECTExplorer™ application.
Perform environmental modeling with LiDAR mapping.
By partnering with EagleView, you'll have access to data and answers in the following areas:
High Consequence Area (HCA) Identification: Keeping up-to-date maps using our imagery and data is only one piece of the puzzle for transmission pipeline integrity programs. Take your HCA intelligence to the next level by overlaying building and parcel data on those maps, giving you greater understanding of the structure's category, use, headcount capacity, and size, including those greater than four stories.
Asset Management: Our data and solutions provide a single and complete authoritative source to eliminate data inconsistencies and meet regulatory requirements for HCAs. The high-resolution, georeferenced orthogonal and oblique aerial images are captured and delivered with building outlines to serve as the foundation for a comprehensive integrity management system.
The use of high-resolution imagery and outlines from EagleView eliminates the need for the integrity management team to consult multiple, sometimes unconfirmed, sources to verify property information and determine details such as land use.
Change Detection: Stay on top of constantly changing service areas with ongoing image delivery combined with our change detection service. With PHMSA regulations increasing, it is critical to have the visual intelligence needed to understand the changes taking place your pipeline's geographic region.
With change detection service, you receive data that indicates structures or areas that have undergone a change since the last image capture. This allows the integrity management team to quickly review what has changed and determine if a field visit is necessary.
Planning and Design: When planning and designing for new pipelines, like oil or gas, we provide authoritative, world-class data, imagery, and LiDAR data collection to uncover a clear understanding of the land and topography under consideration. Our environmental modeling enables project teams to bring together the appropriate datasets to analyze and measure the environment right from your desktop.