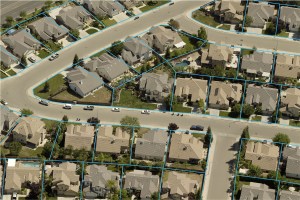 Assessment
The industry-leading solutions needed to provide fair and equitable property assessments
The International Conference on Assessment Administration is the premier platform to share successes, discover best practices and learn from expert…
Bringing innovation to the assessor's workflow
For most property assessment professionals, driving from parcel to parcel to inspect a property is the norm.
Yet this time-consuming and cost-inefficient process comes with its own unique challenges. While some jurisdictions are packed with parcels side by side, others may be spaced out across hundreds of even thousands of square miles.
With limited time and resources, reliably tracking year-over-year property changes is near impossible. In some jurisdictions, reassessing an updated property can take years, potentially resulting in lost revenue for the local tax rolls.
That's why nearly 50% of assessors across the United States turn to high-resolution imagery from EagleView. The patented oblique image capture process and desktop assessment tools make remote assessment and property change detection simpler.
More than 75% of assessors surveyed reported a positive ROI within the first year of using imagery from EagleView.
Rethink the remote assessment process with solutions from EagleView and get the aerial intelligence necessary for fair, equitable, and timely property assessments.

Featured Product
National Assessor's Day
Learn More