August 29, 2023
Accelerating and Improving Insurers' Disaster Response with AI and Aerial Imagery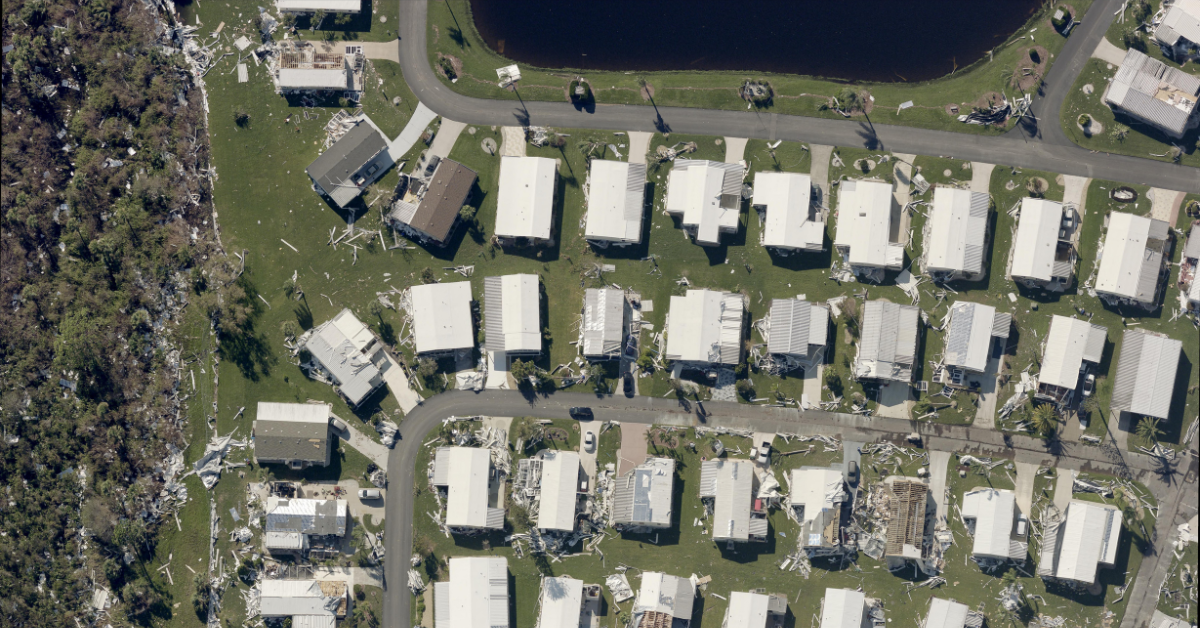 Hurricane season is upon us, and for insurance companies, that means the ever-present possibility of a surge in claims. Recent reports from Colorado State University warn that the Atlantic Ocean's record-warm surface temperatures could reverse the hurricane-impeding effects of El Niño—resulting in more hurricanes with greater severity than initially anticipated. CSU meteorologists predict nine storms evolving into hurricanes this year, and four of those developing into major ones.
This is harrowing news for insurance companies that are tasked with finding ways to get ahead of the onslaught of claims to come during this storm season. As climate change increases the severity of storms—and their frequency—insurers need ways to accelerate their storm responses. They must prioritize processing more claims faster and with greater accuracy as disastrous weather events worsen in both impact and volume.
EagleView's recent alliance with Betterview, an insurtech provider of actionable intelligence to property and casualty insurance companies, offers a powerful solution to this challenge. By combining industry-leading location intelligence from Betterview with EagleView's ultra high-resolution aerial imagery, insurance companies can expedite their storm response and rapidly process high volumes of claims with newfound accuracy.
Here's how EagleView and Betterview complement each other to help insurers stay quick-footed and responsive this hurricane season.
Respond Faster to Catastrophic Events with Greater Accuracy
In the event of catastrophic weather, insurers face a host of challenges. As mentioned, the surge in claims is the primary concern, but insurers can't accurately process claims when post-storm sites are impassable. Hurricanes in particular cause flooding and related damage that can limit access to properties for weeks—delaying the assessment and recovery process for policyholders by devastating degrees. EagleView and Betterview combine their innovations to help insurers and claims adjusters tackle these challenges in a "before", "during" and "after" approach to CAT events.
Predict & Keep Track of Potential Losses
Before a storm strikes, Betterview's CAT Response System spotlights at-risk properties and predicts the potential losses applying a Hurricane Vulnerability Score and property replacement costs from industry partners. By pulling real-time storm boundaries from third-party geospatial data providers such as the National Oceanic and Atmospheric Administration (NOAA), Betterview's AI-powered system identifies which properties are the most vulnerable to a given event so insurers can predict the impact on their entire book of insured properties. During a CAT event, the CAT Response System also helps insurers continually monitor storm progress so they can continue to ramp up resources and get ahead of the influx of claims. 
Help Customers Recover Faster and Easier
The post-event phase is where EagleView comes in with ultra high-resolution aerial imagery—delivered as soon as 24 hours after damage has been done. Combined with Betterview's CAT Response System, EagleView's imagery helps insurers proactively respond to customers in need and speed recovery efforts. Following a CAT event, conditions are often too perilous for boots-on-the-ground inspection teams, which can lead to lengthy claims delays. With access to EagleView's clear and accurate 'before' and 'after' event property imagery and Betterview's proprietary computer vision detecting damage, insurers can proactively contact customers and expedite the claims process, even before the first notice of loss – all done remotely. 
Two 'Views in One
Together, EagleView's high-resolution aerial imagery and Betterview's CAT Response System are the advanced technologies insurance companies need to weather the worsening storms of the forthcoming decade. Ultra high-resolution aerial imagery from EagleView combined with Betterview's Property intelligence platform give insurers:
A single system through which to rapidly, accurately process claims
AI-powered predictive risk solutions supported by imagery with historical depth
The ability to expedite disaster response efforts
The tools to ensure greater safety for adjusters
Learn more about how this alliance is revolutionizing not just disaster response, but the entire policy lifecycle for insurers. Get in touch with our team or learn more here.