September 18, 2023
Customer Webinar: The Best Aerial Imagery Meets the Best Property Intelligence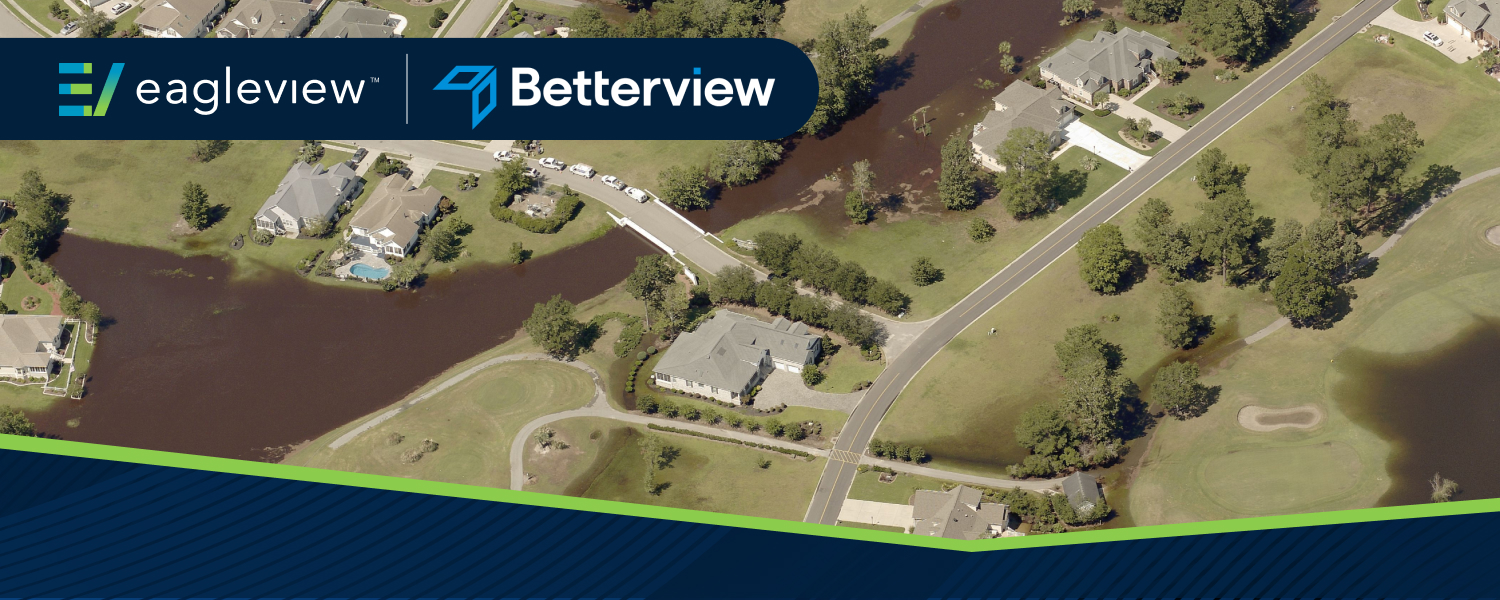 Today's insurance companies must figure out how to execute pricing, underwriting, and claims processing with greater efficiency and precision. Unfortunately, obstacles such as a looming talent shortage and the complications of climate change for property and casualty (P&C) insurers specifically make that goal a stretch. EagleView and our new ally Betterview are veterans of helping insurance companies optimize their operations, and our combined innovations are transforming insurance workflows for the better.
We'll reveal all the exciting details about our alliance in our upcoming webinar EagleView + Betterview: The Best Aerial Imagery Meets the Best Property Intelligence on October 3 at 2:00 PM EDT. Join David Bairstow, SVP & General Manager of EagleView, and Dave Tobias, Co-founder and COO of Betterview, to learn how EagleView's high-resolution aerial imagery and Betterview's Property Intelligence platform work together to empower P&C insurers to better understand and mitigate risk, make stronger policy decisions, and speed up claims processing following a catastrophic event. Register for the webinar here.
We'll demonstrate how insurance companies leverage EagleView and Betterview to:
Improve Disaster Response
With EagleView's ultra high-resolution aerial imagery and Betterview's Catastrophic Response System, insurance companies can expedite storm response and rapidly process high volumes of claims with greater accuracy. Using a "before", "during" and "after" approach, our alliance enables insurers to predict the levels of damage to their book of properties, monitor storm progress to get ahead of claims, and instantly begin claims processing following a weather event.
Optimize Underwriting and Policy Decisions
Betterview's Roof Age solution leverages artificial intelligence (AI) and computer vision to analyze EagleView's high-resolution aerial imagery—giving insurers the ability to precisely determine roof age. With indisputable roof age information, insurers can provide quotes faster, avoid premium leakage, and more effectively predict and prevent losses.
Learn How to Provide Better Service to Your Customers on This Exclusive Webinar
Through a single, intuitive platform, insurance companies can take advantage of the natural union between EagleView's high-resolution aerial imagery and Betterview's Property Intelligence platform. With our solutions combined, insurers can leverage AI-powered property insights supported by historical imagery to gain a more holistic understanding of a customer's total property risk. Together, we support insurance companies' efforts to improve pricing, policy decisions, underwriting, claims processing, and disaster response.
Join our webinar to get all the details about our collaboration. Space is limited—so register today!