May 4, 2021
Introducing Our First Partner of the Month – Schneider Geospatial!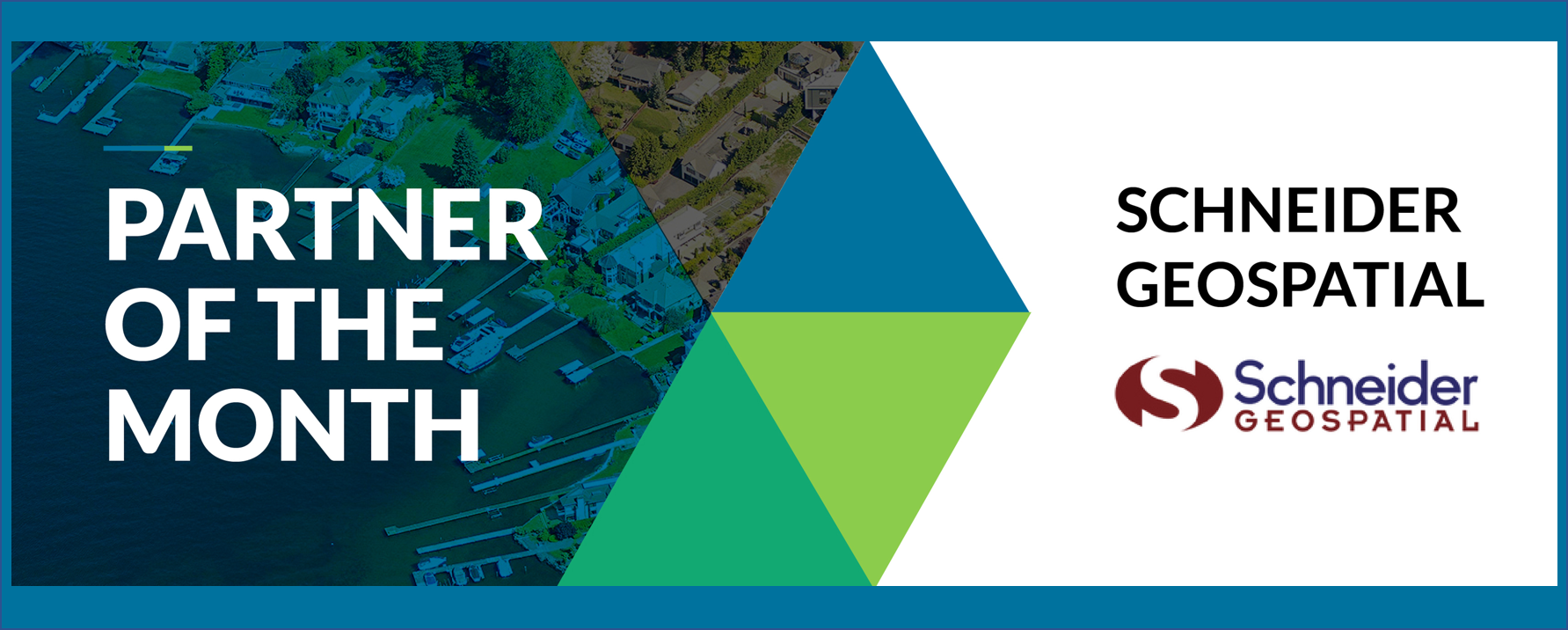 In order to show our appreciation for the many partners that make EagleView's innovative services possible, we're beginning a new series – Partner of the Month!
First up: Schneider Geospatial, one of our longest-running partners in the local government space.

Schneider Geospatial provides innovative, industry-leading solutions combining GIS and related technologies to help organizations get the most from their limited resources. It is one of the largest providers of e-government geospatial solutions, including the Beacon/qPublic.net GIS/CAMA/Tax websites, which allow users to view local government information and related records online. EagleView's orthogonal and oblique imagery integrates directly into the Beacon/qPublic.net sites, allowing customers and end users to access their data within the Beacon/qPublic.net workflow.
"Schneider Geospatial has been an EagleView partner since 2007, and played an instrumental role in our growth when we were trying to crack the market," said Doug Tonnemacher, VP of Government, EagleView. "Now, nearly 15 years later, it's one of the largest organizations of its kind in the United States, with over 600 local government clients in 28 states."
Recent and exciting updates:
In 2020, the company acquired the Elevate product and local government consulting practice from 39 Degrees. This acquisition expands Schneider Geospatial's Indiana county client base to include over two thirds of the state.
In recent weeks. Schneider Geospatial acquired the AccuGlobe Internet product and local government GIS/CAMA/Tax web portal business of Digital Data Technologies, Inc. (DDTI). This acquisition expands the Ohio county client base to include over half of the state. The AccuGlobe Internet web portals will be integrated into its popular and industry leading Beacon™ platform and will become part of the company's growing suite of solutions.
While many companies are looking for ways to scale back during the pandemic, Schneider Geospatial has expanded its services while working remotely to help ensure that local governments remain as accessible to the public as possible. Partnering with local government officials, Schneider Geospatial's popular e-government platforms have serviced almost a billion requests for information since the COVID-19 pandemic started.
Schneider Geospatial's dedication to serving its customers in a new and changing world is incredibly inspiring. We could all learn a thing or two from this incredible partner!
"EagleView would like to thank the entire team at Schneider Geospatial for being incredible to work with, and for joining forces to keep our local government customers at the top of their game.," said Tonnemacher. "We wouldn't be able to provide world-class service without partners like them."
To learn more about how Schneider Geospatial can help your municipality, check out the company's website.