What Is Solar Intelligence? And Why Use It?
If your customers are getting frustrated because their solar PV system isn't producing as much as you estimated, you're not alone.
It's a huge problem for solar companies nationwide. And it's no wonder, considering the complexity of estimating solar productivity. Shading on just one out of 36 cells in a small solar module, for example, can reduce power output by more than 75%.
But what if there was a better way to estimate energy production and design high-quality solar PV systems? A way that's based on unbiased, trustworthy data?
What is solar intelligence?
In broad terms, intelligence means gathering and analyzing valuable information. There are many different types of intelligence, depending on the type of value derived from it. Military intelligence, for example, is what you'd typically see in spy movies — valuable information about secret enemy bases or political rivals.
Solar intelligence then refers to valuable information about the solar industry, often generated by AI or other cutting-edge technology. In the PV industry, for example, AI is now being used to help push solar toward grid parity in markets throughout the world. According to the International Renewable Energy Agency (IRENA), such technologies are already playing a transformative role in pushing the global energy transition forward.
At EagleView, we provide solar intelligence that helps solar companies acquire, synthesize, and analyze solar data in order to make informed, trusted, and precise decisions.
As you can see above, we use multiple data sources to provide intelligent solar data:
Property imagery: Recent, high-resolution aerial imagery across different seasons.
3D modeling: A 3D digital twin generated with machine-learning technology that's complete with structural measurements and obstructions.
Shading analysis: Calculations based on digital surface models extracted from aerial imagery, providing consistent and precise values.
Optimal system design: A semi-autonomous PV system design approach based on precise site modeling and customer-defined parameters.
As with other forms of intelligence, solar intelligence has evolved over the years. Through the development of new technologies like high-resolution aerial imagery and machine learning, we can now determine solar intelligence with certainty.
4 reasons solar intelligence is important to your solar business
Now that you know what solar intelligence is, let's take a look at why you need it. We'll go over four reasons it's important to your solar business.
1. Solar intelligence increases credibility and referrals
The decision to install solar panels is typically a big one for consumers. Many have to finance the project, and they count on the estimated electrical production and reduced energy bills to offset their payments.
When PV systems underproduce compared to the estimate, it puts homeowners in a bad spot and installers in a bad light. Not only do they feel swindled, but they may also have trouble repaying their loans. As you can imagine, these homeowners aren't going to speak kindly about your business or send you any referrals.
In fact, disappointed homeowners often post negative reviews online and tell friends and family to stay far away from you. Before you know it, you're blackballed from entire neighborhoods.
And it's not just bad for your company — underperforming PV systems are bad for the entire industry. Dan Javan, CEO of Suntuity, puts it this way: "Every time a homeowner sees a discrepancy between the electricity produced by their new solar system versus what was promised by the solar installer, our industry loses credibility. Faulty data is the culprit, and we know it is not the right type of data that is needed to make informed decisions."
Levering solar intelligence is a win-win for everyone involved. It provides certainty with accuracy and precision, improving the quality of the PV design and production estimates. All of which improve protection for the consumer while increasing credibility for solar companies and the industry as a whole.
2. Solar intelligence improves efficiencies and cuts labor costs
The solar market is poised for tremendous growth as an increase in consumer awareness and falling prices intersect with sweeping government support. However, profit margins are as slim as ever, with soft costs remaining stubbornly high in the US market.
Solar companies that figure out how to reduce their soft costs will be in a much better position to compete. This is where solar intelligence can help. It'll improve your efficiency so you can do the same things faster and cheaper.
Think about it like navigation. Thirty years ago, we were all driving around with paper maps in our cars. Then MapQuest came along, and we could print directions ahead of time. Today, we have real-time satellite navigation on our phones or built right into the dash.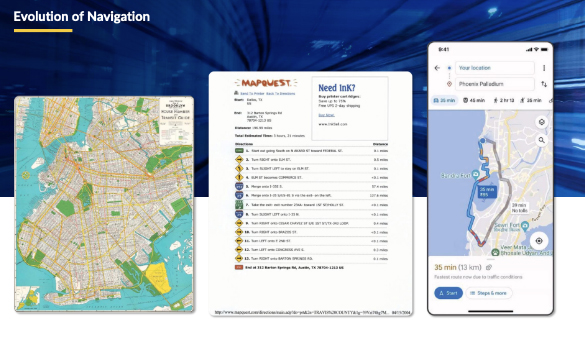 While you can still get where you're going using a paper map, it's no longer the most efficient choice. Paper maps can't suggest a route based on real-time traffic data, for example, or let you know when there's an accident ahead — costing you hours on the road and loads of gas money.
Similarly, while you can still do a shade analysis using a ladder and handheld device, it's not the best way to do it anymore. Today's solar intelligence is objective, certain, and fast. Plus, it cuts your labor costs dramatically since you don't have to send anyone out to the property to gather information.
3. Solar intelligence reduces the time from sale to install
If your preliminary designs need a lot of changes on the way to becoming a permit-ready plan, you're probably going to end up with delays between sale and installation — an issue that often frustrates homeowners and leads to high cancellation rates.
In fact, a one-week delay in system installation due to permit-related issues increases the customer cancellation rate by 10%, according to SEIA data.
Solar intelligence changes all of this. It speeds up the sale-to-install process by eliminating errors across multiple points of the sales cycle. Essentially, because your preliminary design is based on the right data, to begin with, fewer changes are needed as you create the final plan.
Not only does this reduce the number of change orders on any given project, preventing costly cancellations, but it greatly improves the customer experience, making them more likely to refer your business to others.
Ever wonder how other solar companies scale their business so quickly? How do they find and train their labor, for instance? The secret is, many of them don't — they use solar intelligence to get the same job done in less time, with less staff.
4. Solar intelligence allows for exponential and sustainable growth
Think about it. If you didn't have to send out a crew for site inspections, you'd have way more employees to do installations. And if your sales reps could get estimates to customers in hours instead of weeks, they'd have that much more time to spend on lead generation.
Get industry-leading solar intelligence with EagleView
Ready to use solar intelligence to take your business to the next level? Here's how EagleView can help:
Aerial Imagery
EagleView's data and imagery library encompasses 94% of the U.S. population and includes both top-down (ortho) and side-angled (oblique) views. This means you can have complete remote visibility of nearly all residential properties for solar prospecting, planning, and validation.
EagleView's high-resolution aerial imagery is captured with airplanes that are equipped with a proprietary camera system — dramatically increasing resolution compared to other satellite-derived solar installation imagery. Structural data and shade values are extracted from this imagery. And they're accurate because the imagery itself is precise and up to date, accounting for finite details of both homes and vegetation.
TrueDesign™ PV System Designer
EagleView TrueDesign™ allows solar installers to auto-generate final, install-ready PV designs based on the most trustworthy data available. This means you can sell from the same, highly-accurate design that you install, resulting in fewer change orders and cancellations, lower soft costs, and better profit margins at every stage of the process.
Solar Roof Data
EagleView Inform Advanced is the basis for your solar planning and design processes, providing data like complete roof measurements, Total Solar Resource Fraction (TSRF), and Solar Access Values (SAV).
This means you can validate and verify your pre-designs without having to get on the roof and re-measure. Plus, you can access design-ready CAD files to streamline the plan set development process.
Get Started
Want to learn more or see a demo? Our team is happy to help answer any questions you may have.