November 26, 2014
Canadian Roofing Contractors Benefit from EagleView Extended Coverage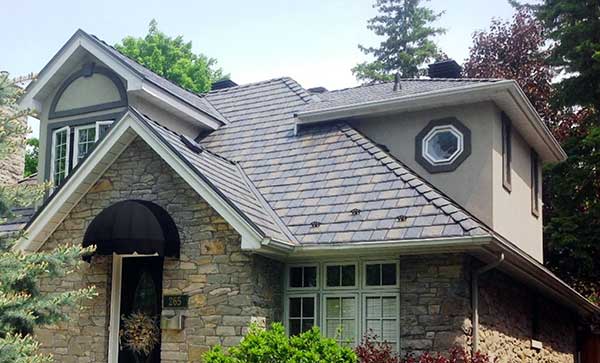 When selling a high-end roofing product like Armadura Metal Roofs, roofing contractors need to incorporate high-end sales and marketing into their processes.  And when it is a specialty product featuring interlocking metal pieces they need to be ahead of the production curve using technology not only for sales but when ordering and shipping materials.  Bob MacMullin, who has been in the roofing industry for over twenty years, is proud to say his company, Last Roof Promotions, excels in sales, marketing and production using technology to provide their customers with lifetime roofing.
"We have a very aggressive direct mail program currently running in Ottawa, Ontario, Canada and we not only want to present the best roofing proposals with Armadura but we want to do it quickly," stated MacMullin.  "We have been using EagleView for many years but when they introduced QuickSquares™, it was a game changer."
"We use QuickSquares to qualify leads quickly for immediate contact," MacMullin continued.  "We can tell if they are interested in Armadura, which really is a lifetime roof, although more expensive.  If they are looking for something less we are able to give them an immediate quote using QuickSquares and quote less expensive roofing products.  If they are interested in Armadura, we upgrade to the PremiumReport so we can provide a detailed report along with our proposal.  The highly accurate measurements make ordering materials easy and accurate.  It is a win all the way around."
When MacMullin first began using QuickSquares he was running into situations where the reports couldn't be produced due to his location in Canada.  That is no longer an issue now EagleView launched Extended Coverage for QuickSquares.  It has made all the difference for Last Roof Promotions.  "Now we are receiving a majority of our reports even if they are outside the main population centers.  In Canada, this is huge!  We have not always had the best coverage but the Extended Coverage program for the Premium Reports and for QuickSquares has really made a difference."
MacMullin also relies on the EagleView PremiumReport for ordering materials.  "With the Armadura Roofing System it is critical to have correct measurements for ordering materials," he confirmed.  "We ship in the exact quantities of materials for the job that we need.  We do not want to be short or over on our material order.  It makes a difference with the trust we establish with our customers and our relationship with the manufacturer."
As Last Roof Promotions continues to help homeowners prepare for a Canadian winter, EagleView is definitely one of the top tools in MacMullin's arsenal for sales, marketing and production.