February 17, 2020
Metal Roofing Magazine: New Roof for a Modern Mountainside Home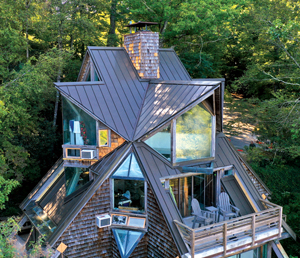 EagleView makes an appearance in the February/March issue of Metal Roofing Magazine. When most roofers were dissuaded by the high elevation of a North Carolina home, one roofer decided to take on the job with the help of an EagleView report.
From the Metal Roofing Magazine article:
Gunn and Kelch's home has massive custom windows, various steep-pitched roofs, flying gables, and a bridge-like foundation due to its cliff side location. They reached out to several area roofers for advice and quotes, but most did not respond. Many of those who did reply took one look at the 35-year-old home and the elevation of the site and were dissuaded. Luke Smith, owner of Highlander Roofing Services in Franklin, North Carolina, decided his crew could handle the task. This decision was made after he learned the exact specifications of the roof through EagleView Roof Measurement & Aerial Measurement Services, a technology provider of aerial imagery data analytics based in Bellevue, Washington.
"They take multiple angles and take photographs of the house, and then their computer modeling [program] shows comparisons and dimensions," explained Smith. He met with the owners and looked at the house first, then pulled up the EagleView report. "We used EagleView to assist with the quantity takeoff. Field measurements were verified prior to the final estimate. Basically, it is because of this service that we knew what we were getting into with the project."
Further, he stated: "Because of the EagleView report, no one from the sales force had to get on the roof to check the measurements. We did have to check it from the eaves, however."