June 1, 2023
The Ultimate Guide to Using Drones for Home Inspections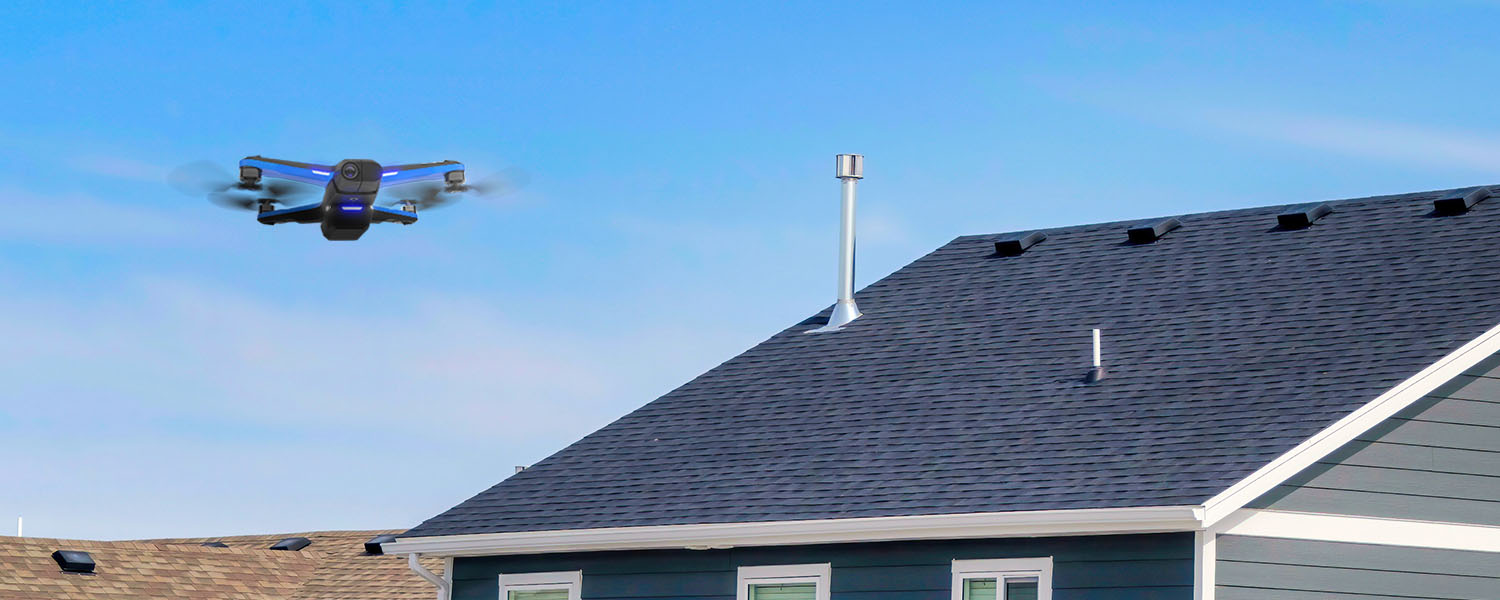 Businesses in every industry are increasingly looking to technology to do more with less, and home inspection companies are no exception. As drones have made their way into the hands of everyday consumers, the home inspection industry has begun to embrace them for the many ways they can improve home inspection work.
From being able to assess steep and hard-to-reach roofs and providing more accurate roof inspections to improving safety, the benefits of drones and digital imagery for home inspections abound. Ultimately, drones can help modernize your home inspection business by enabling you to move away from more time-consuming and risky methods of roof inspection and deliver a better client experience. Read on to learn how drones are growing as the solution of choice for today's home inspection operations.
Why Can't Roof Inspections Be Done the Way They've Always Been Done?
If you want to grow and scale your home inspection business, you need to embrace technology over traditional and manual methods. Here's why:
Manual roof inspections often result in an inability to evaluate every roof. If a roof is inaccessible because of its height or steep pitch, then more often than not, you need to refer your client to a third-party for further inspection. New construction trends are resulting in taller homes with high pitched roofs, making them quite common these days. So, many home inspectors will increasingly run up against roofs that are more difficult to safely climb onto and examine.
Climbing roofs is inherently risky. For those roofs that are accessible, climbing up a ladder and walking around on the roof poses significant safety risks. According to the latest statistics from the Bureau of Labor, roofing remains one of the top-three most dangerous occupations in the United States. Falls, slips and trips account for more than 40% of roofing work-related fatalities.
Boots-on-the-roof inspections are time-consuming. From figuring out access points to setting up ladders and scaffolding, manual roof inspections can take up a lot of time. Even once you're up on the roof, it can take a good amount of time to properly inspect everything. During peak home-buying seasons, this can stretch your inspectors thin, and make it difficult to scale your business.

Human-based work is inherently more prone to flaws than the work of technology. Home inspections are no exception. Human inspectors can only assure customers of quality and accuracy as far as their abilities will allow. The fact is that the human eye doesn't catch every detail.
Drones can help you address all these challenges.
Why Drones Are the Modern Answer to Manual Home Inspection Methods
Drone technology, especially when coupled with AI, can deliver immense benefits to home inspectors.
Conduct roof inspections no matter the condition or location
Drones give you the ability to inspect any roof, anywhere. You no longer have to factor in accessibility, potential hazards, or location – or apologize to clients and refer them to a roofing contractor for further inspection. By using drones to make otherwise inaccessible roofs accessible, you can provide better customer service and more comprehensive home inspections.
Keep your inspectors safe
Using drones instead of people to conduct roof inspections means fewer inspectors on ladders and few-to-no reasons to put humans in a potentially dangerous situation on a roof. Drones eliminate the inherent risks and costs involved in manually inspecting a roof. You'll also potentially enjoy more favorable insurance rates by demonstrating lower inherent risk by using technology to inspect roofs.
Improve quality, accuracy, and reporting
With the high cost of roof repairs, an accurate assessment of roof condition and quality is a core element of a comprehensive home inspection. Leveraging high-quality digital imagery from drones, combined with machine learning, you can more accurately inspect roof condition, and spot potential damage that the human eye might otherwise miss. Some drone solutions, like EagleView Assess™ allow you to create a complete digital roof reproduction and zoom-in on ultra-high quality imagery for further inspection. You can also generate comprehensive, detailed, and image-based reports for your clients, enhancing the client experience.
Quickly scale to demand
In times of seasonal peaks, your home inspection business can scale up without having to add more people to your staff. Drones allow you to quickly and safely conduct roof inspections, reducing the time it takes to complete your overall home inspection. In peak buying seasons, you can accommodate growing needs quickly and then scale back down after the market fervor subsides.
The best part is that you can conduct these higher volumes of inspections without sacrificing quality. Imagery from drones can actually improve your quality, allowing you to scale not only the amount of business you do, but also the precision of it.
How to Get Started With Drone Roof Inspections
Now that you have a better idea of why drones are advantageous when it comes to home inspections, here's what you should consider before getting started.
Ease of use
For most home inspectors, you'll want a drone that is stable, easy to fly, and hard to crash. Many drones on the market require expert pilots to manually fly – which can make it difficult to get started. Rather, look for drones that feature autonomous flight and are designed to operate without the need for an expert pilot. Drone solutions like EagleView Assess come equipped with a 360° view camera system paired with advanced AI-driven obstacle avoidance software, making it easy for anyone to fly – and almost impossible to crash.
Simple, yet powerful software
While there are many drones on the market, most require you to purchase additional software to obtain the information you need for a comprehensive roof inspection. Look for drone solutions that come equipped with built-in software that enables you to garner the information and insights you need to conduct a quality roof inspection. For example, EagleView Assess features adaptive scanning and data capture software specifically designed for residential roof inspection.
Ultra-high quality imagery
Ultimately, the quality of your roof inspection is only as good as the images your drone captures. While many drones provide the ability to capture stunning marketing images, few can provide the level of detail required to properly inspect a roof. Look for a drone solution that can provide high-quality images at a consistent height. EagleView Assess captures images at a consistent height of 1.25 meters across the entire roof and uses machine learning to 'stitch'' all of the images together to deliver a complete, true-to-life representation of the roof.
If you're considering using drones for roof inspections as part of your home inspection process, EagleView Assess delivers an easy-to-use solution that consistently provides high quality imagery and is specifically designed for roof inspections. Discover how home inspectors are using EagleView Assess drones to more accurately assess roofs, without leaving the ground, and elevate your home inspection business today!