February 14, 2020
With New App and Partner Program, EagleView Highlights Benefits of Digitization for Roofing and Construction at IRE 2020
By Michael Park, Chief Product & Marketing Officer
At the 2020 International Roofing Expo (IRE), the EagleView team and I were thrilled to debut our newest solution, EagleView Works™, introduce our partner program, EagleView Edge™, and connect with our valued customers on the latest trends in roofing and construction. Held this year in Dallas, Texas, February 4-6, IRE is the industry's largest event, drawing more than 14,000 roofing professionals from around the world.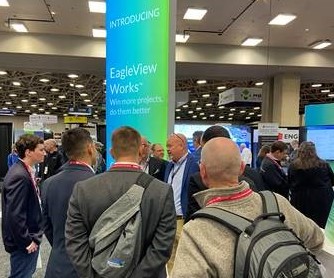 After hearing time and again of the most common pain points for roofing contractors, we were excited to launch EagleView Works, an app that can help contractors create precise quotes and win business faster and easier. The app not only enhances the roof purchasing process for both homeowners and contractors, but helps businesses operate more efficiently and close more deals with compelling proposals and digital sales tools. Please click here to check out a video and learn more about EagleView Works.
For me, personally, the app underscores our team's dedication to advancing the evolution and modernization of the roofing and construction industry. This same topic was a key focus of the presentation that Stu Sutherland, Director, Product Management, and Pete Cleveland, VP, Product Strategy, gave at IRE, "Getting to Yes! How a Digital Sales Assistant Can Improve Your Close Rates" – where a lucky winner received a new iPad Air and a free 12-month subscription to EagleView Works! I also wrote about the need for "future-ready" digitization in Roofing Contractor.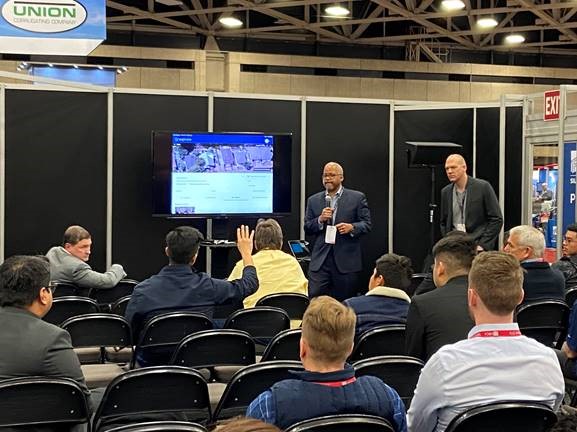 In addition, at IRE we introduced our new partner program, EagleView Edge, which allows construction software providers to integrate EagleView's high-resolution aerial imagery, property data and measurements into their own software applications. Our newest partner, Renoworks – along with AccuLynx, GiddyUp Roofing, JobProgress, Leap and SumoQuote – will now have access to EagleView's precision technologies as well as training, technical support and co-marketing opportunities, all with the goal of delivering premium products for clients.
We were pleased to see so many friends, peers and customers in Dallas and unveil our newest solutions. I want to thank everyone who stopped by the EagleView booth at IRE, and I'm already looking forward to hearing how EagleView Works and EagleView Edge have enhanced contractors' and companies' business objectives and offerings.
Next up for EagleView will be our FutureView 2020 conference – "Building Communities of the Future with Imagery and Insights" in Phoenix, Arizona, March 9-12 – for assessors, GIS and other local government representatives. We can't wait to see you there!