May 18, 2016
EagleView Captures Post-event Pictometry Imagery Following Alberta, Canada Wildfires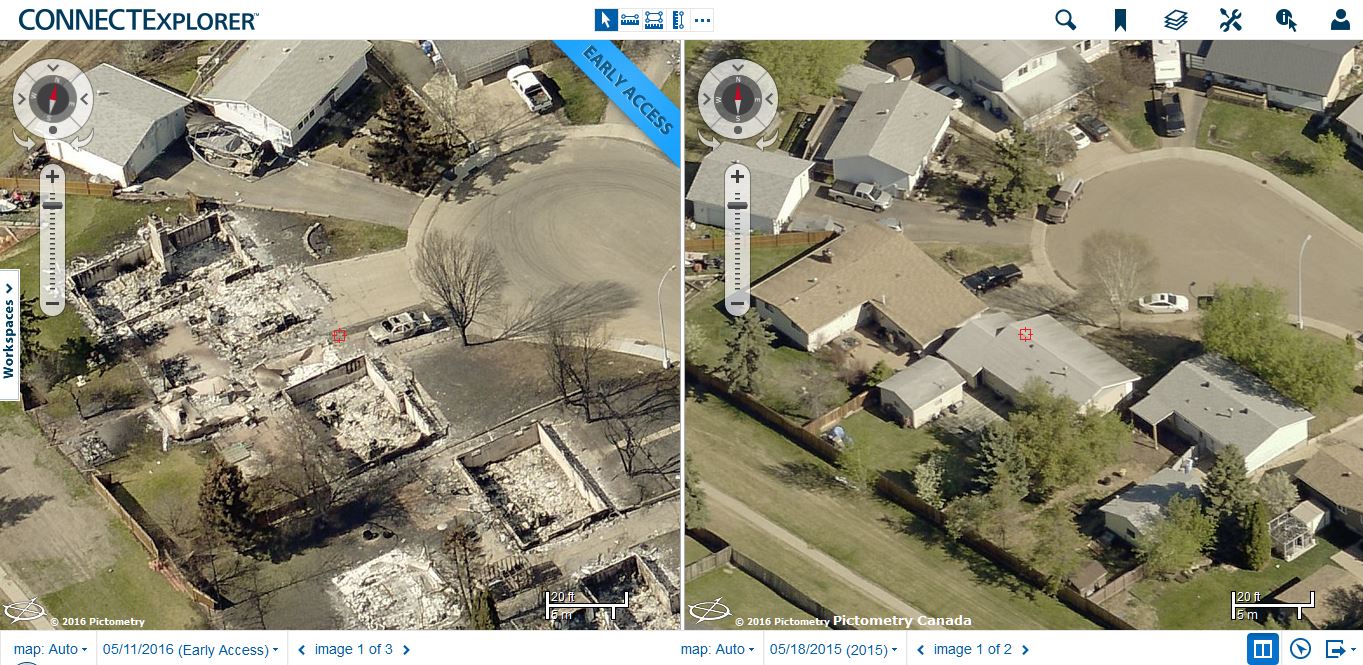 (Bothell, Wash., May 17, 2016) – EagleView Technology Corporation, a leading technology provider of aerial imagery, data analytics and GIS solutions, announced that it has flown and captured high-resolution ortho and oblique Pictometry imagery of a 92-square kilometer area in Alberta, Canada following the recent wildfires. Imagery was captured on Wednesday, May 11, 2016 and through the company's Early Access program, images were available for viewing just two days later to assist in initial recovery efforts.
"The Regional Municipality of Wood Buffalo in Alberta has been a long-standing customer and these fires have been devastating to the entire region," said Robert Locke, president of EagleView Government Solutions division. "We were able to get our planes to the area as soon as it was determined to be safe to fly; the imagery will be invaluable for helping with damage assessment and recovery efforts."
The Alberta Emergency Management Agency worked closely with the company to plan the capture of the imagery, which covers areas just south of the airport up through the most populated areas surrounding and including the city of Fort McMurray. "The municipality had already flown multiple years with us before the fires so they have a good record of the state of the area prior to the fire," said Locke. "They now have the ability to compare before and after imagery in order to help with evaluating losses and beginning plans for rebuilding."
Rishi Daga, EVP of Commercial Sales at EagleView said the imagery will also be of immense value to insurance carriers who insure properties in the areas affected by the fire. "Being able to survey the damage remotely will help insurance companies process claims faster and issue payments promptly so the region can begin the rebuilding process," he explained.
# # #
About EagleView
EagleView Technology Corporation, through its two wholly owned subsidiaries, EagleView Technologies, Inc. and Pictometry International Corp., is the unparalleled provider of aerial imagery, data analytics and GIS solutions serving the commercial, government and public utility sectors. The company's patented image capture processes and 3D modeling algorithms coupled with property-centric analytic tools empower end-user workflows with scalable, efficient and highly accurate answer sets in support of property claims, risk management, construction, emergency response, assessment, corridor mapping and more. For more information contact (866) 659-8439 or visit www.eagleview.com or www.pictometry.com