September 13, 2019
EagleView Quickly Initiates High-Resolution Imagery Capture After Hurricane Dorian's U.S. Landfall to Support Recovery Efforts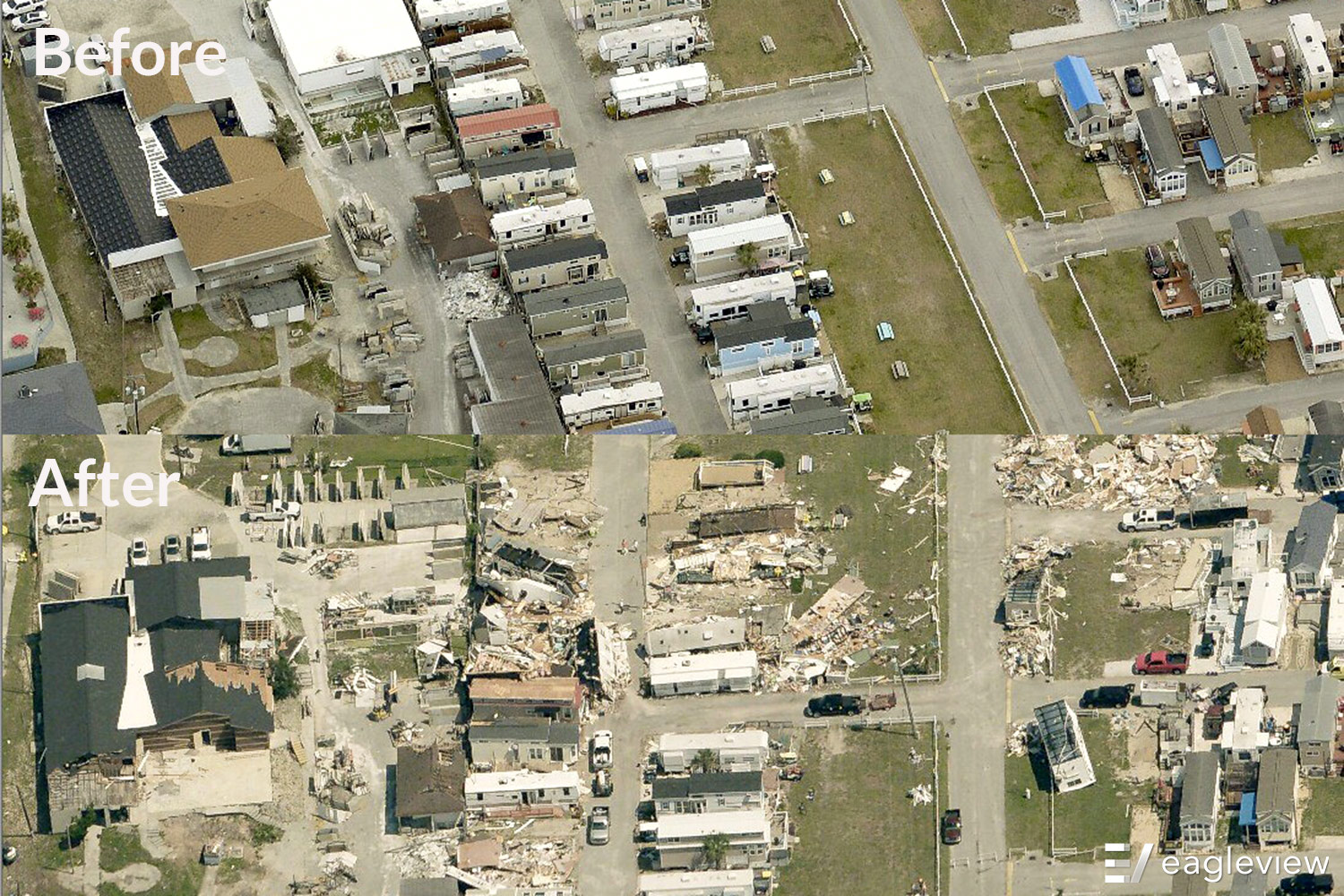 By: Michael Park
Like many monitoring Dorian's path, we were devastated to see the storm's deadly, catastrophic impact in the Bahamas. As our disaster response team assessed the storm's evolution, we knew there would likely be major storm surges and dangerous winds buffeting the Atlantic coast.
In preparation for the storm, we staged our fleet of fixed-wing aircraft in counties along the coastal regions of North and South Carolina. Immediately following Hurricane Dorian's landfall on the North Carolina coast the morning of September 6, 2019, EagleView's fleet was in the air capturing high-resolution aerial imagery of the storm's damage to support rescue and recovery work.
This isn't the first time that we have supported rescue and recovery efforts in this region. In 2018, we deployed our aircraft in areas affected by Hurricane Florence, such as Dare County, North Carolina, to capture imagery as quickly as 24 hours after impact.
Sample imagery captured by EagleView reveals the extent of the flooding and tornado damage in areas affected by Hurricane Dorian: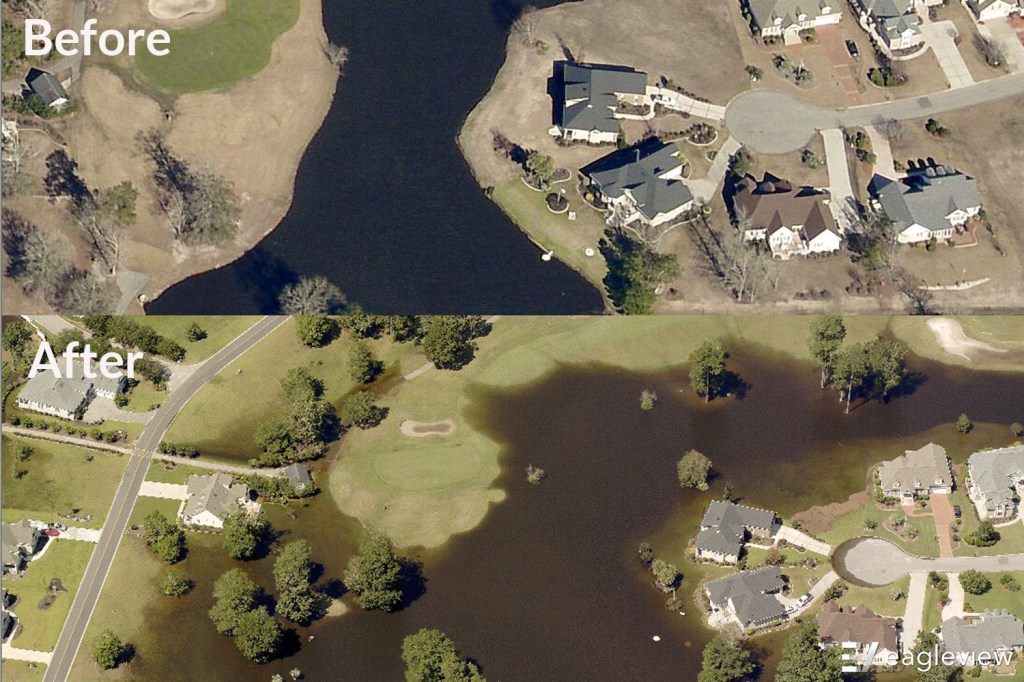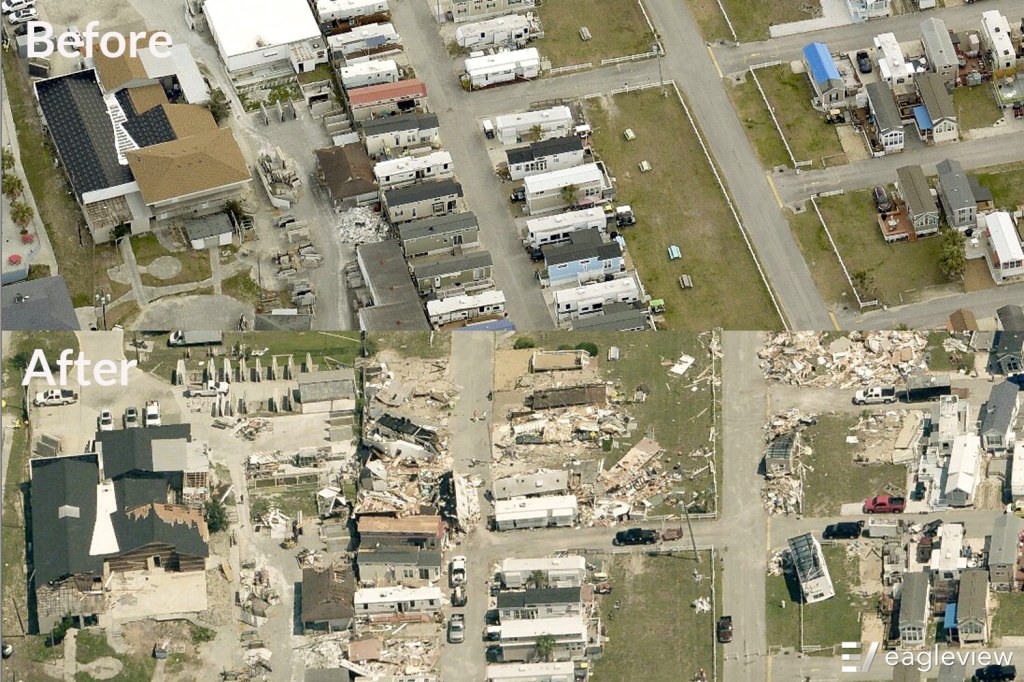 Ultimately, it's EagleView's mission to support natural disaster response and recovery efforts by providing a comprehensive picture – quite literally – of a storm's aftermath. As the photos above illustrate, EagleView imagery provides actionable before-and-after images to fully illustrate how a hurricane, wildfire, earthquake or other event has impacted communities so the cleanup process can begin.
In the immediate aftermath, our high-resolution images can show utility providers and government officials in places where services are needed, and help them prioritize efforts, whether clearing downed trees or providing clean drinking water. In addition, the images enable insurance providers to quickly begin the claims process, working with homeowners to determine the full force of the storm's impact on a home and begin the work to rebuild.
We continue to communicate with our customers in the affected areas and will provide further updates and images as they are available. As always, those who were in the storm's path, whether in the U.S., Canada or Bahamas, are in our thoughts.
For more information about helping the citizens of the Bahamas, please click here.