July 9, 2014
EagleView® Technologies Provides Storm-ready Solutions for Emergency Management
(Bothell, Wash., July 8, 2014) – EagleView Technologies, a leading technology provider of aerial imagery, data analytics and GIS solutions, continues to provide storm-ready solutions for emergency management with the fastest post-event imagery capture utilizing CriticalAccess and RapidAccess Technology.
A recognized leader in emergency management solutions for the utility, insurance and public safety verticals, EagleView has proven technologies for immediate post-catastrophe event imagery capture.  Throughout 2014, engineers and flight crews have worked with utilities running very successful emergency management drills utilizing the company's CriticalAccess Technology.   The technology successfully enabled the capture of imagery during the emergency drills, delivering imagery just hours after the event to ground crews.  Utilizing a rugged Esri® ArcGIS server deployment within a specially designed Ground Receiving Unit (GRU), the test teams were able to use the Pictometry® Intelligent Images® to assess damage, deploy crews and repair damage immediately in these emergency drills.
In the past, insurance carriers and local and state governments have also used RapidAccess Technology to capture post-event imagery within days of an event.  With this technology emergency responders and catastrophe teams are able to gain visual intelligence that supports disaster recovery efforts and speeds the insurance claim adjusting process. RapidAccess Technology was engaged in 2013 when Moore, Okla., was hit hard by devastating tornados and again during the Boulder, Colo., floods.  Images were captured and delivered in a timeframe that allowed crews and adjusters to quickly assess the damage and focus their recovery efforts.
"The ability to capture images and provide visual intelligence is essential for rapid recovery after a catastrophic event," stated Robert Locke, president of Pictometry Government Solutions.  "We are committed to flying every major event and having images available directly afterward. We are focused on constant development of improved aerial image capture, leading-edge software solutions and the fastest and most scalable operations available today."
"We offer the fastest capture of real-time, high-resolution imagery for post event review and evaluation," continued Rishi Daga, EVP Commercial Sales for EagleView Technologies.  "As we are currently providing imagery and measurement for the violent storms in the Midwest, we are also preparing our flight teams for hurricane season.  We understand that for insurance, utilities, government agencies and emergency responders the imagery is critical in responding and helping communities recover quickly from catastrophic events."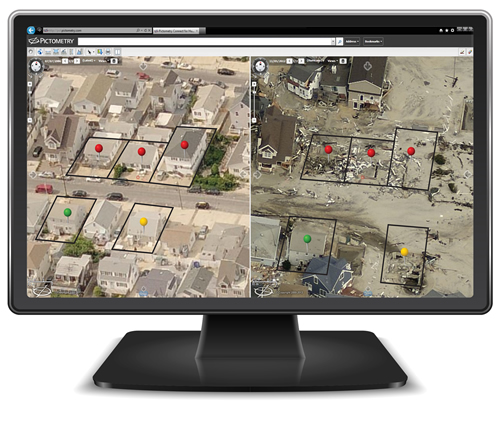 About EagleView Technologies
EagleView Technologies is the unparalleled provider of aerial imagery, data analytics and GIS solutions serving the commercial, government and public utility sectors.  The company's patented image capture processes and 3D modeling algorithms coupled with property-centric analytic tools empower end-user workflows with scalable, efficient and highly accurate answer sets in support of property claims, risk management, emergency response, assessment, corridor mapping and more.   For more information contact (866) 659-8439 or visit www.eagleview.com or www.pictometry.com.
###