June 8, 2015
EagleView Technology Corporation President and CEO Chris Barrow Named EY Entrepreneur Of The Year® 2015 for the Pacific Northwest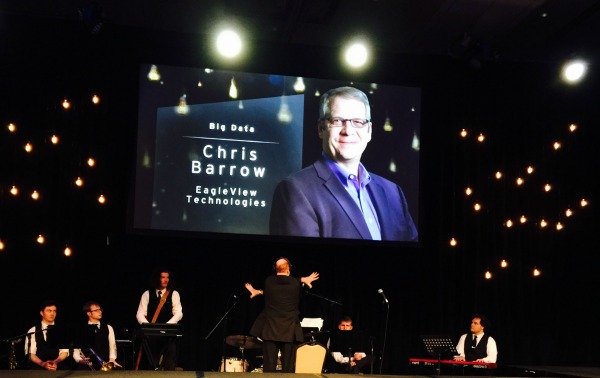 (Bothell, Wash., June 8, 2015) – EagleView Technology Corporation, a leading technology provider of aerial imagery, data analytics and GIS solutions, announced today that EY has named EagleView President and CEO Chris Barrow as the EY Entrepreneur Of The Year® 2015 in the Pacific Northwest Region. The award recognizes entrepreneurs who demonstrate excellence and extraordinary success in such areas as innovation, financial performance and personal commitment to their businesses and communities. Barrow was selected by a panel of independent judges and the award was presented at a special gala event at the Sheraton Seattle Hotel on June 5th.
"It is such an honor to be chosen for this prestigious award recognizing the success of EagleView in the Big Data category," said Barrow. "I am truly passionate about this company and strive to be a disruptive innovator in the marketplace, particularly when it comes to data mining and delivering solutions derived from Big Data." Barrow has shaped EagleView from an aerial measurement company and guided it through a merger with Pictometry International Corp. in 2013 to become the industry leader in aerial imagery, data analytics and GIS solutions serving the commercial, government and public utility sectors. The company's massive image library covers 90 percent of the population in the U.S., with hundreds of millions of images dating back over the last decade.
Now in its 29th year, the EY Entrepreneur Of The Year program has honored the inspirational leadership of such entrepreneurs as Howard Schultz of Starbucks Coffee Company, Pierre Omidyar of eBay, Inc., and Mindy Grossman of HSN. Recent US national winners include Reid Hoffman and Jeff Weiner of LinkedIn; Hamdi Ulukaya, founder of Chobani; and 2014 winner Dr. David Hung, President and CEO and Chairman of Medivation.
As a Pacific Northwest award winner, Barrow is now eligible for consideration for the Entrepreneur Of The Year 2015 national program. Award winners in several national categories, as well as the Entrepreneur Of The Year National Overall Award winner, will be announced at the annual awards gala in Palm Springs, California, on November 14, 2015. The awards are the culminating event of the EY Strategic Growth Forum®, the nation's most prestigious gathering of high-growth, market-leading companies.
# # #
About EagleView
EagleView Technology Corporation is the unparalleled provider of aerial imagery, data analytics and GIS solutions serving the commercial, government and public utility sectors. The company's patented image capture processes and 3D modeling algorithms coupled with property-centric analytic tools empower end-user workflows with scalable, efficient and highly accurate answer sets in support of property claims, risk management, construction, emergency response, assessment, corridor mapping and more. For more information contact (866) 659-8439 or visit www.eagleview.com or www.pictometry.com.
About EY
EY is a global leader in assurance, tax, transaction and advisory services. The insights and quality services we deliver help build trust and confidence in the capital markets and in economies the world over. We develop outstanding leaders who team to deliver on our promises to all of our stakeholders. In so doing, we play a critical role in building a better working world for our people, for our clients and for our communities.
EY refers to the global organization, and may refer to one or more, of the member firms of Ernst & Young Global Limited, each of which is a separate legal entity. Ernst & Young Global Limited, a UK company limited by guarantee, does not provide services to clients. For more information about our organization, please visit ey.com.
About EY Entrepreneur Of The Year®
EY Entrepreneur Of The Year is the world's most prestigious business award for entrepreneurs. The unique award makes a difference through the way it encourages entrepreneurial activity among those with potential and recognizes the contribution of people who inspire others with their vision, leadership and achievement. As the first and only truly global award of its kind, Entrepreneur Of The Year celebrates those who are building and leading successful, growing and dynamic businesses, recognizing them through regional, national and global awards programs in more than 145 cities in more than 60 countries.