January 13, 2020
EagleView's Dr. Shay Strong Teaches Coding, Machine Learning to Girl Scouts of Western Washington
By Dr. Shay Strong
It was a day for complex coding – and dancing – as the Girl Scouts of Western Washington gathered in our Bellevue, Washington headquarters on December 14 to participate in an "Hour of Code." As the Director of Data Science and Machine Learning at EagleView, I taught them the fundamentals of coding as part of an effort to equip Girl Scouts with the skills they need to be successful in high-tech STEM fields.
To earn their badges in coding, Brownie and Junior Girl Scouts worked hard to learn important new concepts and accomplish a series of machine learning-related assignments. Not only did I and the Girl Scouts dance, we engaged in machine learning to help a computer recognize and identify different types of dance moves.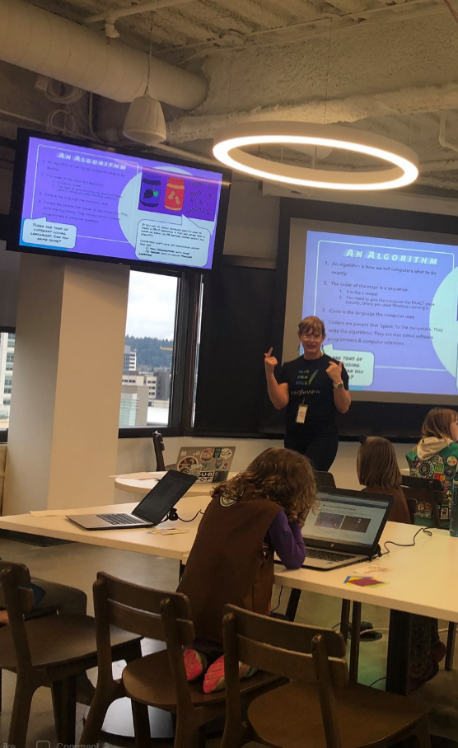 Throughout the day, we talked about the empowerment of women in tech and I shared stories of influential women in the coding world, such as Grace Hopper, one of the first programmers of the Harvard Mark I computer, Ada Lovelace, the renowned mathematician of the 1800s, and Evelyn Boyd Granville, the second African-American woman to earn a Ph.D in Mathematics. These women, and so many more, have helped carve a path for women and young girls looking to study and pursue high-tech, STEM careers. And, in a fun conclusion to our day, the Girl Scouts used logs of code to choose different dancers, change their dance moves and create lifelike reactions to the music – programming their very own dance party!
As technology continues to transform industries around the world, I'm proud to help advance EagleView's artificial intelligence and machine learning solutions. And, as a woman in this field, it's critical to illustrate how women can shape STEM and spark Girl Scouts' interest to keep learning.
We look forward to next year's Hour of Code event where we can continue to introduce more Girl Scouts to positive role models and inspire future leaders. It's incredibly fulfilling to see the eagerness to learn from so many ambitious Girl Scouts.
Dr. Shay Strong is the Director of Data Science and Machine Learning at EagleView. To learn more about the ways Dr. Strong and EagleView's technology are revolutionizing workflows and industries, please visit eagleview.com/insurance or contact us at (866) 659-8439.