January 26, 2018
EagleView in the News: CEO Rishi Daga in Geospatial World Magazine & More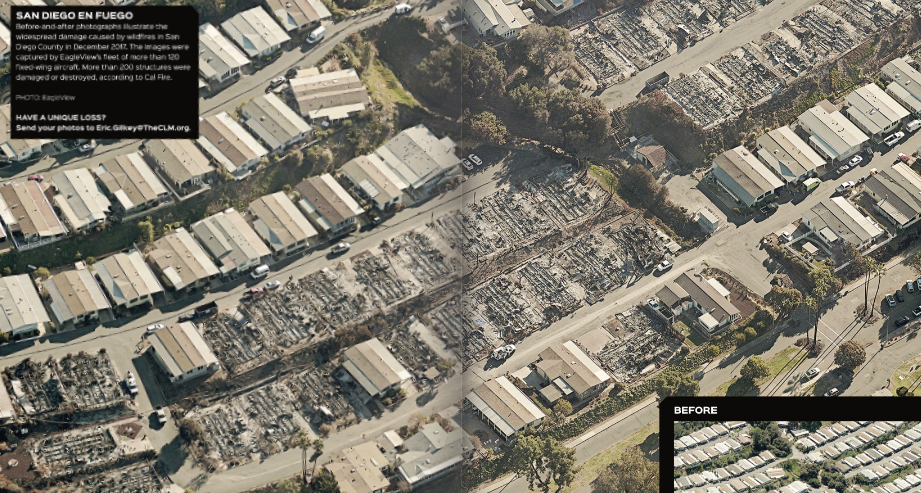 The In the News category on the blog reflects the press coverage EagleView receives. In this roundup, hear from EagleView CEO Rishi Daga and see the imagery that EagleView captured following the Lilac Wildfire in California in December.
Geospatial World Magazine: Real-time Data is the Future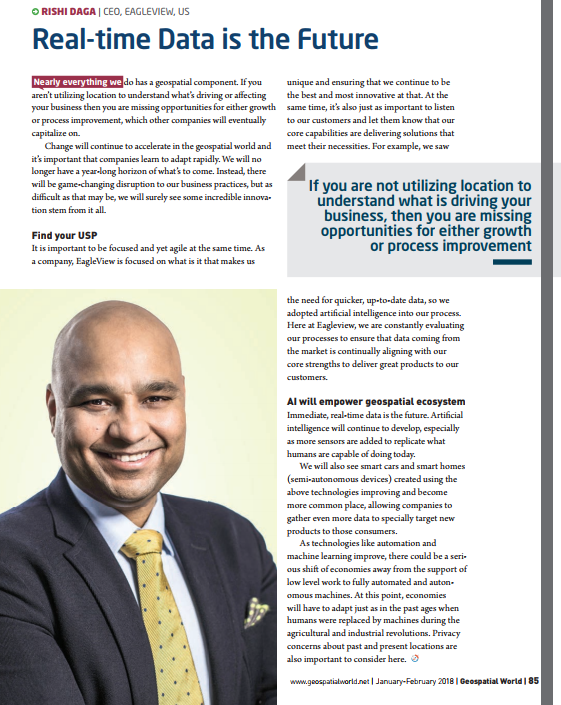 EagleView CEO Rishi Daga was recently asked to be included in the January edition of Geospatial World Magazine. He was featured along with CEOs and other strong leaders in the leading Geospatial companies throughout the world. Other leaders featured include Esri's Jack Dangermond, Google's Sandeep Singal, IBM's Mary Glackin and Intel's Anil Nanduri to name a few.
Rishi writes that geospatial data and artificial intelligence represent the future for all industries:
Nearly everything we do has a geospatial component. If you aren't utilizing location to understand what's driving or affecting your business then you are missing opportunities for either growth or process improvement, which other companies will eventually capitalize on.

Change will continue to accelerate in the geospatial world and it's important that companies learn to adapt rapidly. We will no longer have a year-long horizon of what's to come. Instead, there will be game-changing disruption to our business practices, but as diffcult as that may be, we will surely see some incredible innovation stem from it all.
Read the rest of Rishi's article on page 85 of the full digital edition here or read the article on the Geospatial World website.
Distributed Energy: Spotlight on EagleView SunSite Reports

The EagleView SunSite™ Report was recently featured in the product showcase presented by Distributed Energy. This product spotlight can be found on page 52 of the January issue.
Read the digital version here.
CLM Magazine: Before & After Imagery of the Lilac Wildfire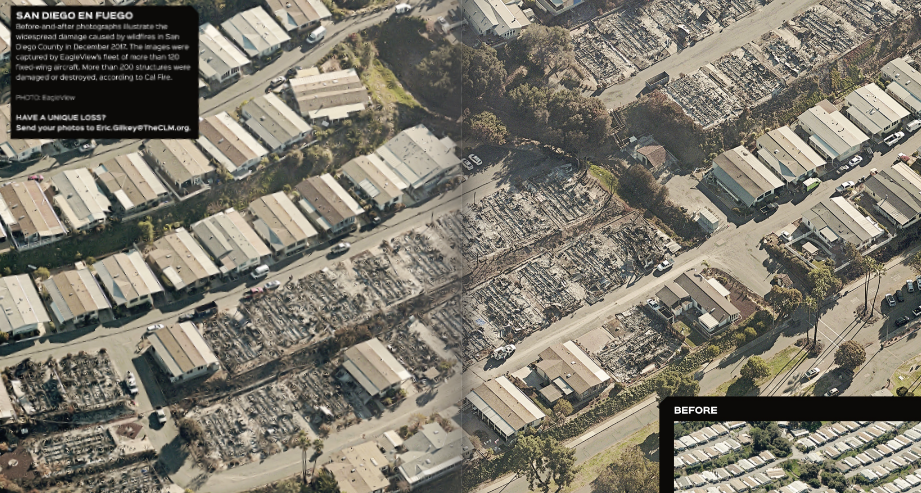 CLM Magazine's monthly two-fold feature included EagleView's pre- and post-event aerial imagery following the California wildfires in the January 2018 edition. This imagery shows our rapid response to the fires, the high-resolution of our imagery, and our ability to provide detailed before and after imagery for claims adjusters following a catastrophic event. See the full image on pages 8 and 9 and read the January issue here.