September 23, 2014
Fair & Equitable: Enterprise GIS and Pictometry Imagery Deliver Powerful Intelligence to L.A. County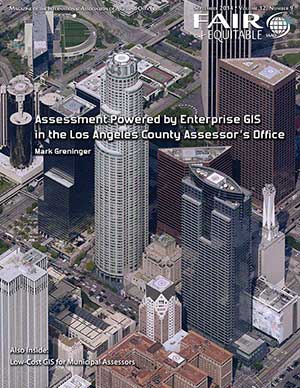 Mark Greninger, Geographic information officer for Los Angeles County, California, wrote the cover story of the September issue of Fair & Equitable magazine about how the county has established a powerful enterprise system to enhance workflows, improve efficiency and provide easy access to shared data and aerial imagery.
The county worked to establish the Los Angeles Region Imagery Acquisition Consortium (LARIAC) in 2005 to bring visual intelligence through Pictometry aerial imagery. The high-resolution imagery is shared with the rest of LARIAC through cloud-based PictometryOnline (POL) which offers access to current and historic oblique imagery and orthophotography. POL users also have the ability to rapidly search and navigate through hundreds of terabytes of imagery and data. The robust analytical tools allow for measurement and data extraction.
The imagery has brought tremendous benefit to the assessor's office and the GIS team has built applications specifically for assessment such as mapping and surveying tools. Read the full article here.