February 11, 2016
Case Study: Pictometry® Imagery Changes Perspective for Iowa County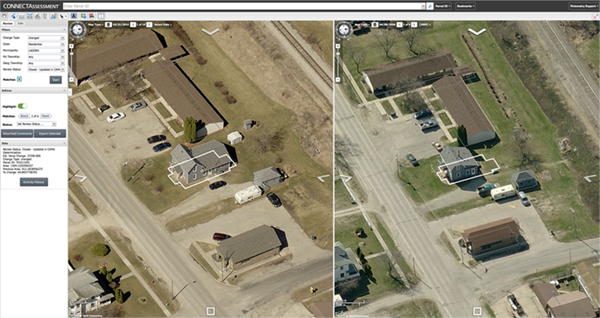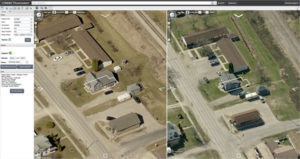 When first introduced to Pictometry® Intelligent Imagery®, Linda Griggs, assessor, and Liz Kriegel, deputy assessor, for Iowa County, Iowa were not familiar of the benefits of the technology. Pictometry flew the county in 2009 through a grant with five other counties in the state; however, the imagery wasn't readily utilized by their office.
Even with access to aerial imagery, the team stuck to their traditional methods of assessing properties. However, with an office of only four employees and 18,000 parcels, the job of assessing the agriculturally heavy county became challenging, causing the staff to think outside of the box on ways to handle field visits.
When it was time for the county to consider options for aerial photography, Griggs and Kriegel looked for a product that would not only provide imagery for all offices, but could also assist their office with a solution to time consuming field work. Purchasing ChangeFinder in addition to the imagery was the end result. ChangeFinder is a Pictometry technology that compares current imagery to previous imagery using GIS polygon outlines for analysis of changes in size and shape. Assessors can use this data to have immediate understanding of property changes in their county.
Once Kriegel began comparing the old imagery to the new, she saw the changes and they were impressive. By reviewing the parcels one-by-one in CONNECTAssessment™, and showing the other staff members the significance of the changes, everyone was on board to review–making their process more efficient.
"It's impossible to quantify the amount of time we've saved. We were able to get through all of our changes in three or four months rather than the average seven or eight," Kriegel stated. The majority of Iowa County has no requirements for building permits, meaning that buildings are constantly added, reworked and torn down. When driving through the county and physically performing field visits, there is no way to find exact measurements of each property. Assessments are merely a guess if the building looks like the right size. Aiming to be fair and accurate, Griggs knew that Pictometry imagery was the right solution.
Keep reading to find out how Griggs knew Pictometry Pictometry imagery was right for Iowa County.