October 30, 2023
Drone Roof Inspections: Why to Use Them and How to Get Started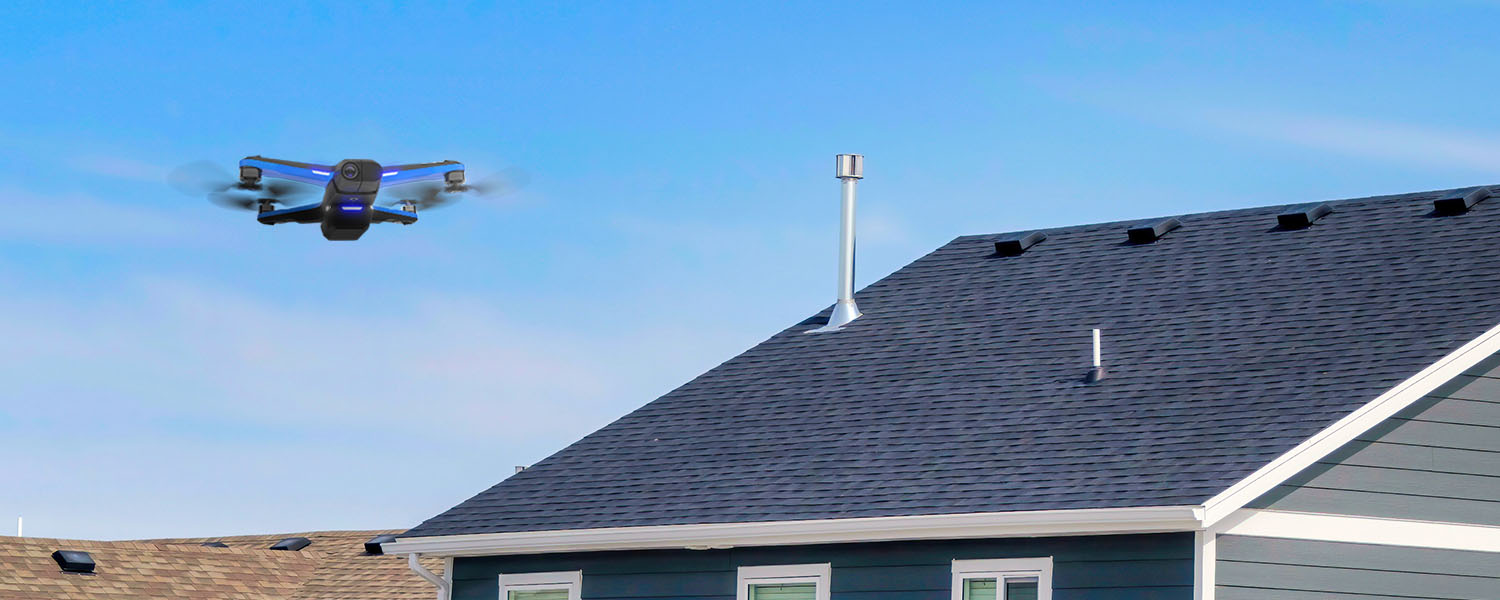 Is your insurance company thinking about making the switch to drone roof inspections? It's a savvy move. But you might be worried that:
Evaluating, choosing, and integrating a drone-based roof inspection program is too difficult or time-consuming.
Maintaining a drone-based roof inspection fleet for claims operation is too risky because of the likelihood of equipment breaking.
Drone photographs won't be able to differentiate between different types of roof damage, so you'll have to get someone up on the roof anyway.
Fortunately, drone-based inspections have come a long way from the low-tech approach that initially hit the market—alleviating many of these issues. In this guide, we'll cover everything your insurance company needs to know about drone inspections, so you can make the best decision for your company.
Why use drone roof inspection for insurance claims?
For starters, it's both faster and cheaper. With today's drone technology, you can actually process up to 1.5 times more claims per day while also reducing costs related to Loss Adjustment Expenses by approximately 20%.1
It's also safer. Drone roof inspections allow insurance companies to mitigate safety risks by having fewer inspectors on ladders and fewer site visits to inaccessible areas.
Plus, it's easy. EagleView Assess, for example, offers both self-service and managed service options. With self-service, EagleView supplies the drone and integrated platform, and your team conducts the inspections. With managed service, EagleView handles every step of the process so you don't have to go on site at all. Learn more about this process here.
The major challenges with traditional roof inspections
Before we get any further into drones, let's recap some of the biggest issues with traditional roof inspections.
1. Climbing roofs is inherently very risky
As you know, climbing up a ladder and walking around on a roof is inherently risky. If that roof is damaged or compromised, as is typically the case when assessing insurance claims, that risk is even higher.
Data from the Bureau of Labor Statistics shows that climbing roofs is one of the most dangerous occupational activities in the United States, with roof falls accounting for nearly 10% of all fatal workplace falls.
2. The consistency of claims decisions depends on the inspector
When inspecting a roof by hand, the accuracy of the results is only as good as the person holding the tape measure. And even if that person is an experienced roofing contractor, human error is unavoidable.
However, with the right technology, you get reliably accurate property damage intelligence. EagleView Assess, for instance, provides a more automated solution to help you make high-confidence roof damage assessments and claims decisions and to do so in a repeatable process at scale over time. In a rapidly changing property insurance space, Assess is a digital solution that can significantly enhance your claims operations.
3. Traditional roof inspections are time-consuming
From figuring out access points, to setting up ladders, scaffolds, and lifts, traditional roof inspections take up a lot of time. Even once you get up on the roof, it takes a good chunk of time to properly inspect and measure everything. And then there's travel time to and from the site.
Not only does all of this limit the number of assessments you can do in a day, but the costs really add up. During each step, you're paying for labor, fuel, and wear and tear on your equipment.
4. Traditional roof inspections are dependent on an aging and aging workforce
Traditional roof inspections require skilled insurance adjusters—a skill that's increasingly hard to come by as baby boomers retire in droves, taking their knowledge and skills with them.
In fact, the National Association of Mutual Insurance Companies (NAMIC) forecasts that 50% of the current insurance workforce will retire in the next 15 years. With less than 25% of the industry's workforce currently under the age of 35, this will leave more than 400,000 open positions unfilled. Drone-based roof inspections are a force multiplier in this situation, allowing a broader pool of employees and contractors to handle the inspections.
4 steps to do a drone roof inspection for insurance
Now that you have a better idea about the why of drone roof inspections, let's dig a little deeper into the how.
1. Choose a credible drone provider
When evaluating your options, it's important to understand that not all drones are created equal. For example, some drones still need human pilots to control them while others are autonomous. You should also consider factors like image quality, customer service, and accuracy.
We may be a bit biased, but we think EagleView Assess is the best in the business (more info about it here). Here's why:
Highly consistent, easy to evaluate image output: EagleView Assess captures images at a consistent height of 1.25 meters across all roof facets. Unlike other solutions, machine learning then integrates this imagery to deliver a complete, true-to-life representation of the roof and its features for a consistent, easy-to-evaluate view of the roof condition and damages. There's no guessing or sifting through dozens of images to figure out which roof facets your desk adjuster is looking at and evaluating. (Because of this feature, a national insurance carrier shared that they reduced claims review times from an average of 3 hours to under 1 hour.)
Increased efficiency, improved cycle times, lower LAE: EagleView Assess delivers high-confidence roof damage analysis reporting, the accuracy of which enables a faster claims decision-making process in a repeatable, scalable solution. Higher accuracy delivers higher confidence and faster cycle times – up to 1.5 times more claims resolved per day and a reduction of your Loss Adjustment Expenses by approximately 20%.2
Improved Customer Experience: Because EagleView Assess powers more rapid and effective claims decisions, insurance carriers are better equipped to deliver an improved customer service experience. By eliminating much of the friction, frustration, and perceived delay an insured might experience in a traditional claims case, EagleView Assess can help drive improved satisfaction among your customers.
Managed service: As we mentioned earlier, Assess allows you to choose your level of involvement. With managed service, EagleView leverages a national network of licensed drone inspectors to save you a site visit and deliver imagery and analytics to you remotely.
Self-service: With this option, EagleView supplies a comprehensive virtual claims solution including drones, automated anomaly detection, and an adjuster workflow tool. You just supply the pilots.
2. Schedule the inspection with the property owner
Fortunately, drone inspections are much less invasive than traditional inspections. Property owners don't have to deal with having a bunch of people banging around on their roof or heavy equipment driven on site. So, they're typically easier to schedule.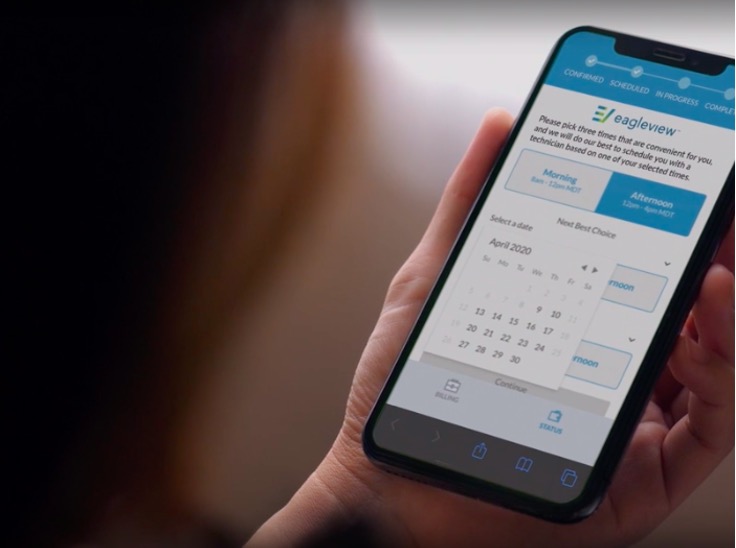 If you're using EagleView Assess network pilots, it's even easier because we provide a self-scheduling portal for homeowners to choose a time that works best for them. Then, we assign a technician based on their selected timeframe.
3. Fly the drone
When it comes time for the inspection, the Assess drone operator sets boundaries by outlining the scan area on an app. Then the operator launches the drone with the click of a button. The drone scans the roof using an adaptive scanning software optimized for residential roof inspection that is capable of recognizing individual roof facets. The drone autonomously plots a path to capture ultra-high resolution imagery with complete coverage of the roof by creating a real-time 3D map of the inspection property, which ensures consistent image capture and reduces human subjectivity and potential errors.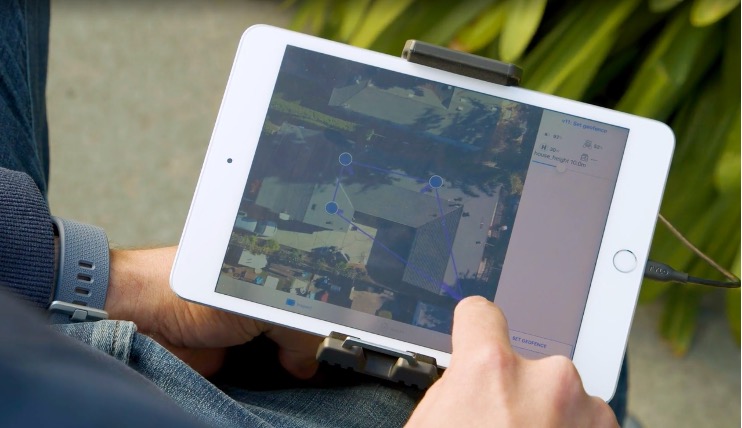 This autonomous process is made possible by uncontested 360° obstacle avoidance technology. In fact, EagleView Assess recently flew head-to-head against another drone-based roof inspection solution. When witnessing EagleView Assess in action, the person who had invested in the competing solution was mesmerized by what Assess could do.
The competing solution had extreme difficulty completing its work because there were trees near the home. Several accommodations had to be made to launch, fly, and land the drone—including leaving the property and setting up in the middle of the street, flying at inconsistent heights to capture all roof facets, and performing extensive manual flying to avoid the trees and complete the job.
In contrast, EagleView's drone completed the scan quickly and autonomously, avoiding the trees and obstacles without intervention from the operator.
4. Assess damages
Once the drone completes its scan, the imagery is stitched together to create a single roof model for review so adjusters don't have to sort through hundreds of separate images.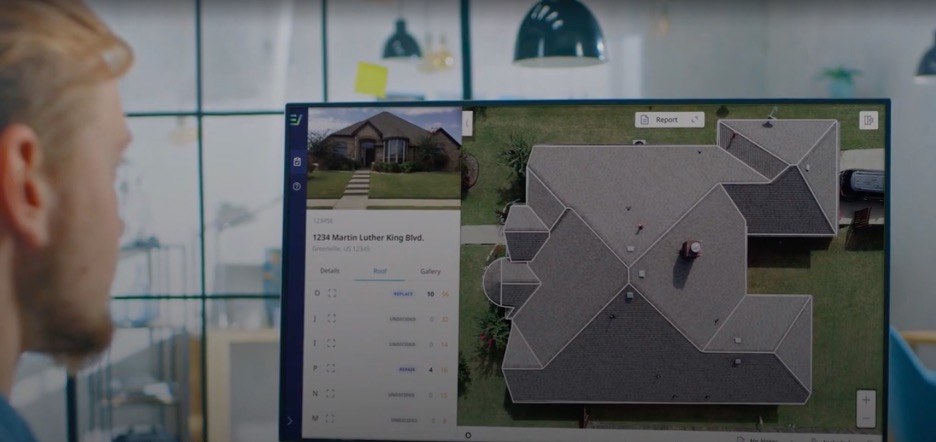 This means the insurance adjuster can review a complete digital reproduction of the roof with automatic detection for every point of damage. Other intelligent navigation tools and advanced drone technology further streamlines damage assessments for your insurance company. Here are some examples:
With the highest quality drone imagery on the market (up to 1mm/pixel ground sample distance), adjusters can see even the most subtle damage.
Damage detection software highlights areas with the most suspected damage using machine learning.
Wrapping up: Drones are safer, faster, and cheaper
Drone-based roof inspection technology has entered a new, advanced era. Using drones is now safer, faster, and cheaper than sending someone up on a ladder—making traditional roof inspections dangerous and inefficient by comparison.
When you're ready to take the plunge, EagleView Assess delivers an easy-to-use drone roof inspection solution, Assess offers consistent, high quality imagery and damage assessment to facilitate speed, confidence, and increased efficiency in claims decision-making. This allows your insurance company to close claims faster, lower your LAE, and reduce indemnity costs across the board.
Drone Roof Inspection FAQs
Still have questions about drone roof inspections for your insurance company? That makes sense—it's a big topic. Here are a few answers to frequently asked questions.
What is a drone roof inspection?
It's a professional roof inspection that's done by a drone instead of a person climbing up on the roof. The drone flies above the property and collects images that your insurance company can use to assess damages and provide repair or replacement estimates.
Can I use a drone to inspect my roof?
Yes, drones are excellent tools for a roof inspection. You can get a look at your roofing system, roofing materials, roof leaks, and more. However, not all drones are created equal. Some drones need a human pilot to control them, for example, while others fly autonomously.
Many drones are not capable of obstacle avoidance and will need to be manually flown around trees, chimneys, and other common roof obstructions. So, if you're looking to have your roof inspected, choose the drone wisely.
EagleView's industry-leading aerial imagery library provides oblique and orthogonal views for effective property evaluations. Your insurance company can use it to save thousands of dollars in reduced site visits every month by using our full-featured application to view current and historical imagery.
You can also quickly search locations to find the property of interest, conduct measurements, export high-resolution imagery, and even generate reports on properties for a complete end-to-end workflow.
---
1 Based on EagleView and external analyses of productivity of customers using the EagleView solution. Productivity gains and cost savings may vary by customer depending upon business model, other processes and solutions employed, and other variables.
2 Ibid.