November 8, 2018
Women in Tech from EagleView Attend Women in Insurance Leadership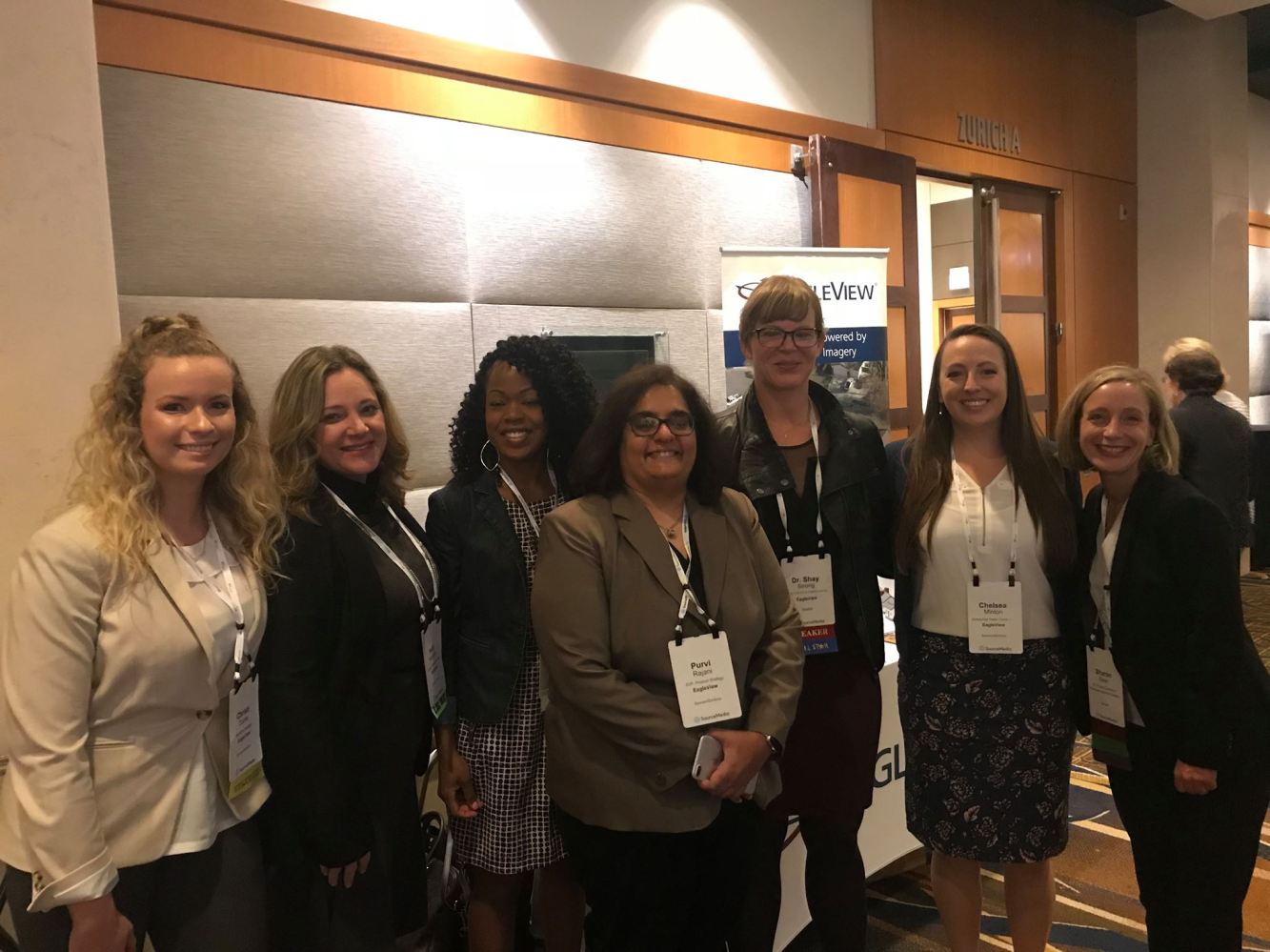 With a focus on technology in the insurance space (a.k.a. insurtech), the 11th annual Digital Insurance Women in Insurance Leadership conference brought together more than 200 women leaders in the industry. The event, held this year in Chicago, helps insurance professionals connect with some of the leading women executives in insurance.
In addition to topics surrounding regulations and diversity in the workplace, speakers also shared their insights on technological disruption.
Machine Learning Data for Insurance
Dr. Shay Strong, Director of Data Science and Machine Learning at EagleView, gave a presentation on just that with a focus on machine learning data for the insurance industry. Dr. Strong's focus was to educate the audience on the types of machine learning and applications that benefit the insurance space.
Machine learning is a subset of artificial intelligence (AI), which makes a machine or a set of machines mimic some type a human response. Today's machine learning solutions can recognize patterns in sound, language, and vision.
EagleView uses machine learning to determine property features and details. By using the half-billion images in EagleView's database, these algorithms "learn" how to determine specific property details.
"One of the things I love about the vision aspect of what we do with imagery is that it's very quantifiable," Dr. Strong said during her session. "Any individual can look at an image and it said one thing—it said that this property is damaged or has this square footage or is a certain architecture—and you as an individual can verify that."
How We're Using Machine Learning
EagleView uses machine learning in solutions designed specifically for insurance underwriting and claims:
The EagleView Underwriting Virtual Inspection Service uses this technology to deliver six key property attributes, including the presence or absence of tree overhang, pools, and solar panels and property details such as roof type, condition, and materials.
EagleView OnSite delivers imagery, data, and reports directly to claims adjusters following a catastrophic event. Through machine learning, the solution compares pre- and post-event images to find anomalies that indicate potential property damage.
Women in Tech at EagleView
Dr. Strong is just one of many women tech leaders at EagleView. Several EagleView leaders, including members of the all-new Women in Tech initiative at EagleView, attended the conference.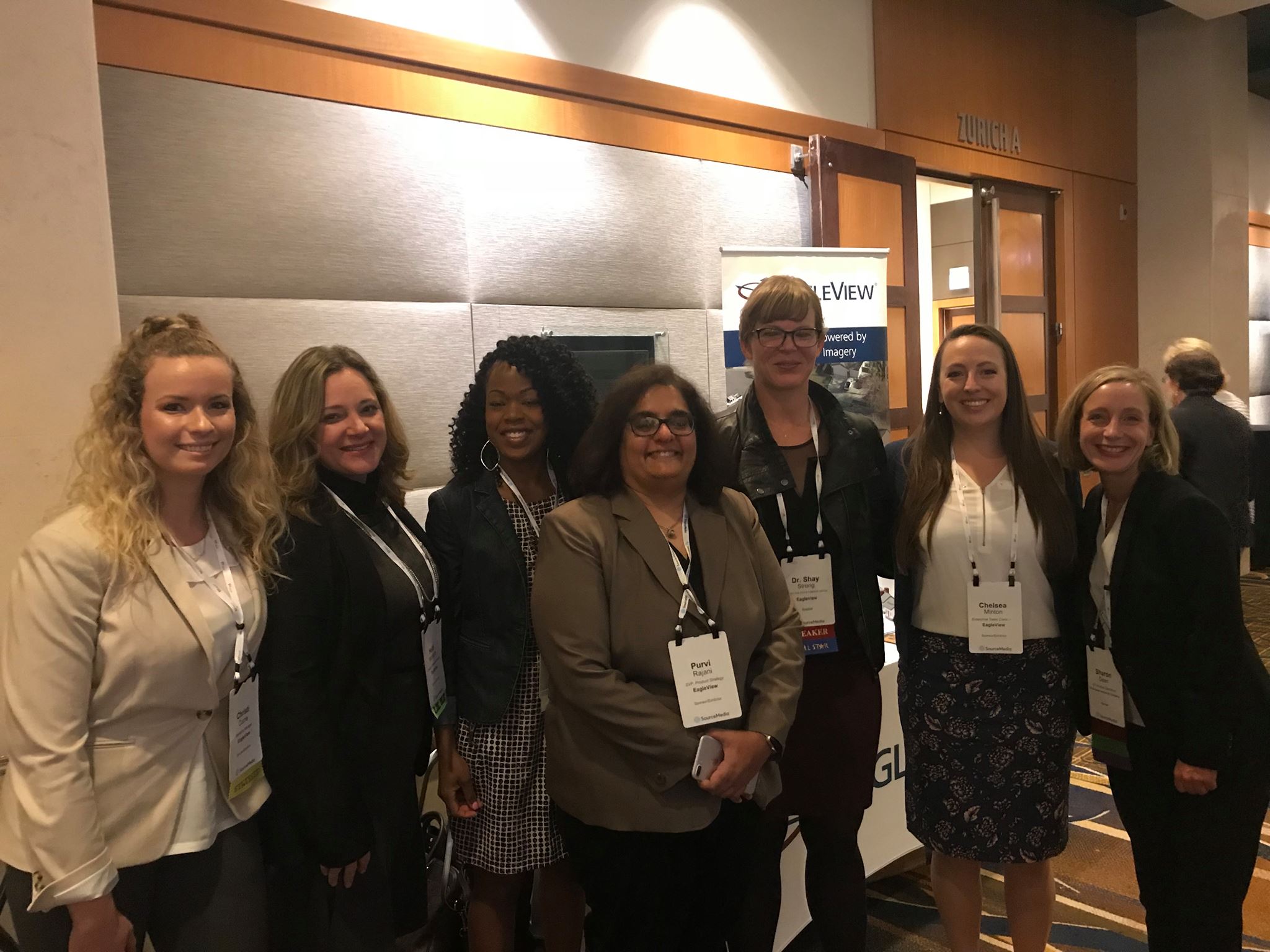 Above, EagleView team members pose with Sharon Dean, VP of Product Operations at Encompass, speaker, and advisory board member at Women in Insurance Leadership. From left to right: Christi Currie, Marketing Manager; Heidi McIntosh, Director of Product Marketing; Chanise Spencer, Sr. Customer Success Manager; Purvi Rajani, SVP of Product Management; Dr. Shay Strong, Director of Data Science and Machine Learning; Chelsea Minton, Enterprise Sales Consultant; and Dean.
Learn More about EagleView's Insurtech
Want to hear more about EagleView's solutions for the insurance space? We'll be at the Property Insurance Report National Conference from November 11 to 13.
If you've missed out on registration for PIRNC, mark your calendar for the PLRB 2019 Claims Conference next spring!