July 18, 2018
Geek Out with EagleView: Director of Data Science & Machine Learning Shay Strong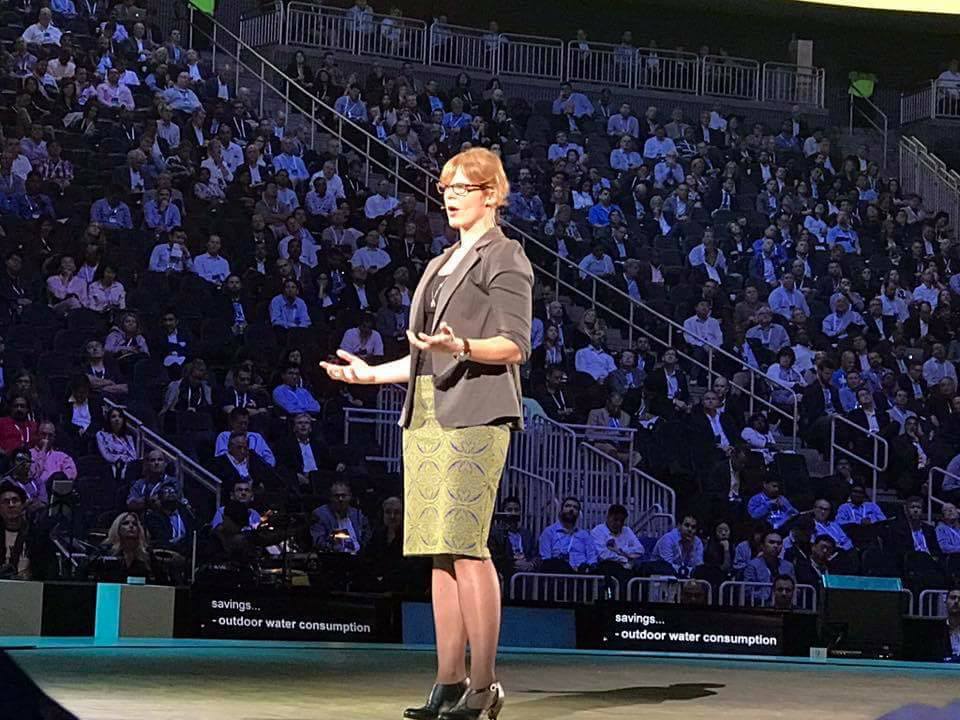 Introducing our next Geek Out participant, Shay Strong, Director of Data Science & Machine Learning at EagleView.
We welcomed Shay to the EagleView team with our acquisition of machine learning company, OmniEarth, in April 2017. Since joining, Shay has helped EagleView pave the way in our machine learning development, leading specialized teams to advance our AI capabilities in the industries we serve.
Continue reading to learn more about Shay, or watch the video.
What are you really stoked about that you're working on right now?
I'm really excited about our nationwide property analytics database. We are applying machine learning and AI to EagleView's high resolution imagery to extract meaningful information from every single pixel, at multiple times a year. We can tell what is up with individual homes (is there damage? what condition is it in? does it have a pool or trampoline?…). And we are scaling this for the nation, but potentially globally. We can start to identify change at the property level, which can then lead into a lot of cool predictive analytics. 
What current technology is really making you geek out right now?
I have a love-hate relationship with iOS app development. I have created a few apps using the iPhone as a science sensor. My first one was an air quality monitor that used the iPhone camera + solar filter + the Sun to assess air quality. Recently, I am interested in the ML tech that can be deployed to the iPhone that uses all the computer vision techniques. And then there is a lot to do with 3D iPhone capabilities and ML! Also, I am pretty interested in diving into block-chain and investigating alternative uses of block-chain. So thinking beyond crypto currencies and using something more like imagery.
What's the future look like for machine learning and AI?
AI is looking like less and less supervision and more on-the-fly (instantaneous!) solutions & answers. With new compute hardware and tech, it is becoming so easy to deploy ML models in a light-weight format that can be put on mobile devices, drones, etc — making the need for large cloud processing pipelines, perhaps, less necessary. From the supervision standpoint, we need a lot of data currently to train the neural networks to understand and make sense of the problem space for specific use cases. This can be great for companies (like ours!) that has a lot of data (imagery) to process and sample from: we have a lock down of information that can result in high accuracy analyses. But that could become less and less significant as algorithms are moving towards more 'self-supervision' and being able to do more with less information at the start.
What's your message to young girls looking to get into a STEM career? 
SCIENCE is AWESOME!! I've been able to go to so many amazing places and learn incredible things, first as an astronomer, but later as a spacecraft scientist, and then now as a data scientist. I've traveled to remote mountains to observe star formation regions and planetary chemistry. I've studied atmospheric conditions with gigantic lasers on the side of cliffs in Hawaii, while watching whale migration off the coast. I have been involved (sometimes as the only woman) in classified government panels with high ranking generals and/or admirals discussing spacecraft design and utility. The amount of information, travel, and dynamically changing projects is very exciting and so creative. I have loved everything I have done in different ways and have found it so fulfilling.
Bonus
Star Wars or Star Trek?
Star Wars, but really Battlestar Galactica or Firefly, if I'm honest.
What's on your music playlist right now?
There's a mix of everything right now. Lot of recent indie/international a. la. Tase Sultana, Superorganism, Luisa Maita
With a Ph.D in astronomy from the University of Texas at Austin, Shay has worked on radiative transfer modeling of gas giant planet atmospheres in our solar system and has worked in John Hopkins's Applied Physics Lab in a mixture of defense and civilian space, developing various instruments and infrared technologies for a variety of spacecraft. Shay joined OmniEarth (now EagleView) in 2014 and has been a leader in machine learning development since.