April 26, 2022
How EagleView's New Solar Solution Will Revolutionize Your Workflow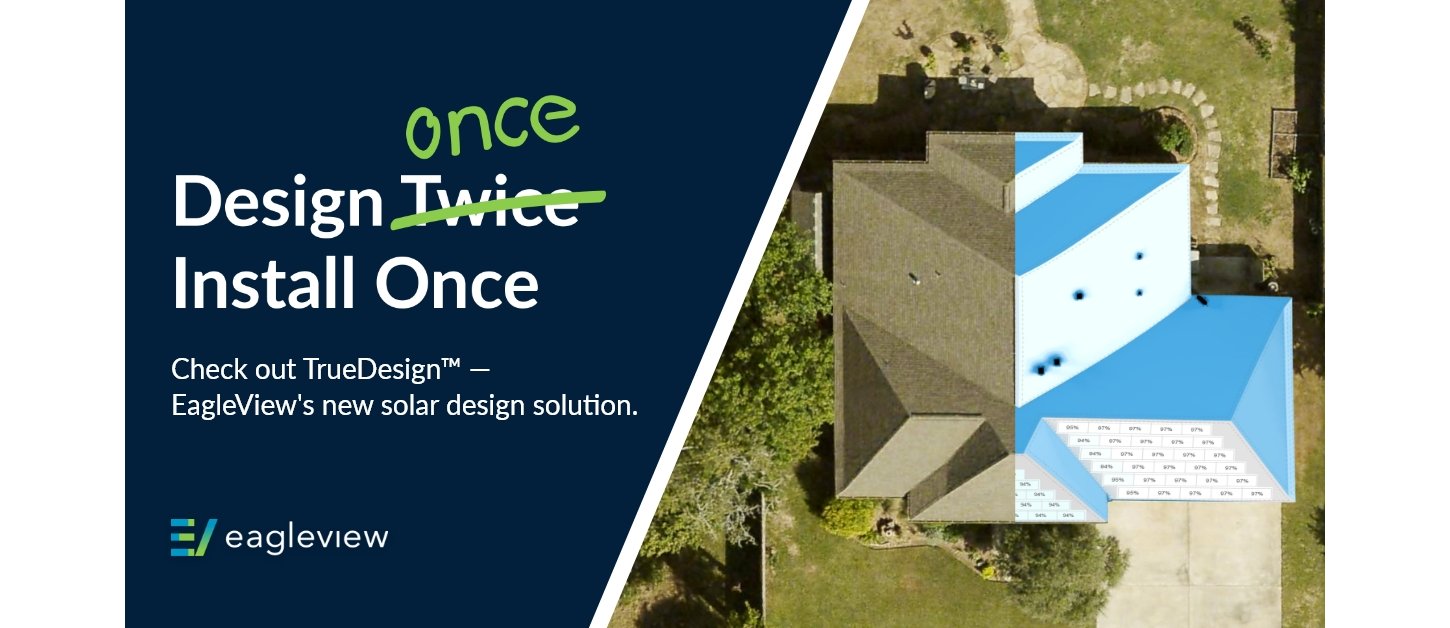 We're thrilled to announce that EagleView has launched its new TrueDesign™ solar design solution, making it possible for solar installers to provide install-ready designs at the start of a project.
Before TrueDesign, solar installers typically created both a pre-design and a verified final design for plan sets and installation. This approach creates operational inefficiencies that drive up the cost of customer acquisition and other soft costs, which account for more than 60% of total solar project costs. It also drastically increases the risk of change orders based on inaccurate designs, which can lead to longer cycle times and canceled projects.
What Benefits Can Customers Expect?
"TrueDesign revolutionizes the workflow for solar contractors, enabling more automated and virtual operations through a design tool that is accessible for nearly any skill level."

Pete Cleveland, Vice President of Solar Business, EagleView
TrueDesign significantly reduces soft costs with install-ready PV system designs from day one, accelerating the sale-to-installation timeline for residential solar companies.
In fact, unlike any other solution on the market, TrueDesign enables your solar sales team to auto-generate a top-performing PV system in minutes using simple, web-based software. Our beta testers and early evaluators noted the benefits of not only having an install-ready design at the proposal stage, but also the ability to incorporate homeowner design feedback during the consultation, without having to rely on more expensive design talent or back-office support.
Ultimately, TrueDesign is helping customers get from solar sales to installation at least two weeks faster with lower soft costs. Here are some of the top benefits noted from participants in our early evaluators program:
Eliminate the need for an exterior site visit with accurate measurements and shade analysis available remotely
Dramatically reduce time spent on quality assurance and rework with more confidence in the underlying data
Utilize talent more effectively by reducing design rework and providing design-ready CAD files for plan and permit sets
Scale quickly and easily with customizable design specifications and increased automation for your processes
The Most Trustworthy Residential Solar Data Available
By leveraging EagleView's portfolio of high-resolution ortho and oblique imagery with 70X the accuracy of standard satellite imagery, TrueDesign provides remote exterior measurements and shade analysis that are more precise than publicly available LIDAR data or satellite-derived 3D models, as well as manual roof sizing and shading analysis methods.
In fact, a recent DNV GL technical study found that the average difference in annual solar access values between EagleView's data and onsite measurements using a handheld shade measurement tool was between negative one percent and zero percent.
TrueDesign uses this data to automate solar panel placements and give you a real-time energy output forecast based on your desired specifications.
"Our high-quality data underpins a new era of smooth, efficient sales, design, and installation for the solar industry, ultimately resulting in happier customers who become ambassadors for solar in their communities."

Pete Cleveland, Vice President of Solar Business, EagleView
Start Using TrueDesign
TrueDesign is available at two levels.
TrueDesign for Solar, Residential Sales, is available for just $30 and is designed to be purchased as soon as a homeowner confirms a sales appointment. This solution enables your sales rep to auto-generate and customize an install-ready PV design during the initial sales consultation using our simple web-based interface.
Once the homeowner signs a contract, upgrade to TrueDesign for Solar, Residential Planning for just $70 more to access the full working design files in CAD, plus all of the underlying data sets for installation.
Check out our recent webinar to see TrueDesign for yourself, or request a one-on-one demo.
If you're looking to learn more about EagleView's solar industry products, check out our additional resources.