January 26, 2022
Solar Marketing Strategies That Don't Cost An Arm And A Leg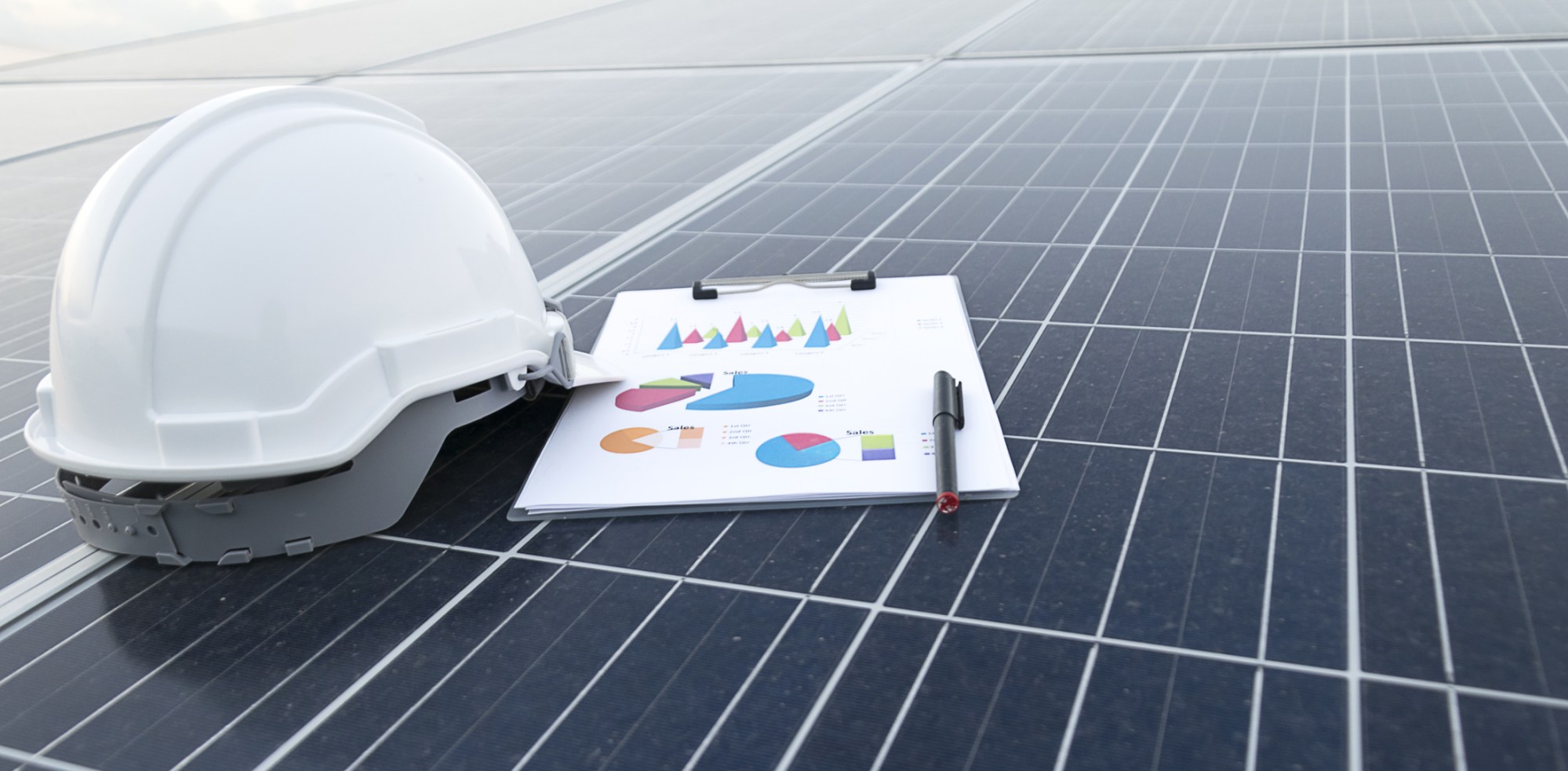 As the solar industry continues to expand across the U.S., more and more contractors are getting into the market.
And the DOE's recent release of the Solar Futures Study (which outlines an ambitious plan to power up to 40% of the nation's electricity by 2035) is likely to inspire even more contractors to take the leap into solar.
So whether you're already in the solar market or just getting started, you'll need to ramp up your marketing efforts to stand out among the competition.
If that has you worrying about your bottom line, no need to stress. There are lots of solar marketing strategies that won't break the bank — and that actually work.
Let's dive in.
11 marketing strategies to grow your solar business
In this guide, we'll be covering both inbound and outbound strategies to generate solar leads and market your business. If you're not too familiar with these terms, inbound marketing refers to creating content like blog posts or podcasts that naturally draw people to your website.
Outbound marketing, on the other hand, involves proactively reaching out to customers to get them interested in your product. This includes things like traditional advertising, door-to-door sales, and more.
Inbound marketing strategies for solar businesses
1. SEO and content marketing
The most commonly used inbound marketing strategy is content marketing with SEO. (We know, that's a lot of marketing lingo, but stay with us; we'll translate!)
Content marketing refers specifically to creating online content (like blog posts, case studies, videos, etc,) that provides answers to things people are interested in.
And SEO stands for search engine optimization — a fancy way of saying that you need to create the content in a certain way (like including keywords and links to authoritative sources) so that Google recognizes it and puts it higher up in search results.
For example, let's say a potential customer is researching solar panel costs on Google. They type into the search bar, "how much do solar panels typically cost?" Let's also say you've published an optimized blog article on the topic titled, "A Complete Guide to Residential Solar Panel Costs."
If your article shows up at the top of Google's search results and the customer clicks through to read the article, they'll be taken to your website through the search process — not through an ad. This is SEO and content marketing in action; where SEO is making sure your content shows up in search results to attract potential solar customers. And while it may seem somewhat basic, it's extremely effective.
In fact, content marketing results in an average of 54% more leads than traditional paid marketing while saving businesses roughly $20,000 per year.
When you think about it, it makes sense. Homeowners need content and information on solar to answer their questions. So there's a huge opportunity to attract them to your website by simply creating content that does just that. It also starts establishing your company as a trusted source of information, which means the customer is more likely to come back to you when they are ready to buy.
2. Podcasts targeted at homeowners
According to a recent study by Nielsen, 66% of respondents indicated they listen to podcasts to learn something new, so podcasts are often a powerful inbound marketing strategy for contractors.
After all, the principle behind inbound marketing is attracting customers using informative or educational content. So creating a podcast where you talk about issues homeowners typically face when going solar will naturally draw customers to your business.
Some ideas for discussion topics for homeowners include:
Costs of solar installation
Financing options available to homeowners
Different tax credits and state incentives
How to know if your roof is right for solar
Types of solar panel systems
If you're wondering how to actually start podcasting, this article in the New York Times is a good primer — Alison Bruzek, a senior producer for Opinion Audio, talks about how to find podcast guests, conduct research, and write a script.
And Daniel Wang, winner of the NYT 2020 podcast contest, gives a step-by-step explanation of the recording process — complete with suggestions on free software to use with a variety of devices.
3. Podcasts targeted at the solar industry
Another powerful strategy would be to create a podcast targeting others in the solar industry. Why would you do that if they're not going to become customers? Because they could become partners.
And by attracting partners in the industry, you open doors for growing revenue in new ways. Plus, it lends authority to your voice in the industry, making you the go-to company for up-to-date, trusted information.
Some ideas for topics suited to this audience include:
How to navigate state licensing laws
Ways to reduce soft costs and improve profits
Where to find good installation workers (hint, they're roofers)
Takeaways from the Solar Futures Study
What states are primed to be the next big thing in solar
How to optimize your supply chain
Ways to generate solar leads (that actually work)
4. Get listed on local solar directories or marketplaces
So we mentioned SEO earlier and how it's important if you want your content to show up on the first page of Google results. The thing is, though, when it comes to broad searches for solar companies like "best solar panel installers near me" it's really hard to compete.
Fortunately, that's where directories come into play. Directories are most likely to show up first because Google favors websites with high traffic and a long history of posting content.
So to make sure customers can find you when they're looking, get listed in the top directories. Also, input the regions your company serves so you show up in local searches too. The directories that typically show up highest in Google are Solar Reviews, Energy Sage, and Consumer Affairs, so you can start with those.
5. Get listed on industry association websites
Another good inbound marketing strategy is to get listed on industry association websites. This lends credibility to your business and attracts consumers who are seeking a highly trusted source of information.
Top industry associations to join in the U.S. include:
NABCEP – The North American Board of Certified Energy Practitioners maintains two directories on its website to help people find certified installers: The Company Accreditation Directory and the Certified Locator Directory.
SEIA – The Solar Energy Industry Association directory includes members from every aspect and vertical within the solar industry, from manufacturers and project developers to installers and financiers. Consumers can browse the directory by business type and/or location.
6. Share customer success stories on your website and social media
Studies show 92% of online consumers look at a product review prior to making a purchase. And customer success stories (formally known as case studies) are basically just professionally written or scripted product reviews.
Like product reviews, they tell a story from the customer's perspective, typically explaining how the product or service solved a problem for them and what their experience was like. And many solar companies are favoring case studies in a video format because they're more likely to capture a customer's attention — so you need to have videos in your plan.
Here are some tips for creating great customer success stories:
Reach out to your happiest customers
Plan out the story in the order of problem, solution, results
Interview the customer and write a script
Include on-camera interviews with customers
Focus on the benefits to the customer
Once you've created your success stories, you need to get them out into the world. One of the best ways to do that is by sharing them on social media and including links back to your website.
Outbound marketing strategies for solar businesses
As a quick review, outbound marketing strategies are those that go straight to the customer and make a direct attempt to sell them on your product. Here are some outbound strategies that won't break the bank.
7. Door-to-door solar selling
Going door-to-door is an effective outbound strategy for contractors — even though it might sound a bit old-fashioned at first.
One of the reasons going door-to-door is so effective is that your salesperson can see the homeowner's roof and answer their questions in real-time.
Another benefit of being able to see the roof is that your salespeople can prioritize "roofs with promise." Experienced California solar salesman, Matt Fox, explains that a prospective client should have a roof that isn't falling apart, isn't too shaded, and doesn't have too many vents.
"What you want is a big, open plane without a lot of obstructions," he told Sierra, the national magazine of the Sierra Club.
So by walking the neighborhood and actually looking at roofs, your salespeople can optimize their time by choosing houses that are prime candidates for solar installation.
8. Run ads on Google that target people interested in solar right now
Running targeted ads on Google is a powerful strategy because it reaches people who are past the information-gathering stage and ready to purchase. Not only is this a more valuable audience, but the ads are also way cheaper than in traditional channels like TV or print.
According to Statista, advertisers paid an average CPM (or cost per thousand impressions) of $17.50 for cable TV and $32 for national broadcast ads for the 2018-2019 season. In contrast, the average CPM on the Google display network during the same time was $2.80.
You can target ads using the following tools in Google Ads:
In-market: Show ads to users who have been searching for products and services like yours.
Remarketing: Target users who have already interacted with your ads, website, or app so that they'll see your ads more often.
Content keywords: Show ads to users who are searching on Google for specific keywords or phrases (e.g., solar panel companies near me).
Topics: Target ads to multiple pages about certain topics (i.e., solar panels). Topic targeting lets you reach a broad range of pages on the Display Network.
Placement: Show ads on specific websites that potential customers are visiting (like directories).
9. Run ads on social media sites like Facebook
If you post something on social media, studies show it's going to reach just 5% of your followers. So you'd need to have a huge following to make a lot of impact in terms of sales. Paid ads, on the other hand, allow you to reach a much larger, highly targeted audience.
On Facebook, for instance, the platform will automatically show your ads to people who are most likely to find them relevant. But you can further target your ad delivery with the following audience selection tools:
Core Audiences: Define an audience based on criteria like age, interests, and geography/location.
Custom Audiences: Get back in touch with people who have previously engaged with your business, online or offline.
Lookalike Audiences: Reach new people whose interests are similar to those of your best customers.
10. Set up as a vendor at festivals and events
This strategy is similar to setting up at trade shows except for two important things. First, at festivals, you're getting in front of customers as opposed to others in the industry. Second, it's way cheaper.
Trade shows typically cost about $100-$150 per square foot of floor space. This means an average 10×10 booth would cost between $10,000 and $15,000. Vendor fees at festivals, on the other hand, typically run about $150 for the entire space.
And while you might not sign any contracts during the festival, it's a great way to get your name out to the community, make contacts, and provide information about your services. Festivals can range from small community music nights to regional affairs with crowds in the tens of thousands.
The festival pictured above, for example, is the "Get Off The Grid Fest," which takes place every two years at rotating locations.
11. Use SMS messaging
SMS marketing is a powerful outbound marketing strategy because people open 98% of text messages. (For reference, the open rate for emails is just 20%, and that's still good!)
If you're new to SMS marketing, the first thing you need to do is build a database of phone numbers. And one of the best ways to do this is with a keyword text-in promotion — which just means asking people to text a keyword to a certain number to win something. (You'll need to hire an expert to help you with this.)
You can promote the offer on your social media channels, through your email list, and with physical signage like yard signs, billboards, and more.
One of the biggest advantages of text-in promotions is that people are automatically opting in to receive messages from you in the future. Otherwise, you have to manually get permission to send anything to a mobile number. That said, you still want to be upfront that you'll be following up when the promotion is over. And let them know how to opt out if they want to.
Once you get the phone numbers through the keyword promotion, the next thing you need to do is follow up with a message. The goal at this stage is to move prospects from text messaging to a phone call.
If you don't get a response, then follow up again 1-2 days later with an urgency trigger (which just means saying something is time-sensitive, like "offer ends on November 30th"). If you still don't get a response, they could still be looking for options and not quite ready to commit to a direct phone call. In this case, you can move them to a general leads contact group and follow up every month with a new promotion.
Roundup of marketing strategies to grow your solar business
Hopefully, this guide gives you hope that you can actually market your business without going broke in the process. Here's a quick review of 11 ways to use inbound and outbound marketing to attract customers on the cheap:
SEO and content marketing
Podcasts aimed at homeowners
Podcasts aimed at others in the industry
Get listed on solar directories
Get listed on industry association websites
Share customers success stories
Go door-to-door
Run targeted ads on Google
Run ads on social media sites like Facebook
Set up as a vendor at local festivals
Use SMS marketing
How contractors improve close rates using EagleView
A representative at solar energy company SunPower, shared that "EagleView reports help us to eliminate in-person site surveys and shorten project lifecycles by up to two weeks. Everyone wins: homeowners go solar faster, our dealers avoid an additional site visit, and we reduce project overhead."
What EagleView does to help
EagleView compliments or eliminates your site survey process, delivering the external property data you need to plan a solar project quickly. We help contractors with the following:
Comprehensive remote measurement solutions, including pitch, azimuth, and remote shade analysis.
Design solutions that allow you to create precise digital models instead of drawing over 2D images and estimating the size and location of obstructions.
Determine optimal panel placement for energy production based on solar access values derived from sophisticated shade analysis.
Create proposals, permit sets, and project plans faster with digital file exports for popular design programs.
Sell solar panels fast!
Try EagleView's aerial imagery tool to get fast, accurate roof measurements — no ladder or drone required. Learn more about EagleView's imagery tool.