March 22, 2018
SPW Webinar: 2018 Business & Tech Trends for Solar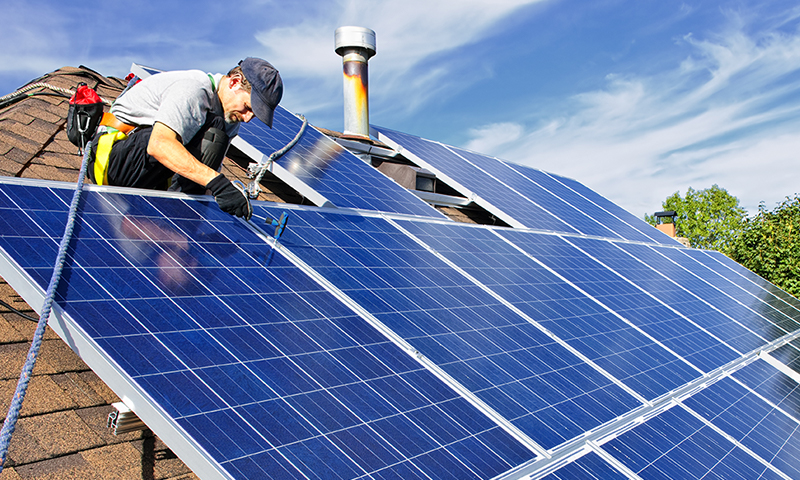 At the close of 2017, EagleView surveyed more than 100 solar industry professionals about how they'll be doing business in 2018. These pros told us where they're from, what challenges they face, and how they're planning to improve their operations throughout the year.
Next month, we'll release the 2018 Solar Industry Business & Technology Trends report for download. In the meantime, EagleView's own Tim Rochman, Director of Energy, hosted a webinar with Solar Power World (SPW) on Wednesday, March 28.
Here's a preview of what you can expect from the webinar and the full report:
Why Solar Matters
Solar is the fastest growing form of renewable energy in the United States. The Solar Energy Industries Association (SEIA) reports a total of 49.3 gigawatts of solar capacity is installed throughout the U.S., representing a total of more than 1.59 million solar PV systems.
As solar power increases in the U.S., solar is taking over the energy sector in terms of employment.
The New York Times reports that solar made up 373,807 energy jobs in 2016—the most of any form of renewable energy. And although coal jobs have received attention in the political sphere, they only contribute to about 160,000 jobs of the total 1.9 million jobs in the energy industry.
Big Industry, Small Businesses
In the solar industry, small businesses rule. The Solar Foundation's Job Census found that 78% of solar businesses have fewer than 50 employees.
The prevalence of small businesses in solar corresponds to the result of our survey. Of those who took part in the survey, 88% said that they complete fewer than 50 installations per month, and 62% complete fewer than 10 installations per month.
Challenges and Solutions for Solar Professionals
No matter which size business an installer operates, he or she will likely face challenges related to site surveys, system designs, and change orders.
Our survey revealed that 90% of solar professionals have encountered challenges with site surveys. Data accuracy was a primary concern for installers.
Those inaccuracies had more severe consequences later on in the design phase of a project. Approximately 68% of respondents said that they had lost business following change orders that resulted from system redesigns.
Yet there is hope for solar professionals. As the industry grows, so does the number of solutions available to simplify installers' workflows. A total of 83% of survey respondents said that they would invest in new technologies for their businesses throughout 2018.
Watch the Webinar
In the SPW webinar, you will learn:
Which business process the solar industry is looking to improve with technology

What the top challenges are that solar professionals face during site surveys

How system redesigns impact businesses and why they are likely to happen