August 15, 2022
Introducing Bid Perfect™: Fast & Accurate Roofing Square Data for Contractors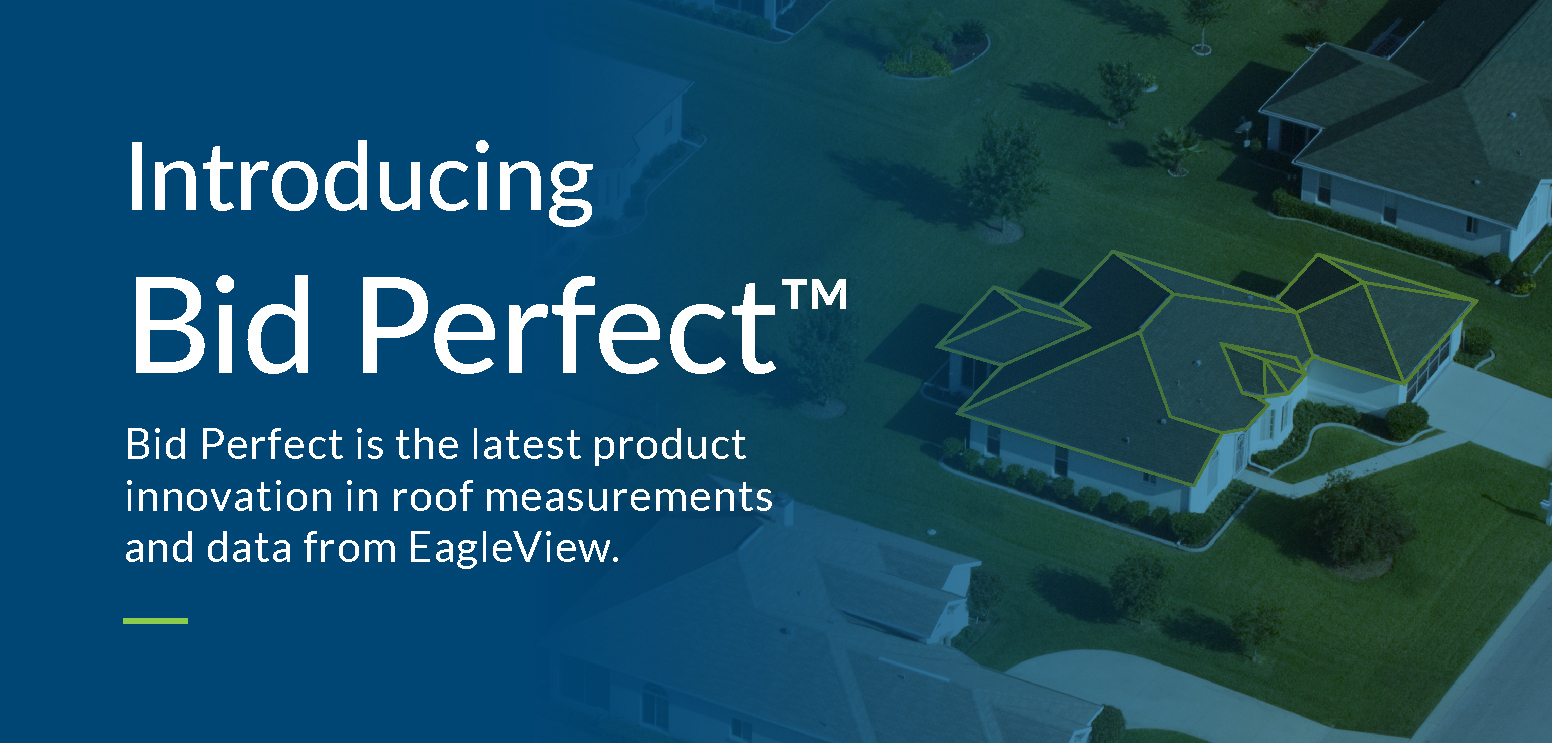 EagleView recently introduced Bid Perfect™, a new report designed to help contractors submit fast, accurate, and competitive bids. Bid Perfect will be replacing QuickSquares, offering the roofing data that contractors need at the sales stage, guaranteed accuracy, fast delivery, and additional report features—all at the same $18 price per report.
What Roof Dimensions Does Bid Perfect Provide?
Bid Perfect reports use precise measurements extracted from EagleView's high-resolution aerial imagery to deliver the following roof information to contractors:
Total roof area / total roof square count
Total number of facets
Top four roof pitch distributions
High-resolution images showing the property from the top down and from all sides
Data for up to two structures per property is provided in one easy-to-use report, and includes all of the information needed to bid on a roof tear-off, repair, or replacement job for both complex and simple roofs.
Bid Perfect for Roofing Sales
"We designed Bid Perfect to provide contractors with what they need to submit fast and competitive bids," said Allan York, VP & General Manager of Construction with EagleView, "with the confidence that square counts are based on the same extremely precise roof dimensions that EagleView is known for providing."
With EagleView's remote delivery, quick turnaround, and low price of only $18 per report, contractors who sell using Bid Perfect can save both time and money with more efficient site visits, faster proposals, and less time spent climbing roofs and measuring manually. Contractors can order a Bid Perfect report before ever setting foot on-site, and show up to each consultation appointment with a complete and accurate bid.
Once a contractor wins the job, they can quickly and easily upgrade any Bid Perfect report to a Premium report for detailed dimensions by facet, full pitch information, and suggested waste factor calculations.
How to Order Bid Perfect
Customers can order Bid Perfect through their My.EagleView.com accounts, through the EagleView App for iOS and Android, and through integrations with popular partner software including Acculynx, JobNimbus, and SumoQuote.
Learn More
Create your EagleView account today, or log in to try Bid Perfect for your next roofing proposal!