July 1, 2016
People of EagleView: Inside Account Manager Alena Bentley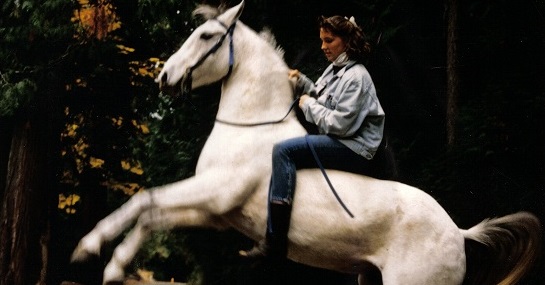 Alena Bentley
Inside Account Manager
Hometown: Ravensdale, WA
Hire Date: February 27, 2012
About Me
The country is where I feel at home. Having grown up in the Pacific Northwest, my childhood was full of the outdoors. I'd spend my days on my grandparent's farm in Corvallis, OR, riding horses and playing with the animals. Here I am as an adult, and nothing has changed, in fact my love of horses has only grown.
I own a mare named Lyra; she's sixth generation from my grandparents' farm. I spent much of my childhood riding Lyra's grandmother and great grandmother as a hobby. Lyra, along with several other horses, goats, cows, and chickens reside in my backyard as main features on the farm that my husband and I own. We raise our own beef and eggs and with the several chicks we recently hatched, we now own around 90 chickens, give or take, helping to supply my small egg business that I manage as a side project.
We love animals so much we even had a goat named Goatie as the ringbearer at our wedding. Goatie created some chaos, that's for sure. He even tried to eat the bag with the rings in it!
Our hope is to get a camper soon so we can take our horses with us as we travel. Although we live on the west coast, we have yet to visit the Grand Canyon or Yellowstone National Park and if we could let the horses tag along, it'd be the perfect trip.
The Job
Although we don't work on everyday tasks together, we talk almost every day. It's a pretty ingenious and effortless partnership. While he's out in the field, I take care of the leg work, talking with contractors and getting them set up and ready to use EagleView. Previously, we didn't have designated regions and were assigned to accounts all over the nation. You can see how, as a company, we've strategically grown, allowing the contractors to know who their account manager is for easy contact.
EagleView caught my eye as a completely new and innovative company. I had been paying attention to the name for a while and enjoyed watching it change the way the industry was doing business. Once I began working here, I discovered that it does that and even more.
Since 2012, I've watched the tide change. When I first started, contractors would always say, "Why should I pay for a report when I can measure the roof for free?" Now I hear, "I just don't have time to measure houses," or "I don't want to get on the roof anymore when I can have you guys measure it for me." That change is incredible and shows just how invaluable our product is to these contractors.
Not only do I get to work with amazing people, but they all truly understand our core values: two of which are work hard and have fun. When we get overwhelmed, it's common for us to take a break and simply throw a Nerf football around.
Working at EagleView has allowed me to grow my skill set in ways I never would have imagined. I can definitely say that I've learned how to work through total chaos- the greatest of chaos, mind you. It's rare when you hear silence in our office. From whistles and duck sounds to Nerf gun wars and flying squealing monkeys, I can assure you that there's never a dull moment working at EagleView.
I encourage you to love your job, just as I do.
Interested in working for EagleView? Visit our Careers page to start growing your career with us.