September 3, 2020
EagleView's Post-Event Imagery Speeds Recovery Efforts Following Hurricane Laura

Advanced machine learning technology applied to pre- and post-event EagleView imagery provides important context following the storm
BELLEVUE, Wash., September 3, 2020 – EagleView, the leading technology provider of aerial imagery, property data analytics and GIS solutions, has captured and continues to process ultra-high-resolution Reveal™ aerial imagery following Hurricane Laura, which made landfall on August 27 as a Category 4 hurricane. EagleView's pre- and post-event imagery comparisons show the extent of Hurricane Laura's destruction across Louisiana and southeastern Texas.  
EagleView's pilot network immediately took flight as soon as weather conditions allowed. Along with images from unmanned aerial systems (drones), EagleView is delivering the imagery to customers in local government, insurance and construction following the event.
With a data library of over 1 billion images, EagleView customers can utilize pre- and post-event imagery to answer critical questions regarding properties and assets post-hurricane. Customers can access both pre- and post-event imagery on EagleView's viewing platform, CONNECTExplorer.
See below for some of our first pre- and post-event image comparisons.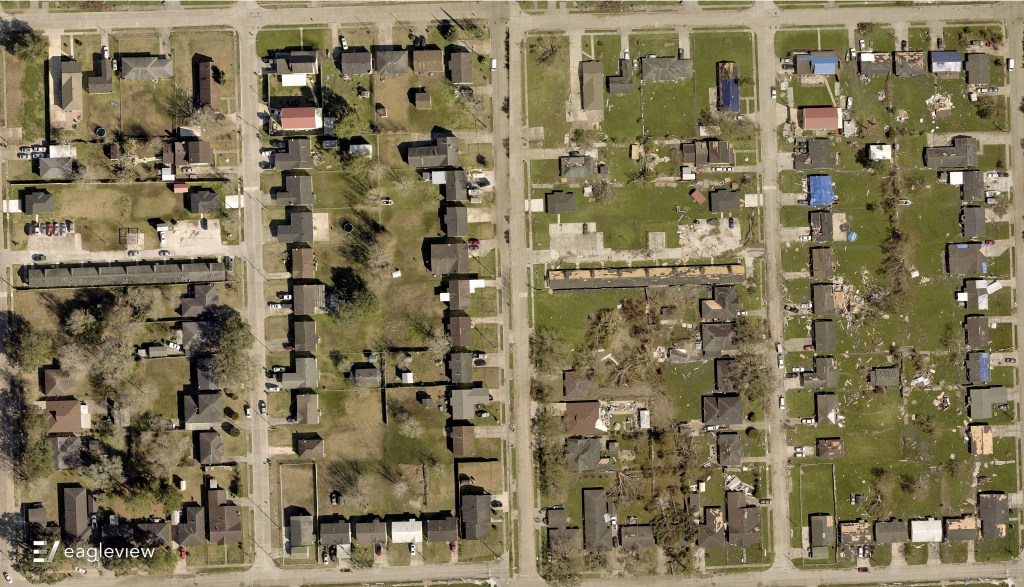 "It's incredibly important for our customers to have access to post-disaster images quickly," said EagleView COO Jay Martin. "EagleView rapidly provides customers to pre- and post-event imagery, allowing them to help homeowners and businesses begin recovering and rebuilding."
EagleView applies advanced machine learning technology to both pre- and post-event imagery, which identifies and classifies potential property damage in each image. This technology allows insurance carriers to analyze imagery and close claims more efficiently, resulting in reduced costs per claim and greater homeowner satisfaction.
"EagleView's patented machine learning technology quickly puts critical information into the hands of insurance carriers and construction contractors, which is incredibly important when responding to a massive event like Hurricane Laura," said EagleView CEO Chris Jurasek. "By decreasing the amount of time spent per claim, insurance carriers are able to handle more properties and expedite rebuilding efforts in a significant manner."
EagleView will continue its disaster response until all areas of interest are captured and processed for customers.
For more information about EagleView's post-event image capture process following Hurricane Laura, please contact Annette Hamilton at mediarelations@eagleview.com or Susan Millerick at susan.millerick@eagleview.com.
About EagleView
EagleView is a leader in aerial imagery, machine learning-derived data analytics and software, helping customers in different industries use property insights for smarter planning, building and living. With more than 200 patents, EagleView pioneered the field of aerial property measurements and has the largest multi-modal image database in history, covering 98 percent of the U.S. population. Flying over 9.5 million linear miles every year, EagleView's coverage is the most extensive and up to date, enabling local government and business customers to use the most accurate data to make timely and informed decisions. For more information, call (866) 659-8439, visit www.eagleview.com and follow @EagleViewTech.
###
Media Contacts:
Annette Hamilton
mediarelations@eagleview.com
Susan Millerick
susan.millerick@eagleview.com