MEET
Enerflo
Enerflo is the ONLY Lead to PTO Solar Platform: Cutting soft costs and project duration through tech consolidation, data centralization, and process efficiencies.
With Enerflo, contractors can:
Consolidate tech

Centralize & standardize data

Reduce project duration

Automate tasks & communications

Reduce cancellations

One sales flow to many installers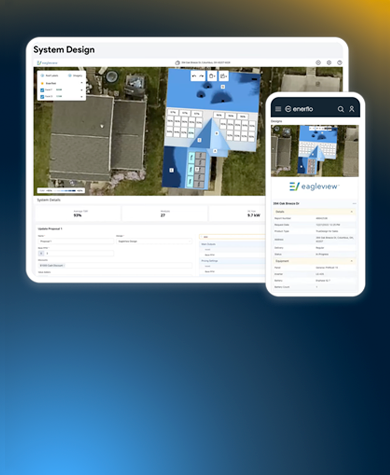 Get to PTO Faster with Enerflo + EagleView
Residential solar installers, EPCs and sales orgs rely on multiple tools from lead to PTO. Enerflo combines them with powerful proprietary platform features into one cohesive sales and install platform.
Why You Should Consider Enerflo

Reduce Time to Install
Use EagleView TrueDesign with Enerflo to shave weeks off projects with install-ready PV designs for the proposal and planning stages.

Reduce Soft Costs
Reduce project duration and the number of resources needed to complete more projects to reduce your soft costs and increase your profit margins.

One Platform, One Login
Enerflo connects all your data and tools onto a single platform, with a single login, so you can manage your sales and install processes all in one place.
Start Using EagleView Now