March 16, 2017
The Big Lesson from the FutureView 2017 Speaker Sessions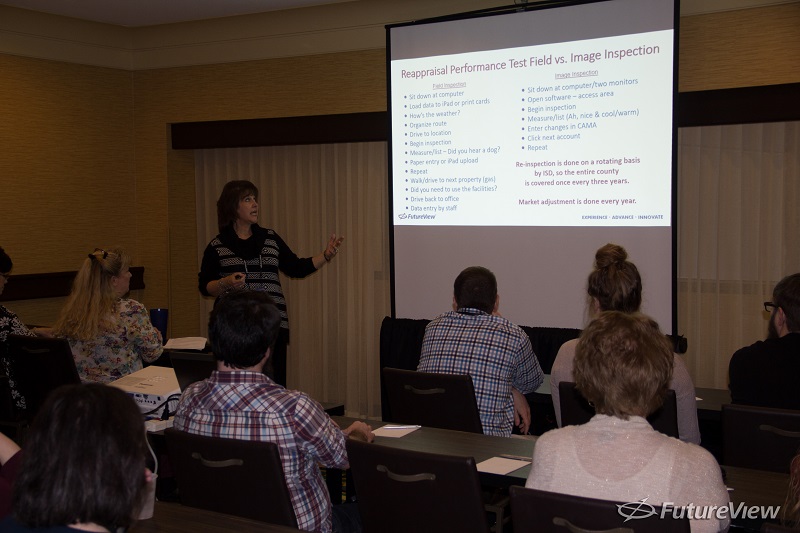 This year, EagleView® had more than a dozen guest speakers join us for FutureView® 2017. One thing was clear from all of their presentations: more agencies are sharing usage of Pictometry® imagery solutions from EagleView.
Budget constraints and the RFP process can present challenges for agencies. This means that smaller counties and municipalities, in particular, will find ways to share the costs – and benefits – of using Pictometry imagery.
Generally, assessors and appraisers tend to be first to express interest in Pictometry imagery and applications like CONNECTExplorer™. But the use of these applications goes beyond property assessment. Public safety officials, public works projects, GIS professionals, school districts, and other departments can all benefit from the intelligent imagery and data EagleView delivers.
Here are just a few of the stories about organization-wide usage we heard at FutureView 2017:
Bringing New Technology to an Entire County
Not many people knew about the power of Pictometry imagery in Greenup County, Kentucky. But when Bobby Hall ran for Property Valuation Administrator in 2014, he raised awareness for the technology and promised to introduce it across the county.
Today, 14 of the county's agencies use Pictometry imagery. School districts use it for mapping school district lines and bus routes, and the county clerk's office uses it to map voting precincts. The county's road department and cities use it to maintain roads and water and sewer lines. Public safety agencies in Greenup County, including police, fire, and E9-1-1, use Pictometry imagery in emergencies and to plot routes, find fire hydrants, and obtain property information.
Spreading Awareness and Sharing Data
Also from Kentucky, Tony Lindauer is the Property Valuation Administrator for Jefferson County. Tony helped obtain imagery for the Louisville/Jefferson County Information Consortium (LOJIC), a group of agencies that share GIS imagery. Members include the Property Valuation Administrator, the metro sewer district, the Louisville Water Company, and Metro Louisville.
Their plan was to acquire Pictometry AccuPLUS® through the PVA office for the LOJIC Consortium to use. This helped the organizations split the cost and spread usage to a number of local agencies.
Removing the Obstacle of Locked Gates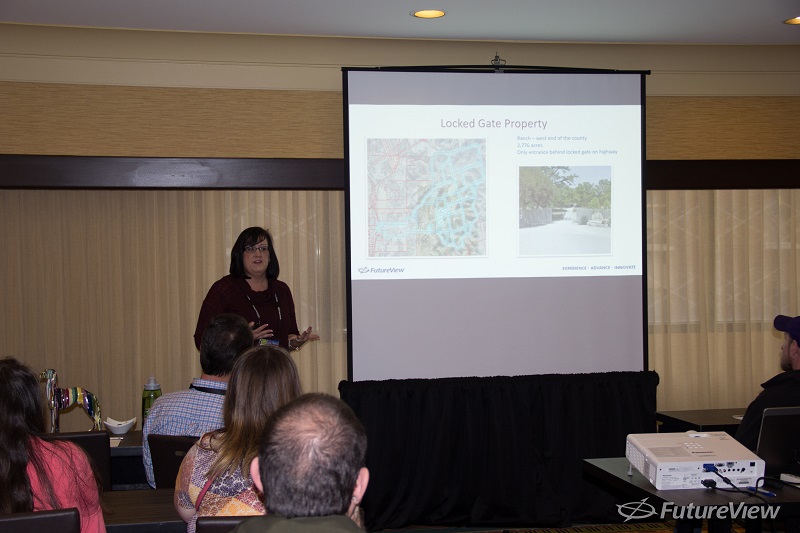 Wendy Grams, the Chief Appraiser for the Central Appraisal District of Bandera County, Texas, faced a serious challenge to property assessment: locked gates on rural properties. It was near impossible for the county to see outbuildings, additions, pools, and other property changes that weren't visible from the road.
In order to begin using Pictometry imagery, Wendy had to convince the county of the ROI they would see from more fair, equitable, and current property assessments. She collected data on the number of locked gates in the county, along with figures showing just how much tax revenue the appraisal district was losing without comprehensive imagery. Once she won the county over, her department also let the fire marshals and police use the imagery in order to demonstrate its versatility.
Getting the Word Out About Pictometry Imagery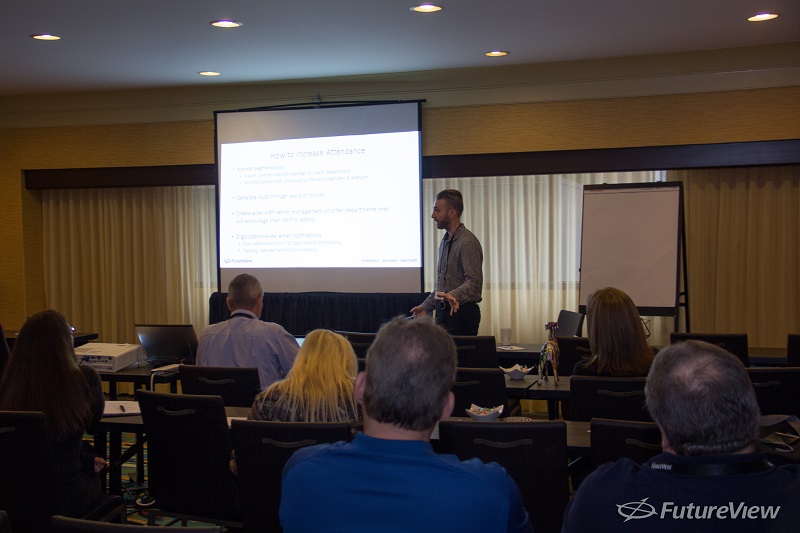 As the GIS Analyst for the City of Pasadena, California, Chandler Sterling showed off the many uses for Pictometry imagery. The first step, he said, was becoming an expert on the imagery himself, so he could introduce training sessions first. There he leveraged the success stories of local agencies as well as the "cool factor" of the high-resolution oblique imagery itself. Soon after, he began seeing users in the IT, Finance, HR, Library, Police, Public Health, Public Works, Transportation, and Water & Power departments attending his training sessions.
Chandler recommended offering multiple sessions and incorporating situation-based training – for instance, pretending to search for code violations or public safety hazards. Once the initial training sessions have concluded, he said, it's important to identify and follow up with "power users" who would be more likely to help spread awareness by word of mouth.
Changing the Workflow of a "Small but Mighty" County
Dianna Carter is the appraiser for what she calls the "small but mighty" McPherson County, Kansas. In order to get the most out of Pictometry imagery, she convinced county departments to join in to get funding and see ROI.
Dianna's strategy was truly out of the box. She approached municipalities and county offices, including local law enforcement, as well as looking to outside industry, Realtors, and surveyors to share usage.
Pictometry imagery now helps McPherson County's law enforcement, E9-1-1, and fire rescue in emergencies. Additionally, surveyors, fee appraisers, Realtors, and landowners use the images in their workflow, as do the City of McPherson and the members of the county's Appraisal and Mapping staff.
Using Change Detection for Disaster Management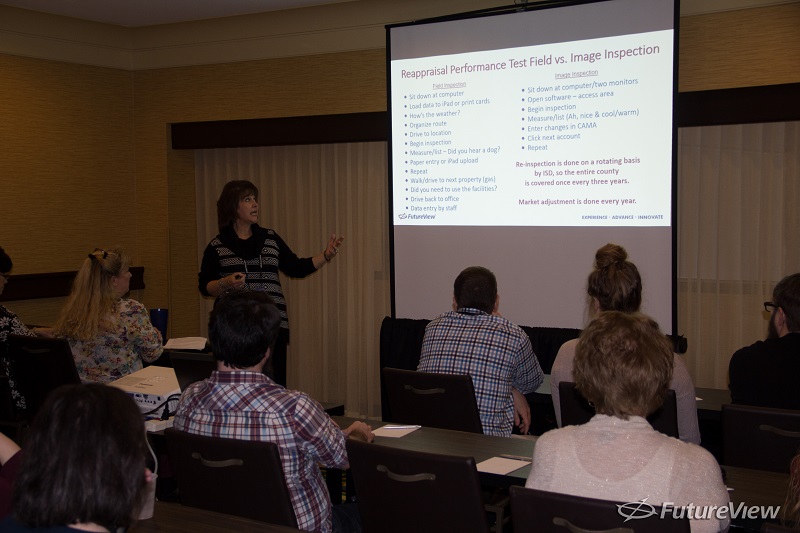 Sharing access to Pictometry imagery does more than improve day-to-day workflow, explained Kathy Rodrigue, the Chief Appraiser for the Ellis Central Appraisal District in Ellis County, Texas. The imagery also helped the northern part of the county recover after an EF3 tornado hit it last year.
Kathy's office shared the imagery with local law enforcement, fire departments, E9-1-1, and Homeland Security in order to help the community recover. The Ellis Central Appraisal District also took advantage of Pictometry Access Technology and ChangeFinder™ to get post-event imagery and easily spot the most affected areas.
Leveraging Pictometry Imagery
Want more success stories about how assessors are seeing results with Pictometry imagery? Download the Portfolio of Change to find out how Pictometry imagery and data made a difference for five jurisdictions.