January 6, 2017
People of EagleView: Project Manager Nick Rozaklis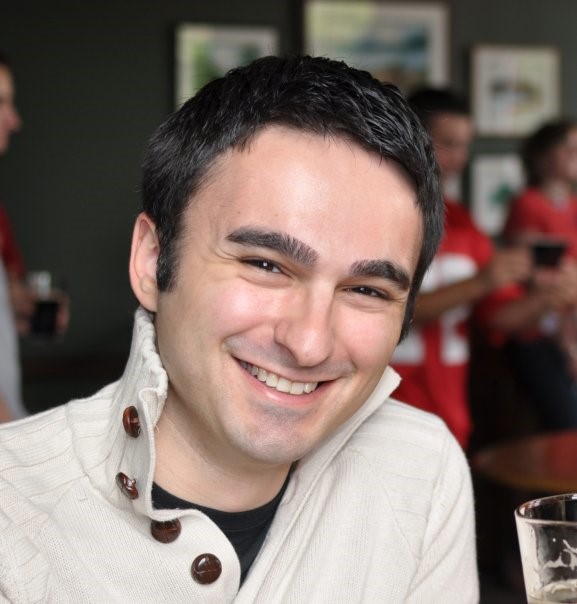 Nick Rozaklis
Project Manager
Hometown: Lima, NY
Hire date: May 1, 2006
About Me
Have you seen My Big Fat Greek Wedding? If so, that's practically my life. I am a first generation American of Greek immigrant parents. And if you were wondering the answer is no, my family does not own any diners…. anymore.
I had an interesting childhood. As my parents tried to balance and assimilate into an American life, they wanted to be sure they didn't lose their own cultural identity while making sure we didn't lose sight of where we came from. I grew up trying to find ways to explain why our Greek Easter falls on a different day than everyone else's and why I was at "Greek school" every Sunday morning.
After the first few years at my small school, I began to be creative with my answers to those reoccurring questions. From "Why yes, Windex does cure all!" to "We break plates at weddings because we don't like washing dishes!" and my all-time favorite, "Greek school is basically a 'How to run a diner – Children Edition'. Gotta start 'em young!" Let's just say, I found it entertaining.
Maybe it's because my family had done some traveling to get to America, but I've become quite the wanderer myself. Having been to over 30 countries, with the exception of Antarctica (a destination on my bucket list), I've found myself in some risky, yet adventurous scenarios.
While some may enjoy sitting at home reading a good book, I prefer more precarious past times. I've been great white shark cage diving off the coast of Cape Town, South Africa, cliff diving in Oahu, Hawaii, watched the most incredible AC/DC cover band in action in Santiago, Chile and landed a tiny, two seat, single engine aircraft on a glacier in Alaska to fire pistols and flare guns. You know… the usual. I'm always waiting for the next thrill to present itself.
The Job
I've moved to several departments in the nearly 11 years that I've been working here, beginning as a processor and soon becoming one of the first Team Leaders on our night crew (Go Hewabora!). A year after, I moved to our international group as an International Technical Manager, training and help our then International Technical Licenses (ITL) run their Operations divisions. Four years later, I became a Pictometer in our Productions group and now, I'm a Project Manager in the Photogrammetric Engineering department.
As a Project Manager, I assist District Managers with pricing and any technical questions they may have while they are in the initial contractual stages with a client. In addition, I review and confirm AccuPLUS™ contracts and their technical requirements, work with multiple departments throughout the Operations division to ensure that we are meeting contractual requirements as several products are customized based on client's needs, and of course, report our progress to all stakeholders and deliver the final product to our client.
The reach and usage of our technology and data is quite spectacular. From assisting in 911, ambulance and disaster management to our commitment to being the industry leader in aerial imaging and making technological advancements to keep us there, we're continually evolving. Not to mention, we have some pretty awesome people that make coming into work every morning that much easier.
My co-workers work exceptionally well together. It's always important to feel confident brainstorming with each other and feeling as though your opinion is valued. Thankfully, that's exactly how the culture is here. We continually help each other and support one another, which is paramount to our success.
Working at EagleView has been a tremendous as I advance in my career. It's allowed me to pursue my interests in technology as well as give me the opportunity to work with people of all different walks of life, all while being challenged, and having the resources to overcome said challenges.
For example, while working in the International Division, I was on a trip to Tokyo for a two-week training session for a new client with co-worker Jon Lynn, GISP, Federal Technical director. While we both had separate training tasks, we worked together to train their Aircraft Engineers on how to install and operate our flight capture rig. With only a couple trainees having a novice understanding of the English language, a significant language barrier was surely an obstacle. Throughout the 10- to 12-hour days, we were able to not only accomplish our training tasks, but form both business relationships and friendships with our new clients, even with that language barrier. Those friendships last to this day, not to mention that that account was one of our most successful ITLs to date. Being a part of that was something that has stuck with me since I've begun working here because it's proof that although a task may seem daunting, persistence and team work can work wonders.
I encourage you to love your job, just as I do.
Interested in working for EagleView? Visit our Careers page to start growing your career with us.