October 23, 2014
Case Study: Pictometry Imagery Key to Flood Recovery Efforts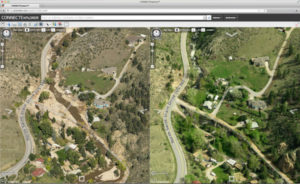 On September 9, 2013 the first drops of rain fell on Boulder County, Colo. and continued over the next eight days with as much as 20 inches falling in some areas. The 1000-year rain and 100-year flood resulted in mudslides destroying 1,502 homes and flooding damaging more than 17,000. With hundreds of miles of roads and infrastructure washed away or underwater, officials were questioning how they could even begin assessing the damage.
The answer came in the form of Pictometry® imagery. Planes were in the air immediately capturing high-resolution ortho and oblique images of the entire county. Officials were able to compare the new images to the ones captured in 2011 to do a complete and accurate post-flood analysis.
Discover how Pictometry imagery helped the county prepare for and mitigate the disaster.