March 22, 2023
Drone-Based Inspections—The New Standard for Residential Insurance Claims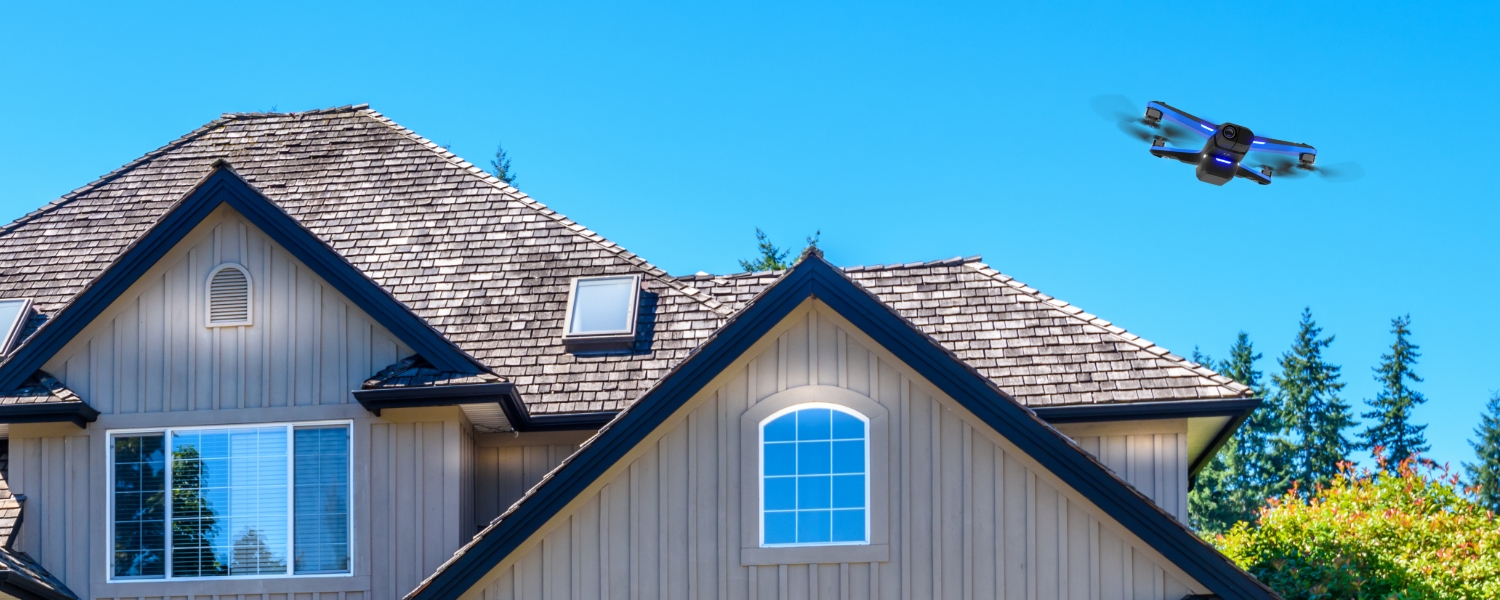 By David Bairstow – Senior Vice President & General Manager, Insurance
Insurers of all sizes are finding themselves at a critical inflection point between the past and the future.
When it comes to adopting new technologies and tools, the insurance industry has been continuously challenged to address the gap between policyholder expectations and operational capabilities. To compete in our increasingly technology-driven world, insurers will need to replace manual systems with digital tools that automate time-intensive tasks, speed up workflows, and provide objective data to policyholders and contractors.
McKinsey projects a "seismic, tech-driven shift" within the insurance sector, and that by the year 2030, more than half of insurance claims activity will be replaced by automation. This shift in technology adoption creates the opportunity for forward-thinking insurance carriers to lead the field and differentiate themselves in the marketplace.
Why Drones Are Leading the Insurtech Revolution
Drone-based inspections have become an essential tool for claims processing, helping insurers streamline workflows, increase safety, make better decisions, and enhance automation, speed, and accuracy.
Rather than needing to climb up a ladder and manually inspect each roof, claims adjusters can now deploy an automated drone programmed to fly above the property, collect images of the roofing system, assess damage, and provide the data needed for repair or replacement estimates.
There are three primary reasons why drone-based inspections are becoming the new standard for residential insurance claims—safety, automation, and speed.
Safety
Working on roofs is inherently dangerous. In 2020, 108 contractors died after falling from a roof, accounting for nearly 10% of all fatal workplace falls.
These safety risks will likely increase as the workforce ages: 50% of the current insurance workforce is anticipated to retire by 2036, and less than 25% of those working in the insurance industry are under the age of 35.
Drones help eliminate these safety risks by providing a virtual and ladder-free inspection, allowing claims adjusters to minimize dangerous roof climbs and work more safely in the field.
Automation
Traditional roof inspections are time-consuming and inefficient, requiring claims adjusters to identify potential access points, set up ladders, scaffolds, and lifts, and then carefully inspect for damage once on the roof.
To save time, adjusters typically capture the minimum amount of data they believe they need in order to make an accurate decision. However, today's complex construction methods can make it challenging to accurately estimate the amount of material needed for repairs. This accuracy gap exposes insurers to additional risk in the event of a dispute with a contractor or homeowner, and may require a revisit to capture data that was missed during the initial visit.
Unlike time-intensive manual inspections, automated drones efficiently collect images of the entire roofing system, and then quickly deliver the data needed to help adjusters assess damage and create accurate repair or replacement estimates.
Speed
Delivering an exceptional customer experience is the key differentiator within the insurance sector. Customers expect insurers to provide fast, convenient, and fair resolutions to their claims. Relying on an outdated manual process adds friction to an experience that is, at best, already an inconvenience for the policyholder.
With today's drone technology, insurers can process up to 1.5 times more claims per day, quickly flex to accommodate fluctuating demand, and provide a more seamless experience for today's tech-savvy customers.
The EagleView Assess™ Drone Solution
EagleView Assess is a complete, drone-based, inspection solution that safely delivers clear and consistent property imagery, precise measurements, AI-powered damage detection, and automated workflows to streamline insurance claims.
Fully Autonomous
EagleView's fully autonomous drones are easy to fly, with collision-free flight mapping that safely delivers consistently high-quality images and data—no matter who is piloting.
Comprehensive Damage Detection
Machine learning automatically collects measurements and identifies every anomaly, hail mark, and potential point of damage. A heatmap overlay of the roof also highlights facets most likely to contain damage, so adjusters can quickly prioritize which areas of the roof to review in detail. Summary reports with adjuster selected images and annotations can then be provided to policyholders to help them better understand claims decisions.
High-Quality Imagery
AI-analyzed imagery provides up to 1mm/pixel ground sample distance, and provides a composite image that's stitched together to create a single roof model for review—allowing adjusters to pinpoint even the most subtle damage without needing to sort through hundreds of separate images.
Real-Time Inspection Updates
EagleView Assess includes a convenient mobile self-scheduling interface, and provides policyholders with real-time updates showing when the inspector is on their way, arrives, and completes the inspection.
Flexible Service Options
Two service options are available:
– Self-service—EagleView supplies the drone and integrated platform, and your team conducts the inspections.

– Managed service—EagleView handles every step of the process, leveraging our nationwide network of pilots, so you don't have to go on site at all.
Contact us to learn more about how EagleView Assess can help you streamline your inspection workflows, make better decisions, and provide fast, accurate claims resolutions.