October 12, 2018
EagleView Rapidly Delivers First Post-Hurricane Michael Imagery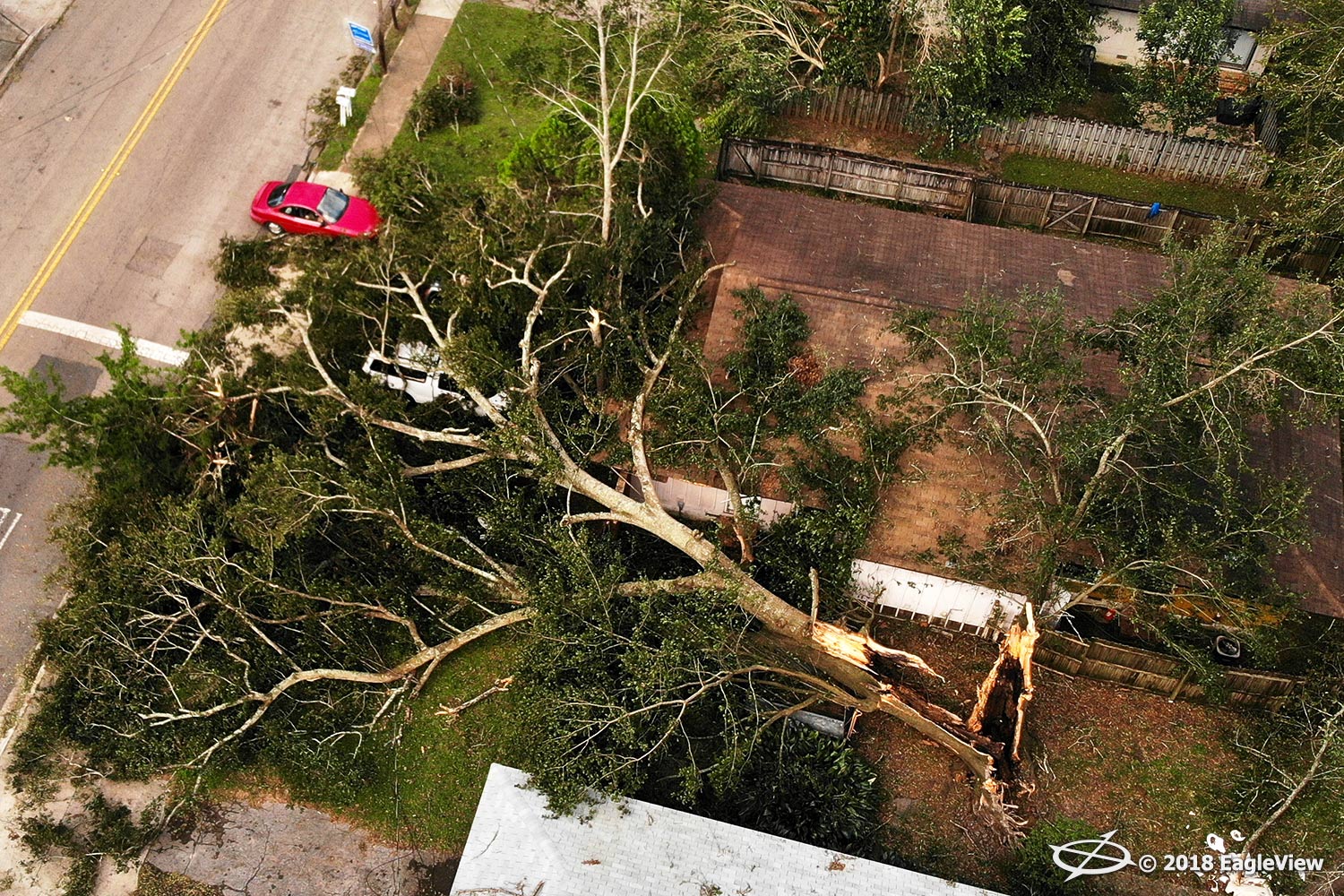 Ultra-high-resolution aerial imagery from EagleView reveals post-storm damage
Bothell, WA (October 12, 2018) – Eagle View Technologies ("EagleView®"), the leading provider of property intelligence for government, insurance and commercial sectors, has received its first post-event images in the wake of Hurricane Michael. EagleView's fixed-wing aircraft took flight Thursday morning, less than 18 hours after the storm made landfall on the Florida Panhandle, to capture ultra-high-resolution Reveal™ aerial imagery captured at .75-inches ground sample distance (GSD). Customers can find EarlyAccess™ images on CONNECTExplorer™ now.
EagleView's high-resolution aerial imagery offers first responders, insurance carriers, and electric utility customers rapid access to crucial post-event property information, such as roof damage, as well as the locations of fallen trees, flooding and other emergency conditions.
See sample imagery below.
Multiple fixed-wing aircraft were staged in areas of interest throughout the southeast states alongside the EagleView OnSite™ network of unmanned aerial system (UAS) operators, prior to the Category 4 Hurricane Michael making landfall on Wednesday, October 10.
"Our skilled network of drone operators and fixed-wing pilots enable us to respond to our customers both quickly and efficiently," said EagleView COO Jay Martin. "We understand how devastating these storms are to communities, so we utilize every resource we can to get customers imagery as soon as possible."
EagleView also utilizes satellite imagery as a system component to analyze catastrophic weather events. Through its StormAI™ tool in the EagleView OnSite solution, insurance carriers can view pre- and post-event satellite imagery through the lens of Policies in Force (PIF) to quickly evaluate the event's potential effects. This virtual inspection tool offers claims adjusters the ability to close claims rapidly following a storm.
"Our customers rely on our high-resolution imagery to answer important questions, and we want to deliver those answers rapidly," stated EagleView CTO Ajai Sehgal. "By utilizing high-resolution imagery from multiple camera sources alongside our advanced machine learning technologies, customers gain a complete understanding of a storm's aftermath and can ultimately help communities recover faster."
EagleView continues to fly and capture imagery of the affected areas following Hurricane Michael based on customer needs.
For more information regarding EagleView's storm response, please contact Melissa Mazurek at melissa.mazurek@eagleview.com or (585) 444-2504.
About EagleView
EagleView is the leading provider of high-resolution aerial imagery, property data analytics and structural measurements for government agencies, insurance carriers, roofing contractors and energy utilities. Using patented image capture techniques, 3D aerial measurement software and machine learning processes, EagleView helps customers answer questions related to millions of properties throughout the world. With a 60-petabyte library of oblique and orthogonal Pictometry® aerial imagery dating back to 2001 and the capacity to process tens of thousands of roof measurement reports per day, EagleView enables organizations to reduce field visits and adopt faster, safer and more cost-effective workflows. For more information, contact (866) 659-8439 or visit www.eagleview.com.