October 15, 2018
EagleView's Post-event Imagery Provides Answers Following Hurricane Michael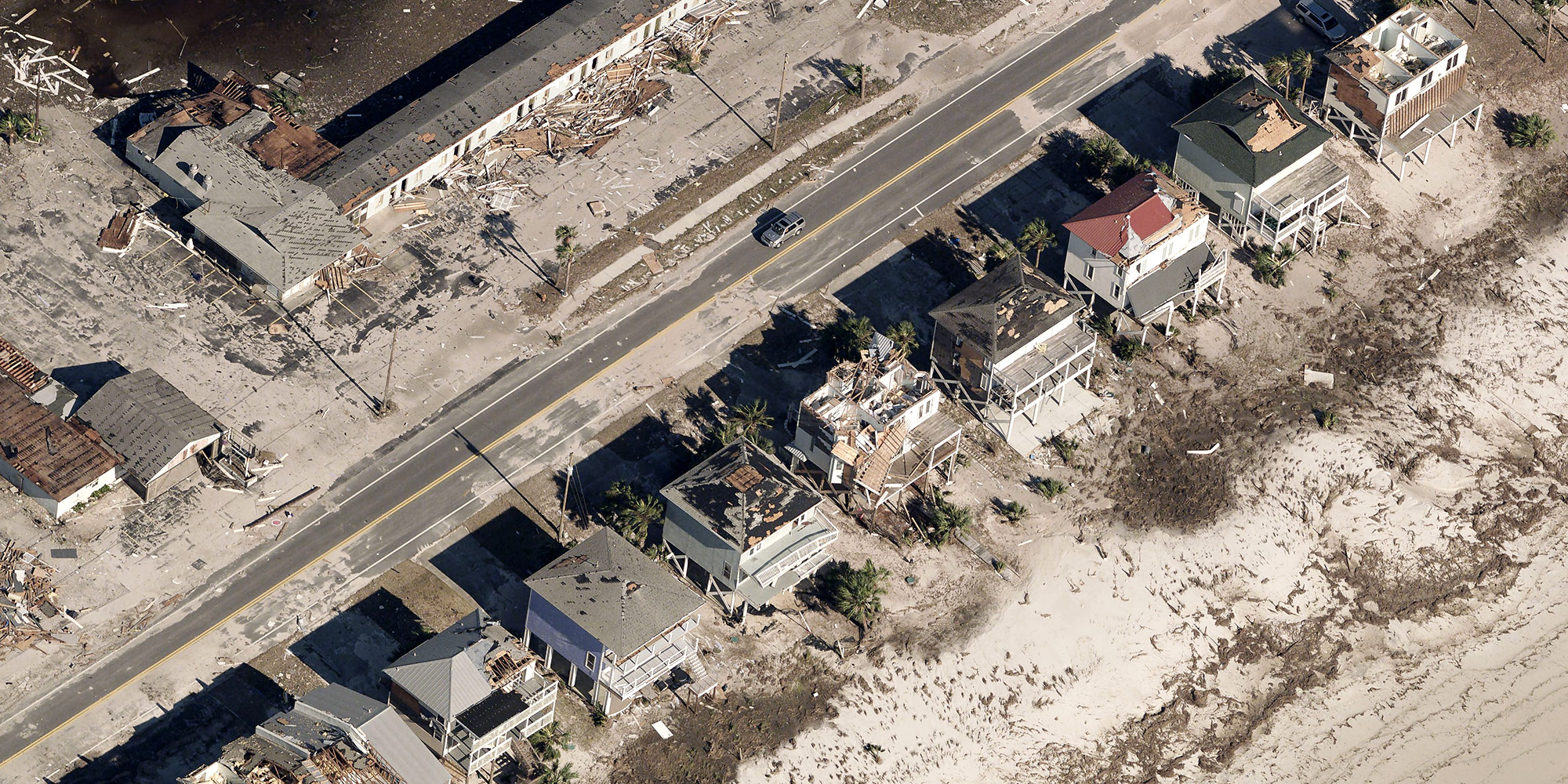 Advanced machine learning technology applied to pre- and post-event imagery reveals damage after the storm
Bothell, WA (October 15, 2018) – Eagle View Technologies ("EagleView®"), the leading provider of aerial imagery and property data analytics for the government, insurance and commercial sectors, has captured and continues to process ultra-high-resolution Reveal™ imagery captured at .75-inch ground sample distance (GSD) in the wake of Hurricane Michael. Initially making landfall on the Florida Panhandle as a Category 4 storm, Hurricane Michael devastated cities throughout Florida, Georgia, South Carolina and North Carolina.
Having had assets staged and ready to fly in the surrounding areas, EagleView took immediate flight once permitted into the airspace by the Federal Aviation Administration (FAA) on Tuesday morning, fewer than 18 hours after the storm had made landfall. Utilizing multiple image capture platforms, EagleView is delivering imagery from satellite, drones, and fixed-wing aircraft to customers in local government, insurance and electric utilities following the weather event.
With an image library of more than 400 million images, EagleView's pre- and post-event aerial imagery helps customers answer critical questions to manage both their assets and their customers' properties post-hurricane. Customers can access both pre- and post-event imagery on EagleView's viewing platform, CONNECTExplorer™.
See examples of the before and after imagery below:
Utilizing satellite imagery in addition to drone and fixed-wing imagery allows EagleView to provide additional resources to its customers. Through its StormAI™ tool in the EagleView OnSite™ solution, insurance carriers can utilize the satellite imagery to view pre- and post-event imagery through the lens of their Policies in Force (PIF), allowing for a fast and efficient evaluation following the storm.
"Our high-resolution aerial imagery along with our machine learning capabilities truly offer customers a complete understanding of the damage seen," stated EagleView CTO Ajai Sehgal. "Our teams are working day-in and day-out to ensure that our customers are getting the answers they're looking for from our imagery and data analytics."
By applying advanced machine learning technology to the pre- and post-imagery, EagleView can highlight and categorize any potential property damage in each image by stratifying properties based on probability thresholds. This added technology allows insurance carriers to rapidly analyze the imagery and classify damage efficiently, resulting in an overall faster closing of claims.
"Machine learning is changing the way our customers respond to disasters like Hurricane Michael," said EagleView CEO Rishi Daga. "In the end, we want to make sure communities can begin to re-build, and with this advanced technology, they'll be able to do so quicker than ever before."
EagleView will continue its disaster response until all areas of interest are captured and processed for their customers.
For more information around EagleView's disaster response following Hurricane Michael, please contact Melissa Mazurek at melissa.mazurek@eagleview.com or (585) 444-2504.
About EagleView
EagleView is the leading provider of high-resolution aerial imagery, property data analytics and structural measurements for government agencies, insurance carriers, roofing contractors and energy utilities. Using patented image capture techniques, 3D aerial measurement software and machine learning processes, EagleView helps customers answer questions related to millions of properties throughout the world. With a 60-petabyte library of oblique and orthogonal Pictometry® aerial imagery dating back to 2001 and the capacity to process tens of thousands of roof measurement reports per day, EagleView enables organizations to reduce field visits and adopt faster, safer and more cost-effective workflows. For more information, contact (866) 659-8439 or visit www.eagleview.com.