September 30, 2021
The Ultimate Guide to Generating Solar Leads
If you're like most professionals in the solar industry, lead generation probably isn't your favorite part of the job.
But that means you also know that without leads, the rest of the job isn't possible. The sales, the installs, the satisfied customers — that only happens if you generate enough leads to close deals.
The thing is though, lead gen doesn't have to be so bad. It doesn't have to mean cold calling or having doors slammed in your face. It's 2021 after all and there's a better way. Actually, there are lots of better ways.
And not only are they more pleasant to do, but they also get better results — generating leads that are actually interested in solar and ready to take the next step. In other words, leads that actually become customers.
8 tips to generate solar leads
To get better solar leads, you just need a little creativity and some (virtual) elbow grease. So roll up those sleeves and get to work!
1. Get listed on solar company directories
The first step many customers take when considering solar is to search online for solar installers — "best solar panel companies" or "solar companies near me" or "solar installers in Philadelphia."

Of course, you want customers to find your solar business when they're searching but it's tough to get your website to show up on the first page of Google results. That's because Google tends to favor websites with the most traffic and a long history of posting content — like the directories.
This means the directories are most likely going to show up first when customers are searching online. Even when customers are searching for a local business (by including words like "near me" or an actual location like "Boston"), the competition is still fierce.
So to make sure customers can find you when they're looking, you've got to be listed in the top directories. The ones that typically show up highest in Google include:
It's also a good idea to be listed on industry association directories for consumers who are seeking a highly trusted source of information. These include:
NABCEP – The North American Board of Certified Energy Practitioners maintains two directories on its website to help people find certified installers: The Company Accreditation Directory and the Certified Locator Directory.
SEIA – The Solar Energy Industry Association directory includes members from every aspect and vertical within the solar industry, from manufacturers and project developers to installers and financiers.
2. Build a strong Instagram presence
Instagram is a great channel to attract a following of homeowners interested in solar energy. And that's a good way to generate solar leads because then the homeowners will have you in mind when they're ready to take the plunge. Here are a few keys to success on Instagram: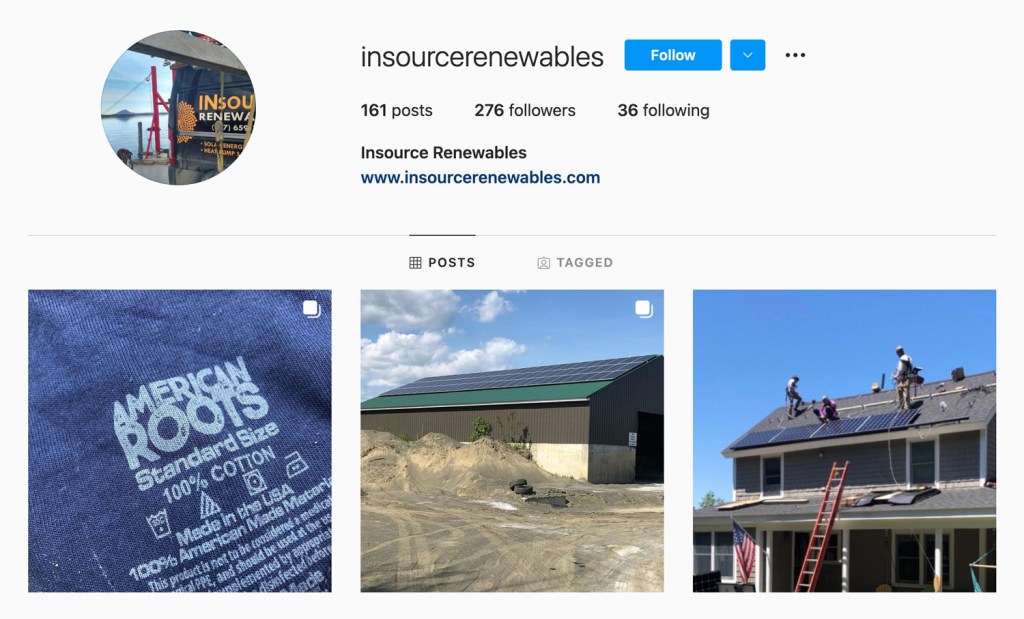 Post consistently and at the right time
Shoot for once a week to start with and gradually increase to three times a week. Planning your content ahead of time makes it much easier to stick to a consistent schedule. Some ideas for Instagram worthy content that many solar companies use include:
Before and after photos
Photos of projects in progress
Videos of specific processes, like someone applying spray foam
Photos from company events
Testimonials, photos, or solar reviews from happy customers
Solar or green energy related quotes, graphics, or memes
Announcements of company awards
Posting at the right time of day also matters. Research shows that posting in the afternoon on Mondays through Fridays is best. That said, it's always a good idea to test out different times and days of the week to see what's right for your specific business.
Use the hashtags the right way
Hashtags are essentially free advertising for your posts because people use them to find businesses and other influencers based on a particular topic. Many people even follow hashtags on Instagram like they do profiles.
Instagram lets you use up to 30 hashtags per month — but you should choose them wisely. You want to use hashtags that people will be searching for, but are also not overly competitive. For example, if you use a general hashtag (like #solar), it's tough to stand out among 4 million other posts.
You can search by hashtag on Instagram and then view related hashtags to get ideas. Medium competitiveness hashtags (used less than 500,000 times) or community hashtags (used less than 20,000 times) are a good place to start.
3. Get involved in homeowner communities and offer free advice
Another great way to get solar leads is by getting involved in local homeowner associations and communities. To do this, you first need to identify communities in your service area and figure out how to contact the leadership.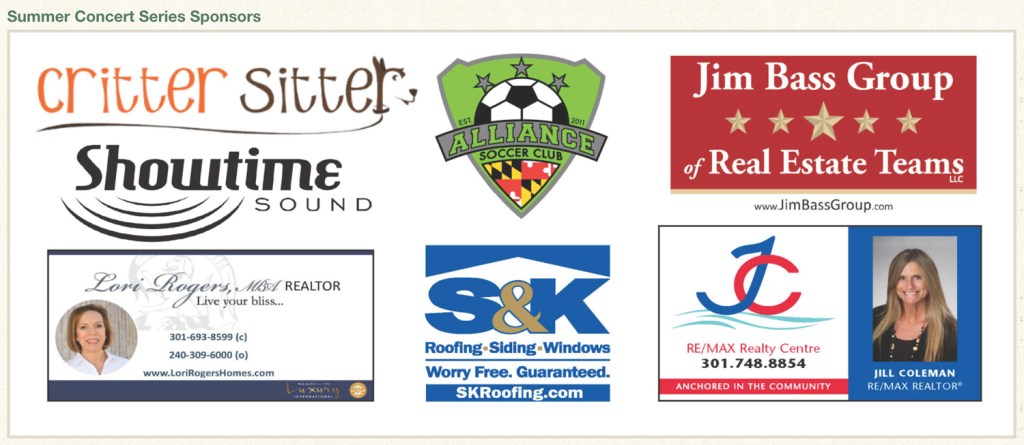 You can simply drive around taking note of neighborhood names and then look them up online. Many large communities have websites that include the names of board members and sometimes even staff. And websites often include information about business directories and sponsorship opportunities.
This means you can have your business listed on their website or newsletter and also sponsor community-wide events like concerts, picnics, yard sales, and festivals. Larger events may even allow you to set up as a vendor with a booth or information table.
Smaller communities generally don't have websites but many have Facebook groups that can give you clues and contact information. And while many community Facebook groups are private and don't allow solicitors, you can use it as an initial source of information to contact the leadership and get involved.
4. Use SMS marketing
SMS marketing (also known as text message marketing) is a powerful lead-generation tool because 98% of text messages are opened by users. For reference, the open rate for emails is just 20%, and that's still good!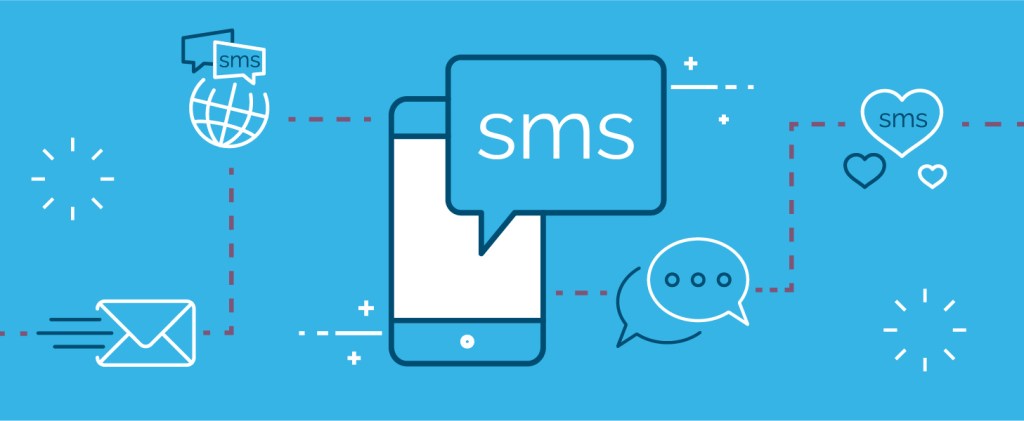 If you're new to SMS marketing, the first thing you need to do is build a database of phone numbers. And one of the best ways to do this is with a keyword text-in promotion — which just means asking people to text a keyword into a certain number in order to win something..
Example: Text "SOLARFALL" to 9999 to fall into savings! Up to 50% off residential solar through October!"
In this case, "SOLARFALL" is the keyword and 9999 is the short code. You can promote the offer on your social media channels, through your email list, and with physical signage like yard signs, billboards, etc.
One of the biggest advantages of text-in promotions is that people are automatically opting-in to receive messages from you in the future. Otherwise, you have to get permission to send anything to a mobile number. However, you want to be upfront that you'll be following up when the promotion is over. And let them know how to opt-out.)
Once you get the phone numbers through the keyword promotion, the next thing you need to do is follow up. The goal in this stage is to move prospects from text messages to phone calls.
You can use something like the following:
"Thanks for checking out ABC Solar's fall offer! Wondering if you have time for a quick 10 minute chat to find out what you're after. When would be the best time to call?
Regards, Jane ABC Solar."
If you get no response, then follow up again 1-2 days later with a similar text message but with an urgency trigger:
"Hi there! Just following up on your inquiry into ABC Solar's 50% off fall offer (which ends on Oct 31st). Are you available this week for a quick call?
Regards, Jane ABC Solar."
If you still don't get a response, they could still be looking for options and not quite ready to commit to a direct phone call. In this case, you can move them to a general leads contact group and follow up every month with a new promotion.
5. Run ads targeting people looking to buy solar panels now
People interested in buying solar panels right now are highly qualified leads because they're past the information-gathering stage and ready to purchase.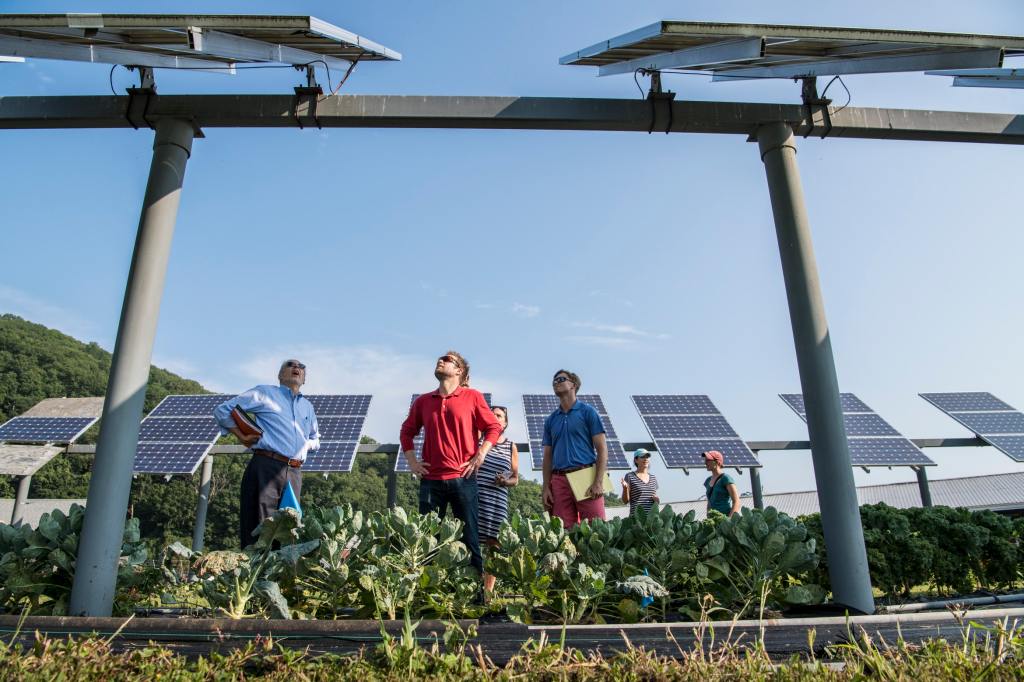 One of the best ways to identify these potential clients is by running google ads aimed at people actively shopping for solar panels. You can do that using the following tools in Google Ads:
In-market: Show ads to users who have been searching for products and services like yours.
Remarketing: Target users that have already interacted with your ads, website, or app so that they'll see your ads more often.
Content keywords: Show ads to users who are searching on Google for specific keywords or phrases (e.g., solar panel companies near me).
Topics: Target ads to multiple pages about certain topics (i.e., solar panels). Topic targeting lets you reach a broad range of pages on the Display Network.
Placement: Show ads on specific websites that potential customers are visiting (like directories).
6. Start a Facebook group for homeowners interested in solar
The idea behind this strategy is similar to that of getting involved in homeowner communities — connect with homeowners who are interested in solar, offer your expertise for free, and when they're ready to buy, you'll have a relationship with them.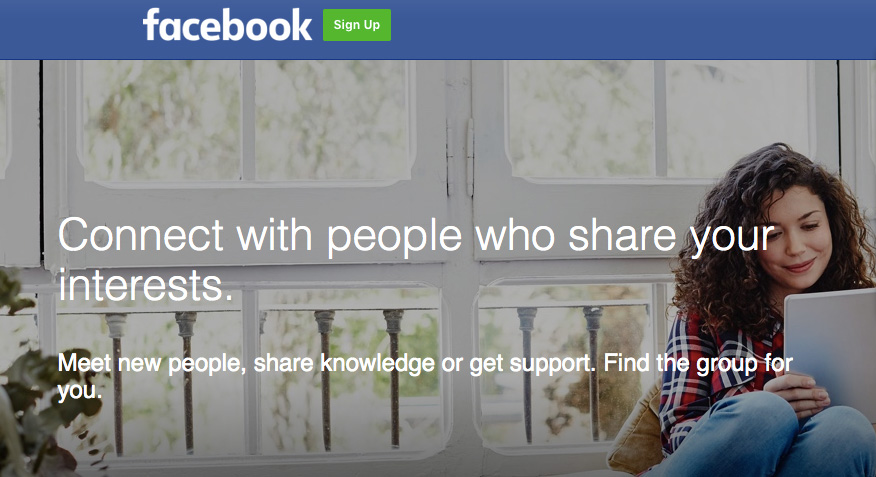 The only difference is that with this strategy, you're creating the group yourself. Also, the potential audience is much bigger. After all, over 1.5 billion people worldwide use Facebook every day.
A few important things to remember when starting a Facebook group:
Don't try to sell your product. You're playing the long game with this strategy. With that in mind, you should only post helpful and relevant information, answer questions, and offer expertise. The goal is to help group members solve their problems without being overtly salesy or sleazy.
Make sure your Facebook business page is up-to-date and professional. After all, many group members will visit your page to find out more about you and contact you if they're interested in taking the next step.
So your page should include a high-resolution business logo, a link to your website, and quality posts that show off your best work. From time to time, you should also re-post testimonials and reviews from past customers as social proof.
7. Use content marketing to get leads from people searching online
Another long-term strategy for attracting leads that actually become customers is content marketing. If you're not entirely familiar with this term, it just means using online content like blog posts, social media posts, and more to send people to your website when they're searching online.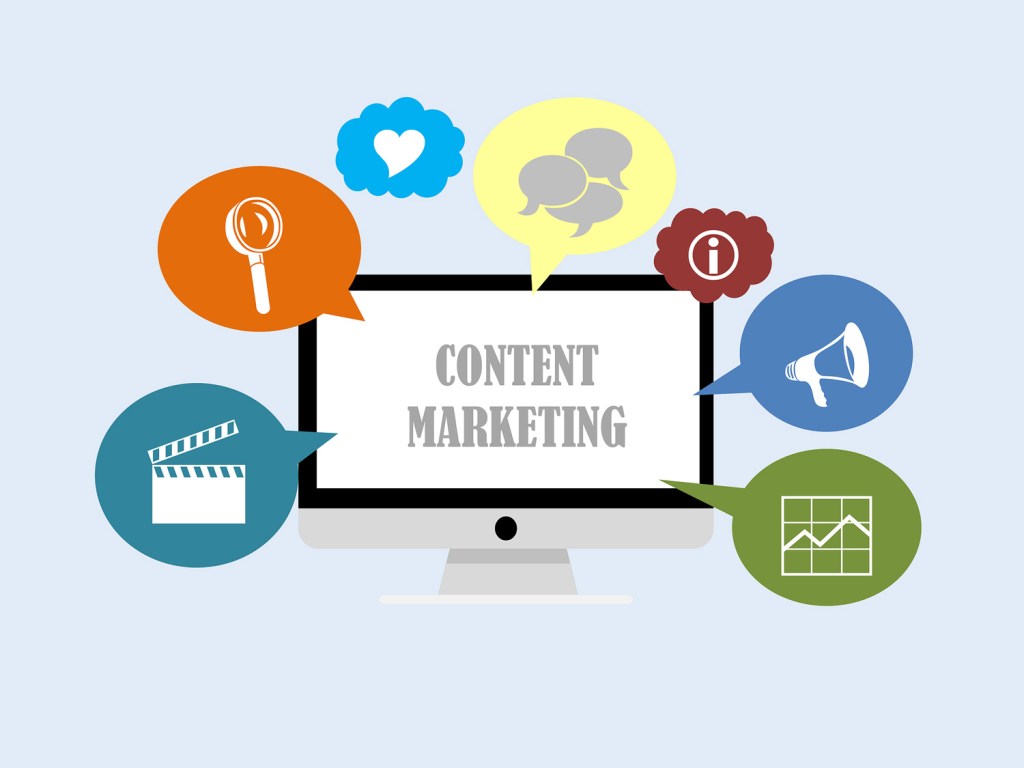 For example, let's say a customer is researching solar panel costs on Google. Let's also say you've published a blog article on the topic (maybe titled, "Complete Guide to Residential Solar Panel Costs") and it ranks high in the search results.
If the customer clicks on your link to read the article, they'll be taken to your website through the search process — not through an ad. This is content marketing. And while it seems somewhat basic, it's extremely effective.
In fact, content marketing results in an average of 54% more leads than traditional paid marketing while saving businesses roughly $20,000 per year.
8. Use incentives to encourage referrals
As with any business, tapping existing clients for referrals is a powerful strategy to generate leads. Referral prospects typically come more informed and ready to move forward with a purchase faster than other leads because they've learned about your company before making contact.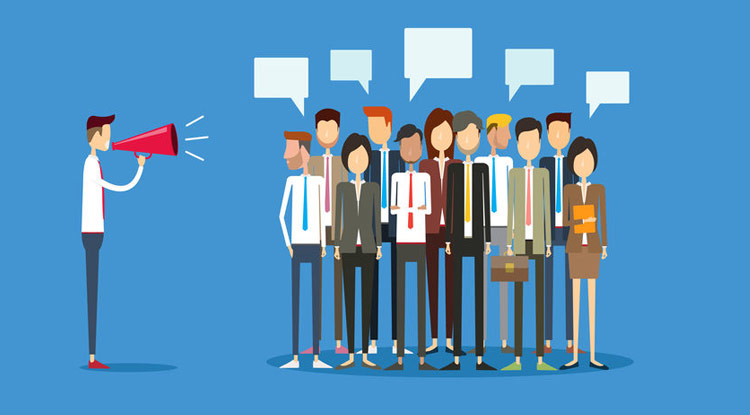 And when it comes to big, expensive products like solar panels, existing clients are typically more motivated to refer. After all, people have to front a lot of money to install the panels and they're going to be motivated to earn anything back on it that they can.
Plus, existing customers will have a relationship with your company for decades, possibly resulting in multiple referrals if you make it worth their while.
Incentives like discounts or cash rewards are great motivators, especially if you offer tiered rewards for sending multiple solar leads. If a customer knows they will earn more with every referral, they will be more likely to send more your way.
FAQs on generating solar leads:
How much do solar leads cost?
There's a huge range in cost when it comes to buying solar leads. According to Solar Review, exclusive opt-in leads (which are leads matched only to you) that have been through a screening process can sell for as much as $300 per lead in a competitive market like San Diego.
On the flip side, a generic lead generated by a call center in India for the same market might sell for just $25. What's the difference? Cheap solar leads are typically generated using aggressive outbound tactics like cold calling.
While this can generate leads at a low cost, it usually results in a higher cost per close. Cheap solar leads are also minimally screened and often sold to many other solar installers at the same time. So if a lead company sells you 50 leads and you only close 1, they made most of their money selling you those other 49 leads that wasted your time.
How can I get free solar leads?
Buying solar leads isn't the only way to get leads. You can get free, high-quality solar leads using many of the strategies outlined above. Here's a quick recap:
Get listed on solar company directories.
Build a strong Instagram presence.
Get involved in homeowner communities and offer advice.
Use SMS marketing.
Run ads targeting people looking to buy solar.
Start a Facebook group for homeowners interested in solar.
Use content marketing to generate organic solar leads.
Use incentives to generate referrals.
Want to sell more solar panels? EagleView can help you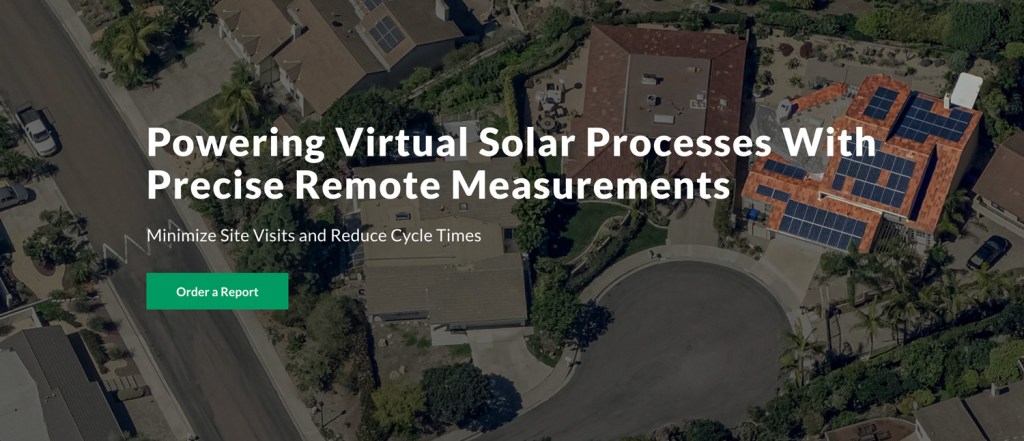 How contractors improve close rates using EagleView
Eagleview's aerial imaging technology helps contractors close deals faster without ever setting foot on the property, much less on the roof. And it can help you avoid margin-busting errors by as much as 40%.
Jake Wachman, former VP of Software at SunPower, explains that "EagleView reports help us to eliminate in-person site surveys and shorten project lifecycles by up to two weeks. Everyone wins: homeowners go solar faster, our dealers avoid an additional site visit, and we reduce project overhead."
What EagleView does to help them
EagleView compliments or eliminates your site survey process, delivering the external property data you need to plan a solar project quickly. We help contractors with the following:
Comprehensive remote measurement solutions, including pitch, azimuth, and remote shade analysis, to improve your business performance.
Design using precise digital models instead of drawing over 2D images and estimating the size and location of obstructions.
Determine optimal panel placement for energy production based on solar access values derived from sophisticated shade analysis.
Create proposals, permit sets, and project plans faster with digital file exports for popular design programs.
Sell solar panels fast!
Try EagleView's aerial imagery tool to get fast, accurate roof measurements — no ladder required. Learn more about EagleView's imagery tool.