With a diverse amount of land in Converse County, Wyoming, it's nearly impossible to access every parcel. Converse County is rural, covering a geographic area of 2.7 million acres and over 4,200 square miles. From flatlands and national forests to residential and mountainous regions, field visits can be demanding. When introduced to imagery from Pictometry®, now known as EagleView®, Dixie Huxtable, Converse County Assessor, knew that it was a tool that would be useful in all aspects of the county.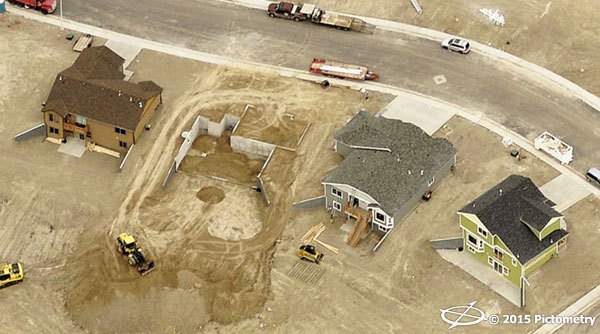 Due to the need for financial support, the interest in EagleView imagery for Converse County became a co-op with participation from the City of Douglas and the Town of Glenrock in addition to Weed and Pest Management, the Converse County Soil Conservation District and the Bureau of Land Management (BLM) on a state level. About one quarter of the cost was covered by other entities, making the project even more appealing.
Huxtable was determined to gain support for her campaign to implement EagleView imagery and tools throughout the county and she looked to EagleView for help. A representative assisted her in creating a presentation for fellow county employees to highlight the solutions and possibilities that the use of EagleView imagery would bring to the table. EagleView provided a trial run of PictometryOnline™, its web-based analytical tool for viewing and interacting with imagery. After experiencing the tools, the departments came together in full support of the implementation of EagleView. (PictometryOnline has since been replaced with CONNECTExplorer™).
The county was first flown in 2009, capturing only specific areas for municipality purposes and again in 2011, flying mountainous areas for the Beetle Kill and state forestry projects. Some parts of the county have only one flight while others have three.
The gas boom in late 2011 to 2012 became proof as to the potential EagleView imagery could provide. With gas being discovered in mass quantities, the area began growing at an explosive rate. There was little-to-no housing and little-to-no workflow. State fairgrounds became permanent camping grounds for families. "School buses were driving through these grounds picking up children for school every day," Huxtable commented. "At that point, I needed a baseline just to see what was happening in the county. In 2011, we even bought off-the-shelf imagery and it was okay but definitely not great."
Although still growing, the impact is not as severe in the populated county. "The oil and gas industry and this gas boom became a big driving force for the use of EagleView imagery. The opportunity was there, the timing was there," Huxtable stated.
The oil and gas industry is a main focus in the use of EagleView imagery throughout the county and the Assessor's office uses it to get to unreachable areas. "Some regions, such as the mountains, are more difficult to gain access to," explained Huxtable. "We are limited to access to these areas due to weather conditions."
Assessing has been transformed by technology within the past ten years. In Converse County, it used to consist of printing out a list of properties and simply heading out to do a field check without knowledge of the surrounding areas or the amount of time it would take. With EagleView imagery, assessors print the list, pull up the imagery to understand where they're going, discover what's significant about the property or anything else worth noting and go out in the field. By law, each parcel must be physically inspected one out of every six years. Time is important in assessing, especially with a limited number of people.
It used to be possible to group properties together, such as large ranches. However, according to certain regulations, that is no longer possible, making it important to understand which structure is on which ranch. This could lead to the same field visits multiple times. EagleView allows for the assessor to understand the time it will take according to the size of the ranch and even obtain measurements through oblique imagery and measurement tools.
"EagleView offers the possibility to see these parcels and how many buildings are on each ranch from the desk, eliminating having to drive there three separate times," remarked Huxtable.
Alongside the Assessor's Office, every department throughout Converse County has access to it. The emergency management, law enforcement and 911 dispatch has their own subgroup of users, as does the County Clerk's Office for elections and the Treasury Office for tax sales. "We used to have people come in with questions about tax sales all of the time and I didn't have a single one this year," Huxtable confirmed.
The comparison alone from the infrastructure and the gas wells from the flights from 2009 to 2011 is shown to be immense. The gains and losses, as well as growth can be spotted. Curiosity of what EagleView tools can do lingers in the State of Wyoming, and potential lies ahead for a statewide EagleView imagery project.
"We're intrigued about the possibilities it has in the future," Huxtable assured. "We all look forward to seeing what we can still do here with EagleView imagery and we're by no means done using it."