August 29, 2018
5 Can't-Miss Highlights from FutureView 2018: Day 1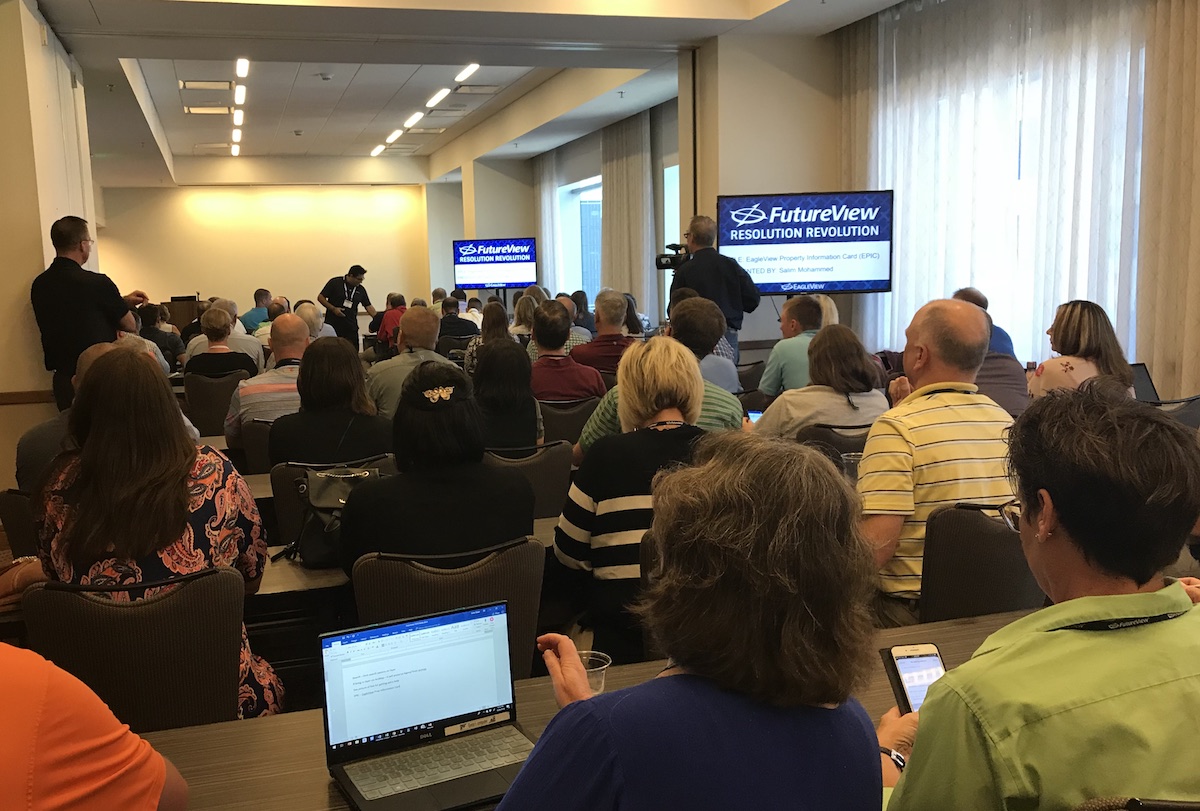 FutureView is upon us, and so far, it's been an action-packed conference. From the harrowing stories of our guest speakers to the new innovations that EagleView is once again pioneering, a lot has happened in a single day.
This year's FutureView advanced training and user conference has 390 attendees from more than 250 jurisdictions across North America. Attendees are learning how to leverage their Pictometry® imagery products and hearing about best practices from their peers in government.
Here are some of the highlights of FutureView 2018 so far:
Opening Session: The Resolution Revolution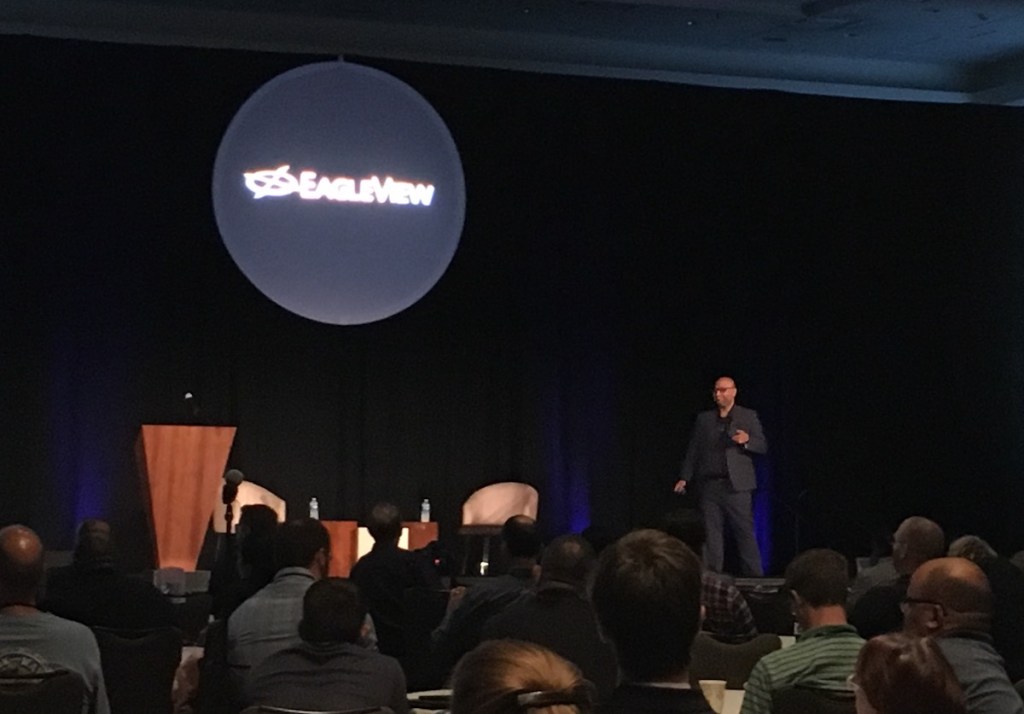 EagleView CEO Rishi Daga delivered the opening remarks to kick off FutureView 2018. He explained EagleView's history of innovations in aerial imaging technology and announced the launch of the new Reveal™ imagery from EagleView.
In its early days, Pictometry imagery was captured in a nine-inch ground sample distance (GSD)—a major innovation when compared to the standard aerial imagery of the time. When the resolution shifted from nine-inch to six-inch GSD, and again from six to three inches, users were able to get a closer view of properties in their jurisdictions.
The new Reveal™ imagery continues this line of innovation. This ultra-high-resolution aerial imagery displays fine details with unmatched clarity in sub-one-inch GSD.
Rishi asked the audience not to think of EagleView as purely an imagery provider but as a partner in data. Ultra-high-resolution imagery works in conjunction with machine learning technologies, which can extract property data from that imagery.
One way that information is delivered in the EagleView Property Information Card (EPIC). EPIC brings assessors property imagery, property data, and property sketches as well as change detection analytics to highlight year-over-year property changes.
Read more about Reveal imagery here.
Packed "EagleTech" Sessions
This week, we're hosting EagleTech sessions to explain what these new solutions mean for assessors, GIS professionals, public safety personnel, and other imagery users in government.
Sessions on Day 1 included information on the newly announced Reveal imagery as well as the EagleView Property Information Card.
By popular demand, we've added another EagleTech session on EPIC for Wednesday, at 11 a.m. in the Grand Ballroom. If you've joined us for FutureView and want to know more about EPIC, don't miss out on this session!
Keynote Session: Captain "Sully" Sullenberger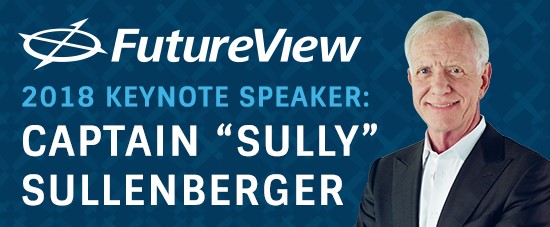 Captain "Sully" Sullenberger delivered the keynote speech on Tuesday morning. Captain Sullenberger is known for the "Miracle on the Hudson," the January 15, 2009, when he and his crew safely guided US Airways Flight 1549 to an emergency water landing in the Hudson River.
Captain Sullenberger credited the values of his upbringing, such as education and excellence, with shaping his life experiences. While he quipped that it had taken him "over four decades to become an overnight sensation," he emphasized that it was smaller, everyday moments that helped prepare him for the emergency landing. His reputation, he said, was built one interaction, one person, and one day at a time.
In his years as an aviator in the U.S. Air Force and as an airline captain, Captain Sullenberger has learned that "Just 'good enough' isn't." As he said, it takes incredible discipline to do the right thing on every flight.
Captain Sullenberger explained his thought process during the emergency landing and how he and copilot Jeffrey Skiles were able to make decisions under pressure. He also described the efforts of his crew members, who helped guide passengers through the impact.
The lessons that Captain Sullenberger imparted on the audience translate to all fields. To be successful, you must not only have realistic confidence in your own abilities but build and lead your team as well.
Special thanks to Captain Sullenberger and his team for joining us for FutureView 2018.
Disaster Response Panel
After Captain Sullenberger's speech, several of our customers participated in a panel discussion on how they have used Pictometry® imagery for disaster response.
EagleView CTO Ajai Sehgal moderated the panel, which included Scott Russell, appraiser for Monroe County, Florida, and Michael Soto, Chief Appraiser of the Aransas County Appraisal District in Texas. Also joining them were Jay Martin, Chief Operating Officer at EagleView, and Craig Witmer, Vice President, Central Region, also from EagleView.
Both Scott and Michael explained how they interacted with EagleView and what they used the imagery for following Hurricane Irma and Hurricane Harvey, respectively.
Michael spoke about his experience at the GIS/CAMA Technologies Conference earlier this year. On the panel, he said that he was able to complete reappraisals for Aransas County in a matter of seven weeks with the imagery—something his staff of eight couldn't have done on foot.
Having worked with counties like Scott's and Michael's after devastating storms, Craig had one piece of advice for EagleView customers. In the event of a disaster, he said, it's crucial to maintain good communication with EagleView so that we can begin helping immediately. Craig reminded the audience that all Pictometry imagery contracts include this disaster response program.
User and Imagery Partner Sessions
As always, hearing from our customers and partners is a highlight of any FutureView conference. This year, we have diverse sessions related to assessment, GIS, and public safety as well as professional development, public relations, and technology-driven topics. We also heard from Esri Canada, who presented on how software integrations with EagleView's imagery can serve customers.
Attendees were also able to attend training sessions on CONNECTExplorer™, CONNECTMobile™, and other Pictometry imagery products. In addition to the advanced training at FutureView, EagleView's trainers are able to visit customers wherever they work. This level of support helps customers get the most out of their imagery.
But wait—there's more!