TreeRisk™: A clear path to answers
TreeRisk™'s up-to-date orthogonal and oblique imagery is designed specifically to determine vegetation encroachments and identify locations of greatest risk along utility corridors.
TreeRisk helps vegetation managers pinpoint encroachment risks and confidently take action to mitigate them. Thanks to TreeRisk's web-based platform, precision imagery, and complete datasets, users can generate, view, and share highly accurate maps while eliminating paper waste, reducing field time, and significantly decreasing mitigation expenses.
TreeRisk enables vegetation managers to:
Visualize vegetation encroachments on utility lines—including vegetation height above ground—using photorealistic imagery instead of LiDAR
Identify problem areas of overgrowth and potential tree fall to schedule field crews for mitigation
Enhance risk assessment and mitigation with more accurate imagery and better data to avoid regulatory fines and lost revenue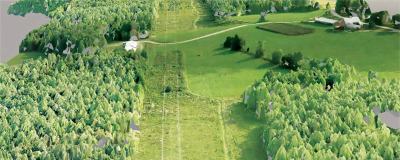 With TreeRisk, Utility companies can:
Import imagery and 3D point cloud data into any vegetation management system at a greater level of accuracy than LiDAR
Integrate utility GIS content and/or CAD line drawings to rank areas of greatest risk and prioritize mitigation
Reference the TreeRisk Mapbook online or in the field to view clearance issues and surrounding foliage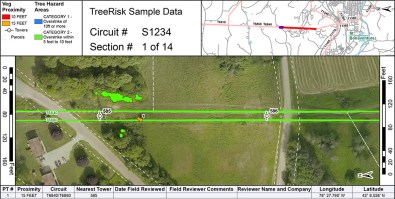 | Feature | TreeRisk | TreeRisk Complete |
| --- | --- | --- |
| 3D Point Cloud Model | | |
| Orthogonal + Oblique Imagery | | |
| Minimum Clearance View | | |
| TreeRisk Mapbook PDF | | |
| Integration of Client-Supplied CAD Line Drawings + GIS Data | | |
| Detailed Proximity View with Color-Coded Risk Ranking | | |
Who else needs to know?
Loop in a colleague via email or send them a link