Add a visual layer to your map
Orthogonal imagery provides a true top-down view and is rectified to align to a map grid.
This nadir imagery solution easily integrates into your GIS data for a comprehensive understanding of properties, land features, local topography, and more.
White Papers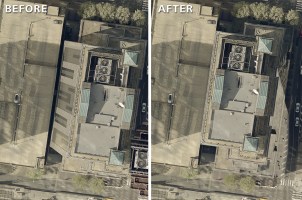 Three- or Four-band Imagery Options
Three-Band Imagery
Offers three bands of standard RGB color.
Add-on feature to our AccuPLUS and orthogonal-only imagery solutions.
Four-Band Imagery
Offers four bands of color: the standard RGB as well as near-infrared images, which support visual identification for impervious surface mapping, vegetation inventory, wetland delineation, and crop and timber inventory.
Add-on feature to our AccuPLUS and orthogonal-only imagery solutions.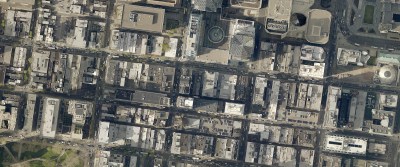 Access Technology
This provides visual intelligence and analytical tools delivered in the time frame needed for success. EagleView is the only provider of essential pre- and post-event imagery delivered on your timeline. Access Technology allows response teams to assess and plan time-sensitive strategies in disaster or non-disaster scenarios from their desktop, saving critical time when it is needed most.
RapidAccess™
Post-event imagery is available through our cloud-based CONNECTExplorer solution within two to three days of the event to assist in damage evaluation and recovery.
EarlyAccess™
Imagery is captured, processed, and delivered after an expedited quality assurance check in 10 to 14 days.
Who else needs to know?
Loop in a colleague via email or send them a link