LiDAR, corridor mapping, and 3D models
For some workflows, standard orthogonal and oblique imagery isn't enough.
LiDAR datasets can help your organization gain valuable information about terrain and other land-based features through remote sensing technologies. From those datasets, 3D models can be created to give urban planners, emergency management teams, and other agencies get a comprehensive view of an environment.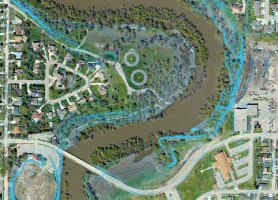 When asset monitoring, vegetation management, and potential expansions present concerns, corridor mapping is a viable answer. The corridor image capture solution brings the same benefits of wide-area imagery while showing only the necessary details.
Unique industries need innovative solutions to get the information they need. See how our specialized imagery and data solutions can help your agency solve problems and find the answers it needs.
Who else needs to know?
Loop in a colleague via email or send them a link