What is EagleView CONSTRUCT™?
CONSTRUCT™ is a free bidding and online material ordering tool connected to an existing billing account with preferred national distributors. CONSTRUCT expedites jobs using roof measurements derived from an EagleView PremiumReport™ or from the field. Using the trusted EagleView accuracy, CONSTRUCT automates material measurements to minimize waste, locks in prices for bids, and helps roofers win more jobs.

How It Works
The contractor orders an EagleView PremiumReport or inputs manual measurements into CONSTRUCT.
CONSTRUCT automatically converts those measurements to quantities when the user selects materials, so the bid is more accurate from the start. This process reduces shortages and waste per square on every job.
Once the contractor wins the job, the material list is ready since it was used for the bid. From there, contractors can submit the pre-built order directly to the branch 24/7.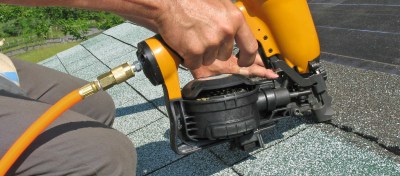 The Benefits of Using CONSTRUCT
Saved time
Because measurements from EagleView Reports automatically convert to quantities in CONSTRUCT, contractors save at least five to 10 minutes on pricing and billing adjustments for each order. Since contractors have the ability to order at any time day or night, they don't have to worry about making it to their local distributor branch before 5:00 p.m. (or earlier) to get a job started.
Reduced errors
Measuring by hand and breaking out the calculator to determine supply orders manually is a recipe for costly human error. Such errors might render estimates too high or too low, leading to lost business up front or disgruntled customers frustrated by delays later on. By using EagleView CONSTRUCT, contractors can reduce mistakes that lead to returns or redeliveries by as much as 20%.
Enhanced communication
This system also ensures that the distributor and the job site have one consistent material order. That cuts down on miscommunication between the distributor and the contractors. It also streamlines the ordering process—no faxing or scanning required.
Who else needs to know?
Loop in a colleague via email or send them a link