October 8, 2014
EagleView® Technologies Announces QuickSquares™ Mobile App for Android™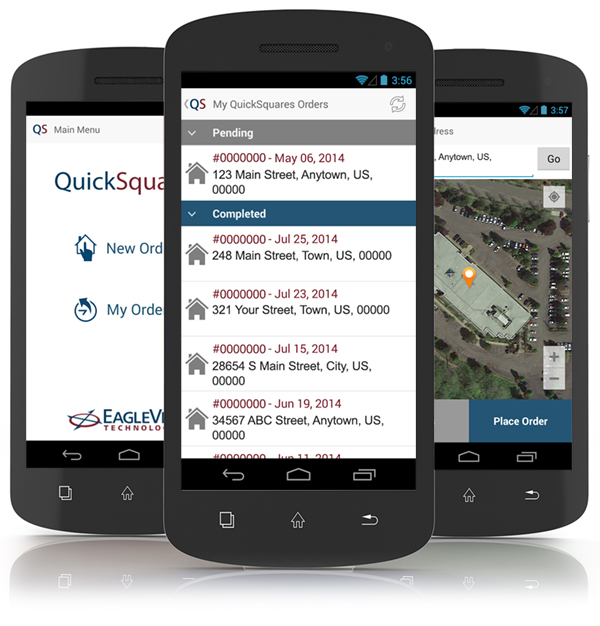 (BOTHELL, Wash., October 8, 2014) – EagleView Technologies, Inc., a leading technology provider of aerial imagery, data analytics and GIS solutions, announced today that its QuickSquares mobile app is now available for Android devices.  The app provides users with one central place to easily order, receive notifications and review QuickSquares Reports. The report is an excellent sales and marketing tool for contractors providing  overall square footage and predominant pitch for up to two residential structures in a professional format in about an hour.  The easy-to-use upgrade button for the EagleView PremiumReport makes this app critical for overall sales success in the field.
"After the release of our iOS QuickSquares App, our customers expressed a strong desire for an app that would work on their Android devices," said Rishi Daga, EagleView executive vice president of commercial sales.  "We are pleased to offer this app and know that the speed and ease of ordering QuickSquares either on Android or Apple devices is making a difference to our customers."
The QuickSquares report is proving to be an excellent sales and marketing tool for roofing sales teams and provides an easy price point for roofing contractors to quickly obtain an overall square count for residential roofs.  Robert Humphrey, owner of Humphrey Restoration, Inc., based in Shreveport, La., said, "I only use Android and now I can order at the location of the home on my phone.  There is no confusion on which house I am ordering and my accuracy in getting the right home has increased substantially.  The time I am saving is tremendous, in that I order the report onsite and by the time I am back at the office to write the bid, I have the report.  It is huge for customer satisfaction and speed to bid.  We just had a large storm in our area and we will definitely be using the app to order reports for affected neighborhoods."
"As we continue to deliver technology that automates workflows and helps to increase sales, we strive to create very easy and efficient ways of delivering what the contractor needs when they need it," said Daga.  "The QuickSquares Report ordered through this new app and the iOS app is delivering fast so EagleView contractors can take care of their customers."
Android users can download the app from the Google Play store.  iPhone® users running iOS 7.x can download the app from the iTunes App Store.
About EagleView
EagleView Technologies is the unparalleled provider of aerial imagery, data analytics and GIS solutions serving the commercial, government and public utility sectors.  The company's patented image capture processes and 3D modeling algorithms coupled with property-centric analytic tools empower end-user workflows with scalable, efficient and highly accurate answer sets in support of property claims, risk management, construction, emergency response, assessment, corridor mapping and more.   For more information contact (866) 659-8439 or visit www.eagleview.com or www.pictometry.com.