October 24, 2014
Increasing customer satisfaction and closing rates with QuickSquares™ Apps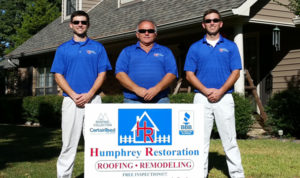 Mobile devices are allowing roofing contractors to stay connected throughout their work day whether it is on the roof, in the truck or in the corporate office.  Robert Humphrey, owner of Humphrey Restoration, Inc., based in Shreveport, La., is the perfect example of a company using mobile technology to grow his business and take care of customers.  "Being in touch is critical and having the right tools allow for success," stated Humphrey.  "We have used EagleView for several years but their new mobility solutions are really making a difference."
"I only use Android devices and now with the EagleView QuickSquares™ app for the Android I can order reports anywhere," stated Humphrey.  "I love that there is no longer confusion on which house I need.  In the past, addresses could be wrong or the pin could get misplaced.  Now I order most of my reports at the prospective job, many times while I am with the homeowner.  The time that I am saving is tremendous.  By the time I get back to the office to write the bid, I have the report.  It is huge for customer satisfaction."
The new QuickSquares mobile apps will continue to provide users with one central place to easily order, receive notifications and review QuickSquares Reports. "The report is an excellent sales and marketing tool since it provides an aerial photo, overall square footage and predominant pitch," said Humphrey, a 5-Star CertainTeed contractor.  "The best part is getting it consistently in about an hour."
Like Humphrey, contractors from across the country are reporting that they are having their sales teams order QuickSquares Reports on every lead.  The QuickSquares apps make it even easier by allowing users to quickly place an order while in the field, either by using their current location or entering an address.  When the report is ready, contractors will receive a push notification along with an email message.  The report will be available for download in the app or through email.  Reviewing reports with customers has never been easier.
Humphrey agrees, "By using EagleView, it really gives our customers peace of mind that our quotes are right and adds legitimacy for our company overall.  We have also seen an increase in our closing rates which I attribute to the professionalism of using the technologies provided by EagleView combined with our sales team's efforts."
"We take pride in our company and the companies we associate ourselves with. Our motto is 'Restoring your home and your faith in contractors.' We truly believe in what we do and are thankful to be associated with a company that has the same views toward their customers," concluded Humphrey.